Flight Safety Foundation's summits and seminars are major gatherings of aviation professionals, designed for people with the responsibility for safety in design, manufacturing, development, training, maintenance and operations. Leading aviation specialists can exchange information and offer directions for further risk reduction.
Learning from All Operations – Webinar
September 30, 2020 @ 4:00 pm

-

October 1, 2020 @ 6:30 pm
Event Navigation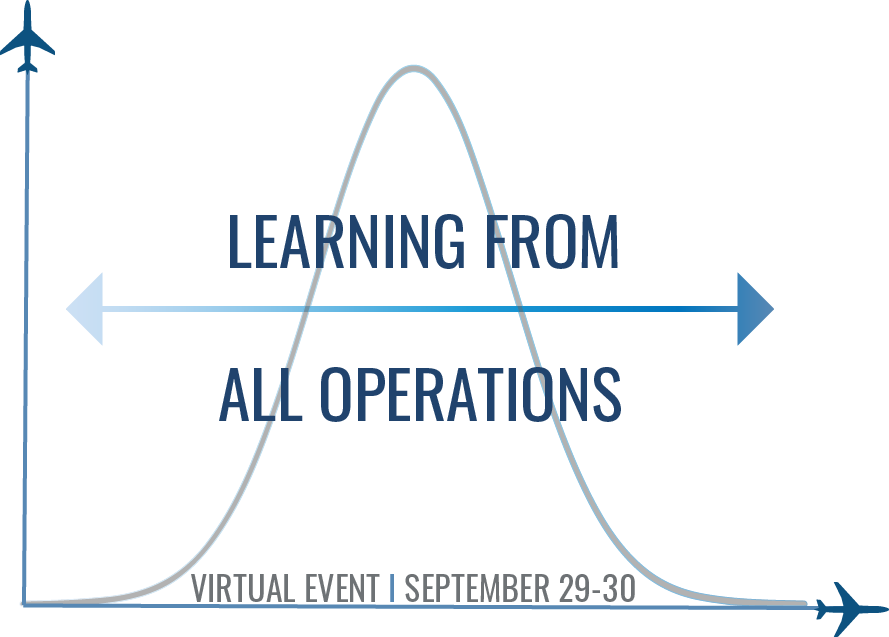 September 29-30, 2020

Start time


10:00 am – 12:30 pm (New York time)
4:00 pm – 6:30 pm (Brussels time)
10:00 pm – 12:30 am (Hong Kong time).

The Flight Safety Foundation goal with this Seminar s to promote further globally the practical implementation of the concepts of system safety thinking, resilience and Safety II. We are very much looking forward to the seminar to discuss widely with the aviation industry what can we collectively do to advance these valuable for the safety concepts.

We will have two sessions, one for each day, that will consist of briefings and a Q&A panel afterwards.

Agenda
Day 1 – 29 September 2020, 16:00-18:40 CET, 10:00-12:30 EDT
Chair – Dr. Hassan Shahidi, Facilitation – Mark Millam and Tzvetomir Blajev
16:00-16:15
Welcome and Seminar Opening – Dr. Hassan Shahidi, FSF President and CEO
16:15-16:40
Professor Erik Hollnagel
16:40-17:00
Max Butter, Lufthansa
17:00-17:25
Dana Shulze and Frank Hildrup, US NTSB
17:00-17:50
Dr. Holbrook, NASA Langley Research Centre
17:50-18:30
Day 1 Panel discussion
Day 2 – 30 September 2020, 16:00-18:40 CET, 10:00-12:30 EDT
16:00-16:25
Dr. Steve Shorrock, EUROCONTROL
16:25-16:50Ni
Nicolaus Dmoch, NetJets.
16:50-17:15
Dr. Spenceley, Intensive Care front line UK and Dr. Horsley, Intensive Care NZ
17:15-17:40
James Kwasny and Guy Mouton, American Airlines
17:40-18:20
Day 1 Panel discussion
18:20-18:30
The way ahead and Seminar Closure – Tzvetomir Blajev, FSF Europe
---
Themes
The following themes are suggested for briefings and discussions for the Seminar in September. 1.The limits of only learning from unwanted events.
2. Individuals' natural versus organisations' consciously pursued resilience.
3. How the ancient evolutionary individual instincts for psychological safety affect individual and team learning and how these can be positively managed?
4. The slow- and fast-moving sands of operations and environment change over time and their significance for safety.
5. How to pay as much attention to why work usually goes well as to why it occasionally goes wrong?
6. Understanding performance adjustments of individuals to get the job done.
7. The blessings and perils of performance variability.
8. Learning from data versus learning from observing.
9. Learning from differences in operations versus learning from monitoring for excrescences.
10. Can risk- and resilience-based concepts work together?
11. Does just culture matter for learning from success?
12. How to document explicitly, maintain current and use the information about success factors and safety barriers and shall this be a part of organisational SMS?
---
Registration
Registration for this program is free.
PAST FOUNDATION EVENTS
PAST FOUNDATION EVENTS
Learn More
Details
Start:

September 30, 2020 @ 4:00 pm

End:

October 1, 2020 @ 6:30 pm