LATEST NEWS
FSF 2020 International Aviation Safety Summit To Be Held Virtually
Flight Safety Foundation's International Air Safety Summit (IASS), which has been held every year since 1947, will not be carried out as planned in Paris due to health concerns and expected travel restrictions related to the COVID-19 pandemic. But we plan to conduct the summit virtually. Aviation's premier safety summit, drawing scores of industry participants from over 50 countries, will expand its reach this year via a global web broadcast. FSF plans to address the critical safety issues that confront aviation around the world in a webinar format during October-November 2020. We will follow up later with specific dates for Virtual IASS 2020. Please be on the lookout for further updates, including a call for papers to be presented during the summit.
FSF Call for Presentations – Now open! 
If you have a great idea for an aviation safety presentation or interactive conference session now is the time to talk with us! We will hold either a dedicated session on issues arising from the COVID-19 pandemic response and recovery efforts or address COVID-19 interspersed throughout the event. On day two of this year's event, in addition to the general session, we again will be conducting a parallel session on topics of specific interest to maintenance and engineering personnel.
Although we do not want to limit the possible topics, we are particularly interested in presentations that address the following focus areas:
• COVID-19 (organizational challenges and lessons, medical concerns, humanitarian efforts)
• State of the industry
• Crisis Management after an accident
• Safety data sharing and best practices
Presentations are not limited to the list above, please visit our IASS Call for Presentations Document for a more comprehensive list. Other topics are welcome.
Flight Safety Foundation is accepting submissions until Friday, June, 12, 2020. You can email your application to technical@flightsafety.org. Notification of acceptance of submissions will be communicated during late June.
---
What is IASS?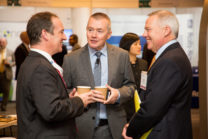 Held annually since 1947, the Flight Safety Foundation's International Air Safety Summit is aviation's premier safety summit, drawing as many as 325 representatives from 50 plus countries to exchange information and propose new directions for further risk reductions. The summit covers safety, training, practical solutions, management, human factors and other issues for scheduled airlines, manufacturers and equipment suppliers, trainers, flight crews, maintenance personnel and industry executives.
---
Who should participate? 
IASS brings together aerospace and aviation professionals from around the globe primarily for people responsible for the following areas:
Safety in design
Manufacturing
Development
Training
Maintenance
Operation
Regulations