BASS 2021
The BASS 2020 Program is now available!
The program agenda will continue to be updates. Please check back regularly for more updates.
Last Updated February 20, 2020
---
FAA Administrator Steve Dickson to Keynote Business Aviation Safety Summit
Steve Dickson, administrator of the U.S. Federal Aviation Administration (FAA), will be the opening keynote speaker at Flight Safety Foundation's 65th Business Aviation Safety Summit (BASS) in Savannah, Georgia. Dickson, who was confirmed for a five-year term by the U.S. Senate on July 24, 2019, is scheduled to speak April 29.
"We are extremely grateful and excited that Steve has agreed to open BASS 2020," said Dr. Hassan Shahidi, president and CEO of the Foundation. "His strong advocacy for safety throughout his career as both a pilot and an administrator gives him a unique understanding of all aspects of aviation safety."
Prior to becoming FAA administrator, Dickson retired from Delta Air lines as the senior vice president of flight operations. He also has served as an Airbus A320 captain and flew the Boeing 727, 737, 757 and 767. He is a former U.S. Air Force officer, F-15 fighter pilot and distinguished graduate of the U.S. Air Force Academy and Georgia State University College of Law.
View program here.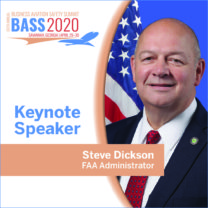 ---
7th annual Joint Safety Roundtables 2020 – Accident Investigations 
Date: April 28, 2020
Time: 8:00 AM – 4:30 PM
Location: Savannah Convention Center
     Room 204/205
Open to all Safety Managers and Safety Officers and designated Safety pilots, and those highly interested in safety training. This is a one-day round-table workshop is a $30.00 to attend.
View latest agenda here.