BARS for RPAS Audit Program
The Basic Aviation Risk Program (BARS) has developed the RPAS Audit and Registration Program to complement the RPAS Standard and provide a more efficient means of monitoring, assessing, and analyzing risks associated with RPAS/Drones/UAV.

It's no secret that the use of RPAS vehicles onsite comes with risks. Accidents happen and when they do, they can lead to expensive damage to property, major delays and interruptions, injury, and even death. An RPAS Audit using registered BARS Audit Companies and accredited RPAS Auditors provides an evaluation of operations and technical management systems of an RPAS operator. It is an in–depth audit with the objective of clearly articulating and verifying what procedures, processes and systems the RPAS operator has in place to mitigate risk. 
Reasons for an RPAS Audit?
Efficiency – A single Audit satisfies multiple contracting companies.
Fit for purpose – Ensures operators are fit for purpose for sometimes remote and complex conditions.
Safety Assurance – Provides an extra level of safety for your assets, employees and operations.
Industry Knowledge – Provides access to proven practices based off a global aviation knowledge base.
ONSITE FULL AUDIT 
Onsite Full Audit will be conducted with one auditor where auditors are not subject to travel or quarantine restrictions and able to travel and visit the Operators' facility.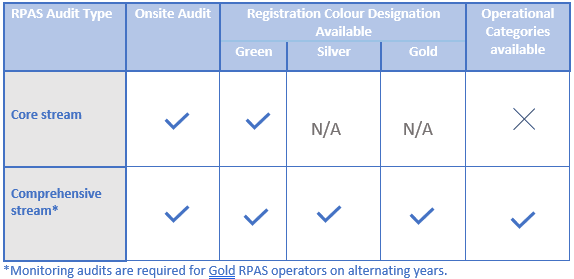 Operational Categories:
The BARS for RPAS has additional appendices for discrete operations using RPAS which can be applied – in addition to – the main bowtie of Threats and Controls. These are referred to as Operational Categories when the audit is undertaken.
These additional appendices/bowties are covering:
Underground or Confined Spaces
BVLOS
Offshore/Maritime Environment
RPAS with External/Sling Loads
After the Audit?
After the Audit Company review, the BARS Program office (BPO) will review the final Audit Report. Once published, the BPO can complete the BARS registration process, RPAS Operators are listed on the BARS registry and Member Organizations are notified. Audits are to be conducted every year to maintain registration. 
What to do now?
Download – Download the RPAS Standard and Implementation Guidelines.
Apply  – The journey will really start from the point where you Apply for an RPAS Audit from our website. This page has an infographic video which will guide you across the various stages of joining, preparing and undertaking an Audit as well as the renewal process for each year.
Contact  – Speak to one of the BARS Audit Companies listed. The Audit Companies will assist you in the preparation leading up to the Audit.
Email – Email the BARS Program Office to register your interest in the BARS Program.