Audit Review Meeting (ARM)
Communication with our stakeholders is key and every six months, the participating Audit Companies are invited to attend the Audit review Meeting to discuss the operational aspects of the Audit element of the BARS program. The auditors and Audit Companies are the eyes and ears of the Program with their interaction with the Aircraft Operators. The ARM is also the opportunity for the BARS Program Office to provide feedback on new Program initiatives and developments directly to the Audit Companies.

The ARM is held twice a year, once in Australia and once in an international location- co-located with the TAC Meeting.
ARM14 in Dublin, 2017
The BARS Program Office was very pleased to welcome Audit Companies, Argus International, AvLaw, Litson & Associates, and SGS Aviation, to the 14th Audit Review Meeting in Dublin this past October, 2017.
These meetings are a great place for free exchange of ideas and aims for improvement of the BARS Audit Program. Much ground was covered and all benefited from the development of group awareness of the direction the BARS Program is going and the opportunities for all participants that it will bring.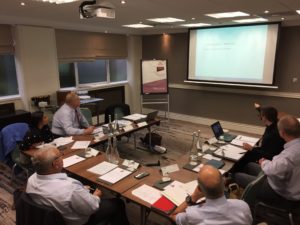 The Next ARM will be held on;