Building Personal Resilience Program
Flight Safety Foundation presents the Building Personal Resilience Program as a proactive initiative for member organizations to provide individuals and teams with industry-specific and evidence-based skills and strategies to help manage their mental health more effectively.
The program, developed by psychologists at The Keil Centre, is grounded in strategies founded in cognitive behavioral therapy as well as coaching and high-performance psychology. The program is not intended for those experiencing mental health issues which would instead benefit from therapeutic interventions provided by a member organizations' employee assistance programs. 
2023/2024 BUILDING personal resilience program Calendar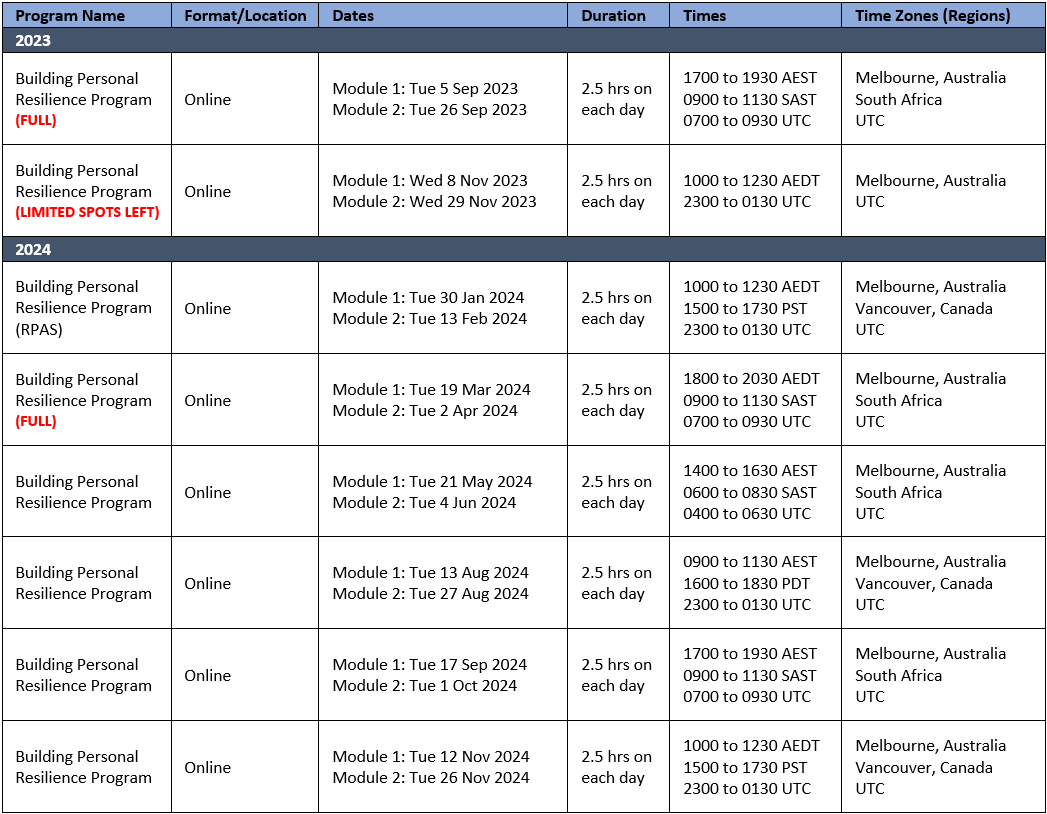 To express your interest in this training, the workshop costs and more information please forward your contact details to bars@flightsafety.org, advising which training dates you are interested in.
how it works
Program will consist of 2 x 2.5 hour sessions (online) with groups of up to 12 people,
led by a trained Keil Centre psychologist. 
This course is provided at "no cost" to our stakeholders (only via online).
If you would like a face to face session please contact our office to discuss cost and availability.
The modules are designed such that the skills developed in the first module can be built upon throughout the following module.
WHY THIS PROGRAM?
Personal resilience is a key skillset to ensure our mental health, at work, at home, and in our community.
The program has been developed to:
Help us to understand our stress response
Enable us to recognize our individual response patterns to stressors; and
Adjust our coping strategies to manage life's challenges more effectively
WHO IS THE TRAINING FOR?
This training is open to participants from all departments involved in the development, monitoring, implementation, and enhancement of aviation activities.
Cabin crew
Pilots
Aircraft maintenance & engineering
Risk Managers
Ground Staff
Air Traffic controllers
Any accountable onsite personnel; and
All personnel who are involved in aviation operations as part of their day‐to‐day activities.
Become a facilitator for your organization.
If your organization would like to upskill staff to become a facilitator, the Keil Centre offers a "Building Personal Resilience Facilitator Training" specific to the aviation Industry. Staff who attend this training are not expected to be an expert in resilience or mental health. The role is to lead a discussion among work peers.
Please contact us for more details.
The Personal Resilience Program is a collaboration between FSF and The Keil Centre and funded by BHP, Rio Tinto and Glencore.