Events
Flight Safety Foundation's summits and seminars are major gatherings of aviation professionals, designed for people with the responsibility for safety in design, manufacturing, development, training, maintenance and operations. Leading aviation specialists can exchange information and offer directions for further risk reduction.
Save the date – FSF's Future Events
FSF Speaker Series 
June 25, 2019
Arlington, VA
7th annual Networking Dinner and Silent Auction
July 10, 2019
Washington, D.C.
72nd annual International Air Safety Summit
November 4-6, 2019
Taipei
Events Search and Views Navigation
June 2019
June 25, 2019
Arlington
June 25, 2019 — Emerging Transportation Safety Issues and International Cooperation on Safety A lunchtime conversation The Honorable Robert Sumwalt Chair of the National Transportation Safety Board United States Ms. Kathy Fox Chair of the Transportation Safety Board Canada Moderator Peggy Gilligan Associate Administrator for Aviation Safety (retired) Federal Aviation Administration Overview Both the U.S. National Transportation Safety Board (NTSB) and Canada's Transportation Safety Board (TSB) work to improve safety by investigating accidents in aviation, rail, maritime and pipeline transportation,…
July 2019
July 10, 2019
Washington, DC
OVERVIEW & schedule The Foundation has the enduring mission and obligation to be the leading voice of safety for the global aviation community. We do this by bringing safety specialists together to freely discuss important issues that affect the aviation industry each day. Safety is not static, and the industry must continuously invest in it, both within its own companies and also as a part of the larger conversation. The annual Networking Dinner and Silent Auction is an opportunity to…
November 2019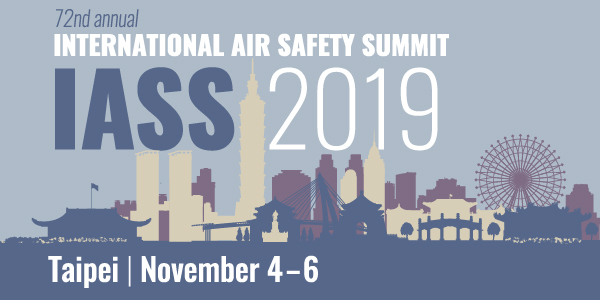 November 4-6, 2019
Taipei City, Taiwan
The IASS 2019 Program is now available!  VIEW PROGRAM HERE The program agenda is continuously being updated. Please check back regularly for more updates. Last updated June 4, 2019 WHAT IS IASS? Held annually since 1947, the Flight Safety Foundation's International Air Safety Summit is aviation's premier safety summit, drawing as many as 325 representatives from 50 plus countries to exchange information and propose new directions for further risk reductions. The summit covers safety, training, practical solutions, management, human factors and other…
+ Export Events