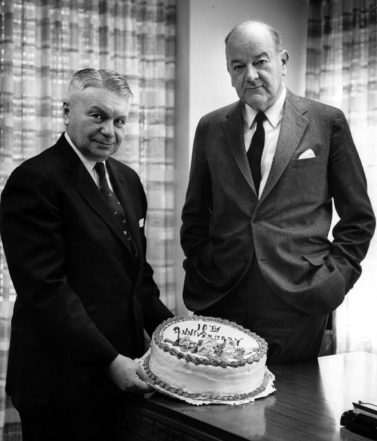 Founded in the mid-1940s by by Jerome F. "Jerry" Lederer and a handful of other visionaries, Flight Safety Foundation has, for 75 years, initiated projects and developed products to reduce risk and improve aviation safety worldwide.
As the first and only organization of its kind, devoted exclusively to safety in aviation, the Foundation has received numerous awards and is recognized for its work in identifying global safety issues and serving as a catalyst to addressing these issues. The Foundation's effectiveness in bridging proprietary, cultural and political differences in the common cause of safety has earned worldwide respect. 
The following are among the Foundation's significant accomplishments:
Organized the first civil aviation accident investigation workshop;
Sponsored the first international air safety seminar;
Conducted the first computer modeling of accident forces, which led to the improvement of passenger restraint systems;
Conducted the initial studies of, and provided early support for, the use of basic aviation safety devices such as anti-collision lights and airborne weather radar;
Initiated the first international, confidential pilot safety-reporting system, which became a model for other programs;
Conducted the first collection and distribution of aircraft mechanical malfunction reports;
Conducted initial studies that became the basis for international medical standards for pilots and air traffic controllers;
Conducted the first technical work on explosion-resistant helicopter fuel tanks, which have been credited with saving thousands of lives;
Increased international awareness of the hazard of "bogus" aircraft parts (i.e., parts not designed and/or manufactured to required standards);
Conducted an in-depth study of accidents involving controlled flight into terrain and developed preventive measures;
Conducted an in-depth study of approach and landing accidents and developed preventive measures;
Conducted more than 30 regional ALAR workshops;
Participated in the development of international rules and standards to protect safety information;
Conducted a study that became the blueprint for implementing flight operational quality assurance (FOQA) programs in the United States;
Led the development of FOQA programs for corporate/business aircraft operators;
Developed the multimedia Wind-Shear Training Aid for pilots operating commuter, air taxi, corporate and other general aviation aircraft;
Coordinated international efforts to develop the Airplane Upset Recovery Training Aid;
Developed fatigue-management guidelines for corporate aviation operations;
Coordinated, co-chaired and published the initial industry findings and recommendations on ultra-long-range operations, defined as nonstop flights of more than 16 hours duration;
Conducted a study of continuing airworthiness risk evaluation;
Conducted an in-depth study of ground accidents;
Formed and led an industry team that created a generic checklist for handling non-annunciated smoke-fire-fumes events in aircraft;
Participated in an international effort to address the shortage of qualified aviation personnel; and,
Participated in drafting the Global Aviation Safety Roadmap for the International Civil Aviation Organization (ICAO) and participated in implementing the roadmap in developing countries.
Among the Foundation's more recent initiatives are the following:
Developing a long-term research roadmap for the In-Time Aviation Safety Management System (IASMS) concept for 2025-2040;
Continuing participation in the U.S. Commercial Aviation Safety Team, the ICAO Air Navigation Council, the ICAO Regional Aviation Safety Groups in the Pan American and Asia and Pacific regions, and the National Business Aviation Association Safety Committee;
Forming and leading the Runway Safety Initiative team in studying runway excursion incidents and accidents, and developing documents and training aids to prevent these events;
Increasing international awareness of the threat to continued safety improvement by aviation accident criminalization, which interferes with the gathering of facts for accident prevention;
Assisting international media representatives in understanding aviation safety issues;
Producing annual Safety Reports based on data from the Foundation's Aviation Safety Network;
Producing AeroSafety World, a frequently updated digital journal providing timely, objective and accurate information;
Conducting the annual International Aviation Safety Summit, the Business Aviation Safety Summit, and the Safety Forum.
Producing extensive COVID-19 guidance;
Publishing the Global Action Plan for the Prevention of Runway Excursions; and,
Developing the Learning From All Operations concept.