A Lifetime of Safety Advocacy, Father of Aviation Safety
Jerome F. "Jerry" Lederer, whose career in aviation safety ran from the earliest airmail flights – and a preflight inspection of Charles Lindbergh's "Spirit of St. Louis" – to the development of the U.S. space program's safety office, was the driving force behind the creation of Flight Safety Foundation and served as the Foundation's first director.
A lifelong advocate of safety in air and in space, Lederer pressed the aviation community to share aviation safety information, to implement real-time monitoring of pilots and aircraft performance and to counteract complacency among the pilots of highly automated aircraft.
Lederer was born in New York City in 1902 and became interested in aviation as a young child. He earned a mechanical engineering degree, with aeronautical options, from New York University in 1924.
In 1926, he became an aeronautical engineer for the U.S. Air Mail Service, modifying aircraft designs to help prevent accidents and investigating crashes. Around this time, he became friends with Lindbergh, one of the airmail pilots, and on the day before Lindbergh took off on his historic solo flight across the Atlantic Ocean in May 1927, Lederer inspected his airplane, the "Spirit of St. Louis," at New York's Roosevelt Field.
In 1929, Lederer became chief engineer of Aero Insurance Underwriters, in charge of loss prevention and safety – a job that centered on evaluating risks in aviation, reducing losses through safety audits and educational programs, and disseminating safety bulletins and newsletters.
From 1940 to 1942, he was a member of the Civil Aeronautics Board, a precursor to the Federal Aviation Administration (FAA), and then the director of the board's Bureau of Aviation Safety, which eventually became the National Transportation Safety Board, where he was responsible for rulemaking and accident investigation. He developed accident investigation procedures still used today and was a proponent of a number of advances in safety, including the adoption of requirements that aircraft be equipped with flight data recorders and flashing anticollision lights.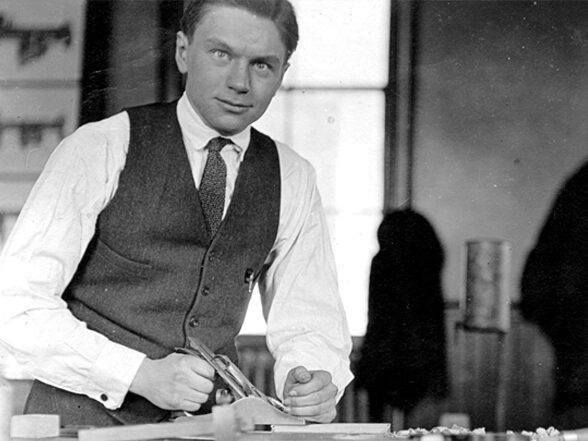 During much of World War II, Lederer was the director of training and head of the administrative section of the Airlines War Training Institute, where he developed a program that trained 10,000 pilots and 35,000 maintenance technicians for the war effort.
After the war, Lederer became a chief engineer conducting accident-related work with Aero Insurance Underwriters. After a 1946 fatal loss-of-control accident in Pennsylvania involving a TWA Lockheed Constellation, Lederer organized a meeting of aviation industry stakeholders to discuss ways of disseminating critical safety information.
In 1947, he established Aircraft Engineering for Safety (AES) as a service for the exchange of safety information. He asked Gloria Heath to run AES initially, as he was concluding his commitments to Aero Insurance Underwriters. In the same year, Lederer organized the first international air safety summit, with eight attendees.
In 1948, Lederer joined Flight Safety Foundation as its first director. Flight Safety Foundation had been formed three years earlier, in 1945, to carry out research into cockpit design, human factors and crash injury research. AES merged into Flight Safety Foundation as a new division, and Heath became its head.  Lederer led the Foundation until 1967, expanding the organization's scope and influence and leaving as his legacy the worldwide dissemination of safety information to transcend competing commercial interests and national borders.
 In 1950, in addition to his responsibilities with the Foundation, he became the director of the Cornell Guggenheim Aviation Safety Center, and in 1956, he was appointed to President Eisenhower's seven-person Aviation Facilities Investigation Group, which modernized the air traffic control system and paved the way for formation of the FAA.
Lederer retired from Flight Safety Foundation in 1967; the same year, after a fire that killed three astronauts, he was asked to establish and direct an office for the safety of manned space flight for the U.S. National Aeronautics and Space Administration (NASA). He later became director of safety for all NASA activities.
After retiring from NASA in 1972, Lederer served on numerous boards and panels and taught at the Institute of Safety and Systems Management at the University of Southern California. In 1979, in the wake of the Three Mile Island nuclear power plant accident, he began six years on the Advisory Council for the Institute of Nuclear Power Operations, urging the application of aerospace risk management techniques to the nuclear power industry.
In his later years, Lederer researched, spoke and wrote about safety issues.
Throughout his career, Lederer received nearly 100 honors and awards, including the Wright Brothers Memorial Trophy, the Edward Warner Award from the International Civil Aviation Organization and selection by Aviation Week as a "Laurel Legend."
He continued to be an advocate for aviation safety until his death in 2004 at the age of 101.
Safety Research Resource​
The Jerry Lederer Aviation Safety Library was created by Flight Safety Foundation as an independent source of aviation safety information for FSF members, as well as the news media and the public. The Library subsequently was relocated to Embry-Riddle Aeronautical University in Prescott, Arizona, to join the holdings of the Aviation Safety and Security Archives. The rich resources of the Lederer Library continue to be available to all FSF members.
For more information, visit the archives or contact the Aviation Safety and Security Archives, 3700 Willow Creek Road, Prescott, Arizona  86301, USA. Telephone: +1 928.777.3949. Fax: +1 928.777.3934. E-mail: prasasa@erau.edu