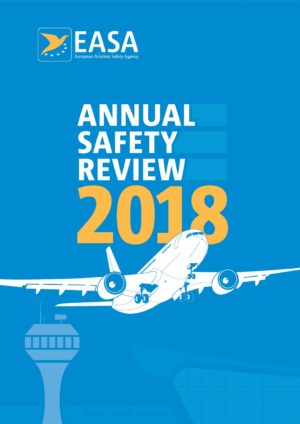 The world's airlines registered "an exceptional year" in safety, with fewer fatalities than recorded in any other year in the industry's history, the European Aviation Safety Agency (EASA) says.
But in its Annual Safety Review 2018, released last week, EASA also said fatal accidents in January 2018 emphasized that "a regulator never rests on its laurels." According to EASA data, fatalities in the January accidents alone exceeded those recorded in all of 2017.
Those accidents, as well as fatal accidents in EASA member states in 2017 in non-commercial and specialized flight operations, "demonstrate the need to continuously drive safety improvements across the board, to share lessons learned," said EASA Executive Director Patrick Ky.
"This is achieved through the safety actions that are identified in the European Plan for Aviation Safety (EPAS). In partnership with our member states, we are developing a better view of safety and defining a collective response. Additionally, EASA coordinates beyond Europe at a global level in order to help protect our citizens when they travel beyond our borders."
EASA data showed that in 2017, there were nine fatal accidents worldwide involving large airplane passenger and cargo operations and 67 fatalities — the lowest numbers since EASA's record keeping began in 1970. None of the fatal accidents involved operators from EASA member states.
The highest number of fatalities in a single accident was 39, the report said, and the median number of deaths per accident was four, the report said. By comparison, in the 10 previous years (2007–2016), the highest number of fatalities in a single accident was 298 and the median per accident was eight.
Data for 2017 showed that the greatest number of fatal accidents and fatalities in EASA member states occurred in non-commercial operations, with 34 fatal accidents and 62 deaths. Other fatal accidents and fatalities involved specialized operations flights (three fatal accidents and four fatalities), all rotorcraft operations (seven fatal accidents and 17 fatalities), balloons (three fatal accidents and seven fatalities) and sailplanes (25 fatal accidents and 27 fatalities).