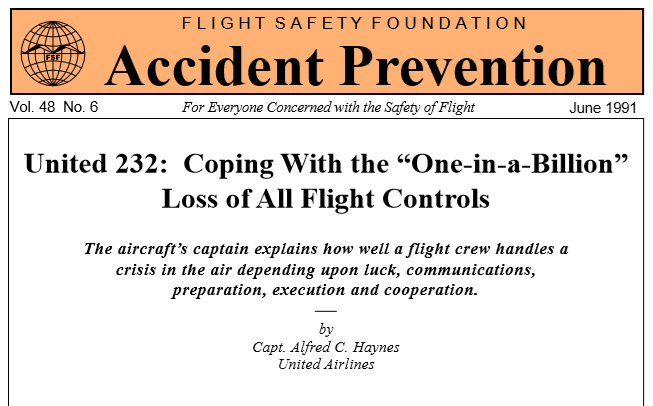 Alfred C. Haynes, the United Airlines captain widely regarded as a hero for guiding a crippled McDonnell Douglas DC-10 to a crash landing at the Sioux City, Iowa, U.S., airport after an uncontained engine failure and the loss of hydraulic flight control systems, has died at age 87.
Haynes died Sunday at a hospital in the Seattle area.
On July 19, 1989, Haynes was captain of United Flight 232, which suffered an uncontained failure of its no. 2 engine while cruising at Flight Level 370 (approximately 37,000 feet). As the engine broke apart, it destroyed all three of the DC-10's hydraulic flight control systems.
As Haynes said in an article published in the June 1991 issue of Flight Safety Foundation's Accident Prevention, the hydraulic systems failures "left us … with no ailerons to control roll, no rudders to coordinate a turn, no elevators to control pitch, no leading edge devices to help us slow down for landing, no trailing edge flaps to be used in landing, no spoilers on the wings to slow us down in flight or to help braking on the ground, no nosewheel steering and no brakes.
"That did not leave us a great deal to work with."
But by controlling the no. 1 throttle and the no. 3 throttle, the flight crew — aided by a DC-10 instructor pilot who had been aboard as a passenger — managed to turn the airplane by adding thrust on one side and reducing thrust on the other, maneuvering it into a position from which it was possible to attempt a landing.
"With no pitch control and just the slight amount of substitute steering capability we had, it is a wonder to me that we ever got the airplane on the ground, and I attribute that to a great deal of luck," Haynes wrote. "The things that we happened to try that day … happened to be the right things, and they happened to work. So, luck played a very big part in even getting the airplane to respond."
Flight 232 crash-landed about 45 minutes after the hydraulic failure. Of the 285 passengers and 11 crewmembers, 174 passengers and 10 crewmembers survived. Haynes and the other crewmembers were credited with saving their lives, and aviation experts considered it a miracle that anyone had survived. The U.S. National Transportation Safety Board's accident report can be found here.
Haynes was a line pilot for United from 1956 until his retirement in 1991, logging about 30,000 hours of flight time. In the years after the crash landing, he received numerous honors, including, in 1989, the Flight Safety Foundation President's Special Commendation for Extraordinary Professionalism and Valor.
Editor's Note: Due to a typographical error, the June 1991 Accident Prevention article incorrectly stated the accident date. The correct date was July 19, 1989.