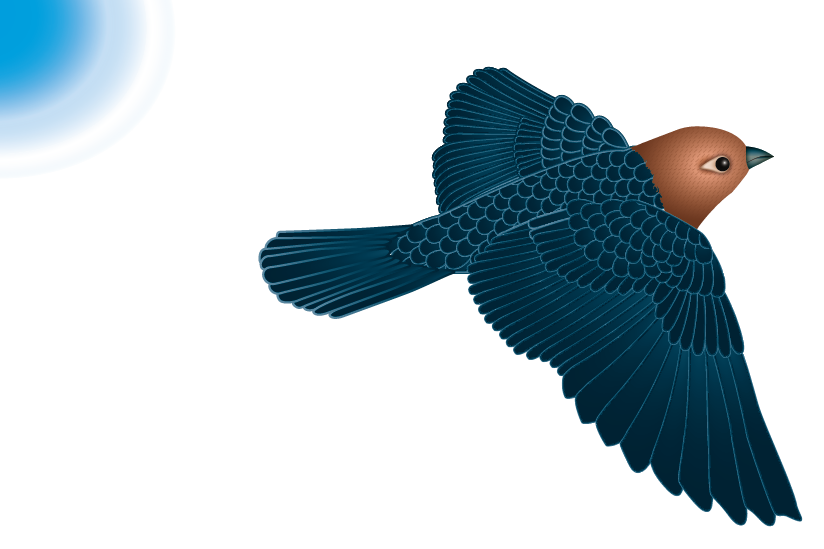 Because birds see the world differently than humans do, researchers are working to determine how changes in aircraft external lighting systems might help avoid collisions between birds and aircraft.
"Some types of lighting may enhance the birds' detection and visual tracking of aircraft at high speeds and, thus, [hold] some potential as a means of reducing the frequency of bird strikes," a team of researchers wrote in a study published in The Condor: Ornithological Applications, the journal of the California-based Cooper Ornithological Society.1
The number of reported bird strikes has increased dramatically in recent years, according to data from the U.S. Federal Aviation Administration (FAA). A 2014 report showed a 6.1-fold increase in wildlife strikes between 1990, when 1,851 strikes were reported, and 2013, when 11,315 were reported (Figure 1). Of the 142,603 strikes over the 23-year period, 97 percent involved birds. The remaining 3 percent involved terrestrial mammals, bats and reptiles.2 Authorities believe that many more strikes go unreported.
The increase in bird strikes has been accompanied by an increase in the number and types of programs designed to prevent them, virtually all of them centered on reducing bird populations near airports. These programs rely on techniques as varied as establishing habitat management programs to keep birds out of the airport environment and using pyrotechnics, sirens, predatory birds or dogs to dispel problem birds that congregate near runways.
Figure 1 — Reported U.S. Civil Aircraft Wildlife Strikes, 1990–2013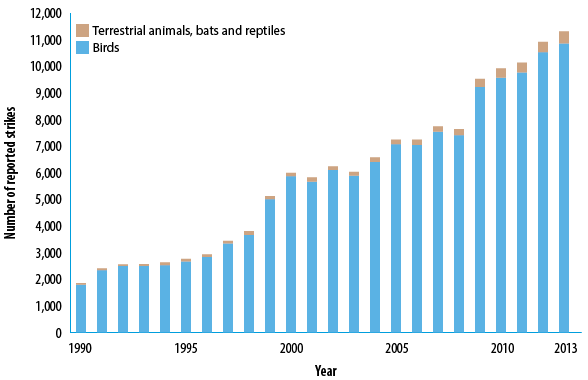 Source: U.S. Federal Aviation Administration and U.S. Department of Agriculture
"However, these strategies are limited because many strikes occur beyond airport jurisdiction," said the report on the new study, conducted by scientists from Purdue University and the U.S. Agriculture Department's National Wildlife Research Center. "This means that commercial aircraft themselves do not currently have any specific means of minimizing the chances of bird strikes."
Over the years, various proposals have called for lights on aircraft to increase their visibility to birds, and earlier studies found that birds' response to approaching vehicles depended in part on ambient light conditions.
Visual Perceptions
Earlier studies also found that, largely because of differences in their ability to see colors, "the way birds perceive visual stimuli is markedly different from the way humans perceive them," the report said.
The difference is largely in their ability to detect ultraviolet (UV) light, which is invisible to humans. While humans have three types of light-sensitive photoreceptors (cone cells) in the eye's retina — red, green and blue cone cells — birds that are active during the day have four types — red, green, blue and an additional type that is sensitive to UV light. Birds' cone cells also contain drops of colored oil that filter light. The result is that birds not only see UV light but also are able, in a way that humans are not, to distinguish among similar colors.3
Conversely, the report said, "lights that are visually conspicuous to humans may not necessarily be so to birds."
Past research on the use of lighting to prevent bird–aircraft collisions has involved white light, the report said.
"However," it added, "from the perspective of developing lights tuned to the avian eye that could lead to detection and avoidance behaviors, using white lights could actually complicate the interpretation of behavioral responses because it is not possible to establish which wavelength animals are responding to. This is because 'white' lights have similar representation of multiple wavelengths."
Study Methods
The new study was designed to observe the responses of brown-headed cowbirds to an approaching radio-controlled (RC) aircraft with "single-wavelength lights tuned to their visual system (i.e., maximizing the lights' conspicuousness) during daylight conditions."
Daylight conditions were chosen because about twice as many bird strikes have been reported during the day as during nighttime conditions, the report said.
Seventy-seven female and 143 male adult brown-headed cowbirds were used in two experiments, both involving a 131-cm (52-in) long RC aircraft with a 158-cm (62-in) wingspan. The aircraft was equipped with high-contrast light-emitting diode (LED) lights beneath each wing; the lights were either continuously on or pulsed at 2 Hz — a frequency outside of the range typically associated with flicker vertigo in humans. The commercially available light determined to be the most conspicuous to birds was on the blue portion of the electromagnetic spectrum, at about 470 nanometers.
The first experiment was designed to determine whether the birds' behavior was different when lights were off on a stationary aircraft, compared with when they were on continuously or pulsing.
"The occurrence of a behavioral change in response to the lights when the aircraft was not moving allowed us to establish indirectly whether the animals would pay attention to these lights," the report said.
In the second experiment, researchers sought to determine the birds' response to lights that were off, continuously on or pulsing as the aircraft was flown toward them across a grass field in northern Indiana, U.S.
Researchers determined that when the aircraft was stationary, the birds demonstrated "alert behaviors" more quickly when the lights were continuous or pulsing, compared with when they were off.
When the aircraft was flown toward the birds, they were affected by both the light selection and the aircraft's speed, the report said, adding, "These independent effects … cannot be interpreted separately given that both light treatment and aircraft speed interacted significantly. … When the lights were off, we found a strong and significant speed effect … whereby cowbirds took significantly longer to alert when the RC aircraft approached at higher speeds. When the lights were pulsing, the negative speed effect … was still significant, but its strength decreased."
Researchers found that when all eight lights were continuously on, the aircraft had "higher luminance per unit time" than when lights were pulsing and only four were on at a time.
"If cowbirds increased their visual attention to continuous lights rather than to the aircraft itself, this may have facilitated tracking the aircraft across the range of speeds used, potentially reducing the problem of estimating the aircraft position," the report said.
Larger Species
The researchers called for additional studies of the effects of blue-spectrum lights on other, larger bird species that are often involved in collisions with aircraft, "particularly those with body masses and visual capacities different from those of our model species."
Nevertheless, they noted that, because cowbirds have lower visual acuity than some of those larger species, including waterfowl, gulls and raptors, their findings suggest that those species may be capable of detecting the lights from a greater distance than the cowbirds in their experiments.
Because aircraft move at different speeds during different phases of flight, the settings of on-board lights might have to be varied from one phase to the next, the report said. For example, lights could be off or pulsing during taxi but continuously on during takeoff.
"Our results may have different implications for illuminating aircraft (i.e., moving lights) as well as airports (i.e., stationary lights) to potentially minimize the chances of bird strikes," the report said. "One possibility is having two sets of lights to alter bird behavior: a set of stationary lights near the runway and a set of onboard lights."
Notes
Doppler, Megan S.; Blackwell, Bradley F.; DeVault, Travis L.; Fernandez-Juricic, Esteban. "Cowbird Responses to Aircraft With Lights Tuned to Their Eyes: Implications for Bird-Aircraft Collisions."

The Condor: Ornithological Applications

Volume 117 (2015): 165–177.
Dolbeer, Richard A.; Wright, Sandra E.; Weller, John R.; Begier, Michael J. FAA National Wildlife Strike Database Serial Report No. 20,

Wildlife Strikes to Civil Aircraft in the United States, 1990–2013

. July 2014.
Berger, Cynthia. "True Colors: How Birds See the World."

National Wildlife

. July 19, 2012.
Featured image: Susan Reed