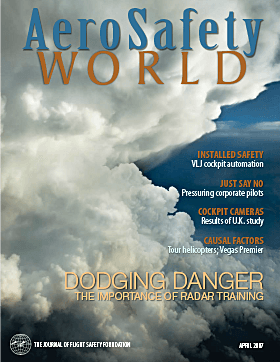 Entire Issue
AeroSafety World April 2007 [PDF 4.6M]
Features
On the Verge 6 pages. [PDF 536K]
With the first very light jets making their way toward the flight line, analysts foresee a spate of accidents — and features likely to yield safety benefits in the long run.
Four Frames Per Second 4 pages. [PDF 267M]
Cockpit image recording tests show many issues remain unresolved.
Search for the Lurking Glitch 4 pages. [PDF 167K]
Flight data monitoring case studies provided by Flight Data Services, with permission of the operators concerned.
When Push Comes to Shove 6 pages. [PDF 314K]
How to say no when the boss says go.
Misreading the Weather 5 pages. [PDF 677K]
Accident investigators say flight into adverse weather conditions factored in the crashes of two helicopters during sightseeing flights in the Hawaiian Islands — an area known for challenging weather patterns.
Streaking Into Vegas 4 pages. [PDF 485K]
Failure of a business jet's lift-dump system was the last ingredient in a spoiled landing.
Survelliance Without Surprises 5 pages. [PDF 147K]
As automated weather radar systems appear on large commercial jets, pilot training on conventional systems may deserve another look.
Safeguarding the Fuel Supply 2 pages. [PDF 333K]
Recent safety audits have identified significant problems in the quality control of aviation fuel supplies and services.
Departments
President's Message | Crossing Boundaries [PDF 100K]
Editorial Page | Not Newer, Better [PDF 82K]
Air Mail | Letters From Our Readers [PDF 185K]
Safety Calendar | Industry Events [PDF 68K]
In Brief | Safety News [PDF 227K]
Foundation Focus | Global Relations [PDF 82K]
Data Link | Parts Inventory [PDF 119K]
Info Scan | Stress Test [PDF 142K]
On Record | Controller Averts Taxiway Takeoff [PDF 455K]