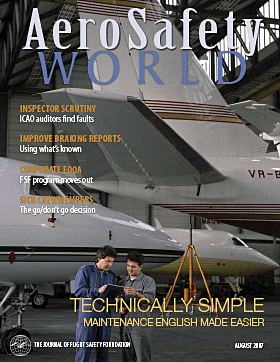 Entire Issue
AeroSafety World August 2007 68 pages. [PDF 3.8M]
Features
C-FOQA Takes Root 5 pages. [PDF 370K]
Foundation introduces a powerful corporate aviation safety tool.
Simplifying the Technicalities 6 pages. [PDF 230K]
Word lists and writing rules take the confusion out of aviation maintenance documents.
Cabin Fever 5 pages. [PDF 348K]
Accepting a trip while ill would fly in the face of safety principles.
Heating Up in Paris 3 pages. [PDF 378K]
While not global warming, the hot pace of orders at the Paris Air Show creates concerns about coping with a rapidly expanding world fleet.
Inspector Scrutiny 6 pages. [PDF 388K]
ICAO auditors expect states to commit enough resources for effective oversight.
Improving Braking Action Reports 5 pages. [PDF 355K]
Using performance data from landing aircraft would eliminate current inaccuracies.
A Moveable View 4 pages. [PDF 303]
Head-up displays are paving the way for head-worn displays designed to provide information and flight guidance.
Departments
President's Message | The Bell Tolls [PDF 96K]
Editorial Page | Growth and Consequences [PDF 82K]
Safety Calendar | Industry Events [PDF 157K]
In Brief | Safety News [PDF 223K]
Foundation Focus | Members List [PDF 280K]
Data Link | Cold Comfort in Accident Reports [PDF 100K]
Info Scan | Decision Management [PDF 148K]
On Record | In-flight Depressurization [PDF 439K]