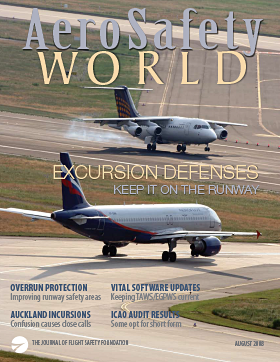 Entire Issue
AeroSafety World August 2008 68 pages. [PDF 4.0M]
Features
Safety on the Straight and Narrow 6 pages. [PDF 309K]
Aviation safety experts aim for the Runway Safety Initiative to provide the tools to help prevent runway excursions.
Indispensable Upgrades 3 pages. [PDF 217K]
Only the latest TAWS software and databases, plus GPS positioning, can optimize terrain/obstacle warnings with hardly any unwanted alerts.
Margin for Error 5 pages. [PDF 293K]
Enhancing overrun survivability with runway end safety areas.
Never Cross Red 3 pages. [PDF 190K]
Exceptions to a global rule weaken the effectiveness of the stop bar as a last defense against runway incursions.
Going Public Again 6 pages. [PDF 374K]
Most countries opt for a one-page chart to release their results in the current cycle of ICAO safety-oversight audits.
Two's Too Many 5 pages. [PDF 375K]
The scene was set — twice — for a collision at Auckland.
Language Barrier 3 pages. [PDF 406K]
After a simple error wiped out much of their navigation information, the Polish pilots of a 737 were unable to adequately communicate their problem to British controllers.
Ground School 3 pages. [PDF 162K]
Technically sophisticated driver training simulators are upgrading the skills of ground vehicle operators, with a payoff in safety.
Departments
President's Message | Rules Versus Safety [PDF 85K]
Editoria lPage | Time to Reboot [PDF 67K]
Safety Calendar | Industry Events [PDF 125K]
In Brief | Safety News [PDF 186K]
Foundation Focus | Membership Update [PDF 68K]
Data Link | U.S. Helicopter Fatal Accidents Decrease Again [PDF 117K]
Info Scan | Ethics as a Safety Factor [PDF 131K]
On Record | 'High and Fast' [PDF 281K]