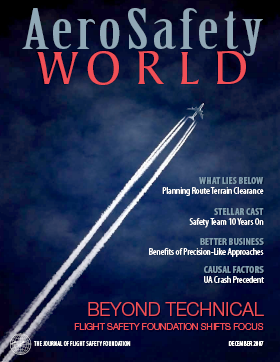 Entire Issue
AeroSafety World December 2007 68 pages. [PDF 5.6M]
Features
Good for Business 5 pages. [PDF 663K]
Conclusion of a series focusing on the development and safety benefits of precision-like approaches, a project of the FSF International Advisory Committee.
Beyond Technical 6 pages. [PDF 364K]
Flight Safety Foundation realigns priorities to meet emerging threats.
A Stellar Cast 6 pages. [PDF 392K]
Joint U.S. government and commercial aviation initiatives invented new ways to reduce accident risk.
Go or No-Go? 2 pages. [PDF 1.07M]
A tire burst, and a decision had to be made quickly.
What Lies Below 6 pages. [PDF 542K]
Plan to avoid the rocks during an emergency descent.
Zero Time to First Officer 4 pages. [PDF 198K]
A training program for the multi-crew pilot license yields insights into global challenges.
Reining in the UAs 5 pages. [PDF 582K]
The NTSB says the requirements for unmanned aircraft should be just as stringent as those for manned aircraft.
Cockpit Discipline 2 pages. [PDF 167K]
Violating the 'sterile cockpit' rule and ignoring other standard operating procedures can lead to tragedy.
Departments
Editorial Page | Shifting Focus [PDF 71K]
Safety Calendar | Industry Events [PDF 131K]
In Brief | Safety News [PDF 169K]
Foundation Focus | Moving Aviation Safety Forward [PDF 230K]
Data Link | A Statistical Fluke [PDF 370K]
Info Scan | A New Model for 'Organizational Learning' [PDF 178K]
On Record | Mixed Mode Mishap [PDF 301K]