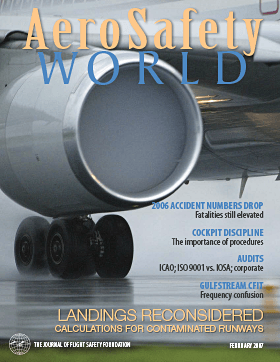 Entire Issue
AeroSafety World February 2007 68 pages. [PDF 3.9M]
Features
Too Old to Fly? 5 pages. [PDF 291K]
ICAO has increased the mandatory upper age limit for airline pilots to 65, but some wonder if a limit is really necessary
A Mixed Year 6 pages. [PDF 312K]
Declines in accidents showed progress in 2006, but the number of fatalities remained stubbornly high as traditional risk categories continued to take a toll.
Knowing the Distance 4 pages. [PDF 210K]
The FAA plans to require commercial and fractional turbojet flight crews to confirm landing distance capability on arrival in specific situations.
Outside the Window 7 pages. [PDF 484K]
The Gulfstream III was flown below the glideslope on an unstabilized approach. There were no GPWS warnings, and only one MSAW warning just before impact.
Discipline as Antidote 4 pages. [PDF 202K]
The importance of procedures and the adherence to procedures cannot be overstated.
A Quest for Transparency 3 pages. [PDF 249K]
Releasing excerpts from their ICAO audit results, some civil aviation authorities seek financial.
Airline Safety Standard Exceeds ISO 9001 3 pages. [PDF 267K]
Comparing the IATA Operational Safety Audit standard with the general industry quality standard, ISO 9001, shows that the airline standard is stricter.
GPS Approaches: Heavy Lifting? 4 pages. [PDF 203K]
Australian pilots say that when flying small and medium-size airplanes, an RNAV (GNSS) approach means a heavy workload.
Last Round 2 pages. [PDF 154K]
FSF Audit Team recommendations and findings related to aircraft maintenance, aircraft configuration, airport facilities and security.
Departments
President's Message | Unnatural Acts [PDF 85K]
Editorial Page | Unintentional Drift [PDF 70K]
Air Mail | Letters From Our Readers [PDF 153K]
Safety Calendar | Industry Events [PDF 71K]
In Brief | Safety News [PDF 193K]
Leaders Log | Working With EASA [PDF 284K]
Data Link | Behavior Modification [PDF 83K]
Info Scan | Piloting From the Ground [PDF 147K]
On Record | Residual Deicing Fluid Freezes, Jams Elevator [PDF 444K]