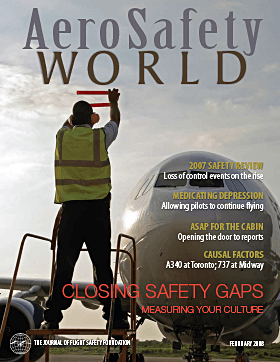 Entire Issue
AeroSafety World February 2008 68 pages. [PDF 5.04M]
Features
LOC Up 6 pages. [PDF 342K]
Loss of control accidents replaced CFIT as the leading cause of commercial aviation fatalities in 2007.
Culture Counts 6 pages. [PDF 520K]
Measuring an organization's safety culture provides an understanding of its strengths and weaknesses.
Antidepressants in Aviation 4 pages. [PDF 192K]
Australian researchers found that pilots who took prescribed antidepressants were no more likely than others to be involved in accidents and incidents.
Overrun at Midway 6 pages. [PDF 673K]
The crew applied reverse thrust too late.
Speaking Up 6 pages. [PDF 633K]
Voluntary safety reports by flight attendants prove to be more valuable than expected.
**Web Exclusive** Speaking Up [Expanded version of article]
Blindsided 6 pages. [PDF 373K]
The pilots of an Airbus A340 did not anticipate the 'severe deterioration' of weather as they approached the runway threshold at Toronto.
Lighting Strikes 3 pages. [PDF 178K]
Realistic lighting conditions are crucial to tests of the readability of flight deck displays.
Departments
President's Message | Achilles' Heel [PDF 88K]
Editorial Page | Management Risk [PDF 69K]
Air Mail | Letters From Our Readers [PDF 191K]
In Brief | Safety News [PDF 160K]
Safety Calendar | Industry Events [PDF 72K]
Data Link | Making Headway on the Runway [PDF 227K]
Info Scan | At Your Surface [PDF 134K]
On Record | Throttle Trouble [PDF 294K]