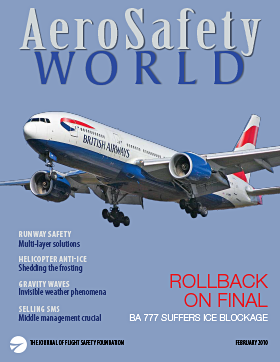 Entire Issue
AeroSafety World February 2010
68 pages. [PDF 4.9M]
Features
Multi-Layer Defenses 6 pages. [PDF 330K]
Specialists at FAA summit look beyond technology to latent and cognitive frontiers of runway risk reduction.
Snowballs in the Fuel System 4 pages. [PDF 344K]
A buildup of ice came loose during final approach.
Bad Vibrations 5 pages. [PDF 271K]
Researchers are studying a variety of ways to eliminate icing on helicopters.
Checking the List 3 pages. [PDF 219K]
A European review praises the EU's airline blacklist as an effective safety tool.
Gravity Waves 4 pages. [PDF 460K]
Nearly impossible to predict and difficult to detect, this weather phenomenon presents a hidden risk, especially close to the ground.
Idea Search 5 pages. [PDF 489K]
The FAA seeks comments on proposals to enhance training and certification requirements for airline pilots.
SMS for the Middle Manager 4 pages. [PDF 311K]
The engine that drives SMS is line management.
Departments
President's Message | Structural Issues [PDF 89K]
Editorial Page | Positive Reflections [PDF 76K]
Safety Calendar | Industry Events [PDF 72K]
In Brief | Safety News [PDF 389K]
Data Link | Slippery When Wet [PDF 351K]
Info Scan | Miracle Ingredients [PDF 144K]
On Record | Unheeded Warnings [PDF 298K]