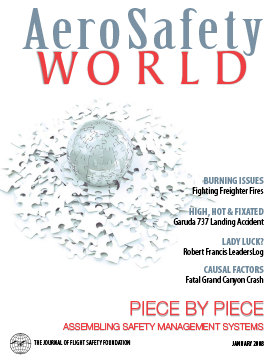 Entire Issue
AeroSafety World January 2008 68 pages. [PDF 4.5M]
Features
Piece by Piece 6 pages. [PDF 695K]
Aviation safety specialists say relatively few of the world's airlines have assembled one of the most significant developments in safety — the safety management system.
Stepping Up to SMS 5 pages. [PDF 210K]
Most corporate aircraft operators are willing, but few know how.
SMS Goes Vertical 5 pages. [PDF 359K]
Smaller helicopter operators are the target of a new tool kit that will ease the pain of developing a safety management system.
An 'E-Ticket' Ride 4 pages. [PDF 304K]
NTSB recommendations — issued after a canyon helicopter crash that killed seven people — aim to discourage 'aggressive flying.'
Burning Issues 6 pages. [PDF 421K]
U.S. pilot unions, ARFF specialists and the NTSB assess shortcomings of freighter fire fighting.
**Web Exclusive** Burning Issues [Expanded version of article]
High, Hot and Fixated 5 pages. [PDF 327K]
Despite several warnings, the Garuda 737 pilot stayed focused on landing.
Fade-Free Memory 2 pages. [PDF 135K]
Enhanced airborne flight recorders will safeguard vastly more data, including images if required.
Departments
President's Message | The New Balance [PDF 85K]
Editorial Page | Build the Structure [PDF 70K]
Air Mail | Letters From Our Readers [PDF 182K]
In Brief | Safety News [PDF 161K]
Leaders Log | Robert T. Francis [PDF 95K]
Safety Calendar | Industry Events [PDF 68K]
Data Link | A Passage Through India [PDF 302K]
Info Scan | The Five-Second Nap [PDF 231K]
On Record | 'Dangerously Low' [PDF 291K]