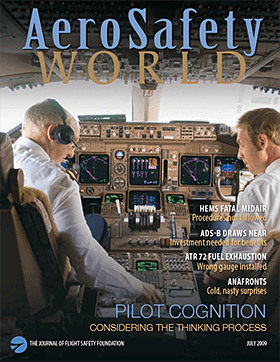 Entire Issue
AeroSafety World July 2009 68 pages. [PDF 5.2M]
Features
Extreme Weather Makers 3 pages. [PDF 216K]
Hard-to-forecast anafronts generate unusual combinations of threats.
Thinking Things Through — First of Two Parts 6 pages. [PDF 284K]
A pilot's cognitive processes — thinking and decision-making skills — often are the key to successfully overcoming in-flight safety risks.
High Stakes 4 pages. [PDF 363K]
ICAO auditors' findings on Australian and U.S. dangerous goods oversight reflect challenges of achieving global consistency.
False Positive 6 pages. [PDF 441K]
The gauges showed 'fat on fuel' when the tanks ran dry.
Procedural Disregard 5 pages. [PDF 595K]
Failure to comply with recommended arrival and communication procedures played a big part in the fatal midair collision of two EMS helicopters, the NTSB says.
Practical Necessity 5 pages. [PDF 200K]
Early adopters — including corporate operators — take an optimistic view of the near-term benefits of ADS-B.
In the Drink 4 pages. [PDF 367K]
Thorough ditching training is not mandated for U.S. civilian airplane crews, but some specialists envision benefits from simulator exercises.
Departments
President'sMessage | Automation Expectations [PDF 89K]
EditorialPage | Failed Justice [PDF 73K]
AirMail | Letters From Our Readers [PDF 169K]
SafetyCalendar | Industry Events [PDF 69K]
InBrief | Safety News [PDF 481K]
DataLink | Route Causes [PDF 575K]
InfoScan | Erring on the Safe Side [PDF 254K]
OnRecord | Bangs and Flames [PDF 286K]