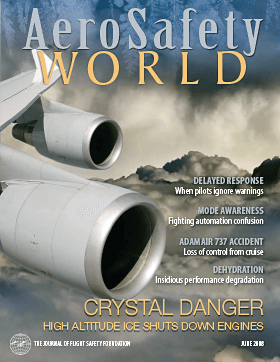 Entire Issue
AeroSafety World June 2008 68 pages. [PDF 4.3M]
Features
Ice Crystal Icing 5 pages. [PDF 473K]
A nearly undetectable weather hazard can knock out a jet engine.
Helping Hand 5 pages. [PDF 378K]
Auto-recovery systems would 'refuse to be destroyed' by a flight crew's inaction, delay or incorrect response to an imminent collision.
Feathers in the Fan 5 pages. [PDF 237K]
Chances of substantial engine damage from a bird strike are far greater during departure than any other phase of flight.
SMS Aspects at CASS 3 pages. [PDF 215K]
Threat and error management becomes part of the safety management system dialogue.
Autoflight Audit 6 pages. [PDF 451K]
Check-up targets efforts to mitigate complexity of flight guidance systems.
Off-Course Confusion 5 pages. [PDF 567K]
A navigation problem distracted the AdamAir pilots from flying the aircraft.
Training for the Pilot Shortage 3 pages. [PDF 183K]
Facing the needs of today and, even more, tomorrow.
Dry and High 4 pages. [PDF 227K]
Dehydration causes an insidious degradation of pilot performance that must not be lightly regarded.
Departments
President's Message | Tougher Words [PDF 85K]
Editorial Page | Chickens Come Home [PDF 69K]
Air Mail | Letters From Our Readers [PDF 186K]
Safety Calendar | Industry Events [PDF 69K]
In Brief | Safety News [PDF 156K]
Foundation Focus | Recognition for Corporate Aviation Safety [PDF 76K]
Data Link | A Favorable Trend Continues [PDF 94K]
Info Scan | Maintenance Human Factors on DVD [PDF 762K]
On Record | Silent Squawker [PDF 286K]