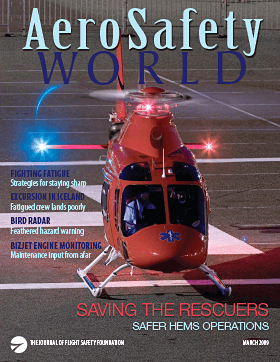 Entire Issue
AeroSafety World March 2009 [PDF 7.0M]
Features
Closing the Loop 5 pages. [PDF 384K]
Alarmed by a surge in fatal accidents in 2008, the NTSB is spearheading an effort to identify new safety measures for helicopter EMS operations.
Wake Me When My Shift is Over 3 pages. [PDF 243K]
On the "rattler" shift, it's a toss-up who will crash first.
Easing Fatigue 6 pages. [PDF 301K]
Aeromedical experts expect fatigue-related problems to worsen.
Too Long at the Wheel 4 pages. [PDF 2.9M]
Fatigue factors in a runway excursion.
Left Behind 6 pages. [PDF 412K]
The ATR 42 pilots were unaware of current procedures for recovering from an ice-induced upset.
Paradigm Shift 6 pages. [PDF 314K]
After the recent A320 bird strike and ditching, expectations soared for avian radar to warn airline pilots of real-time hazards.
**Web Exclusive** Paradigm Shift [Expanded version of article]
Time Travel 5 pages. [PDF 440K]
Safety advantages seem understated as remote analysis of turbofan engine parameters helps business jet operators stay on schedule.
Departments
President's Message | High Expectations [PDF 90K]
Editorial Page | Fighting Fatigue [PDF 75K]
Air Mail | Letters From Our Readers [PDF 193K]
Safety Calendar | Industry Events [PDF 78K]
In Brief | Safety News [PDF 251K]
Foundation Focus | Flight Safety Foundation and Me [PDF 80K]
Data Link | Speaking of Clearances [PDF 284K]
Info Scan | We Still Need Exceptional People [PDF 139K]
On Record | Roller Coaster Ride [PDF 316K]