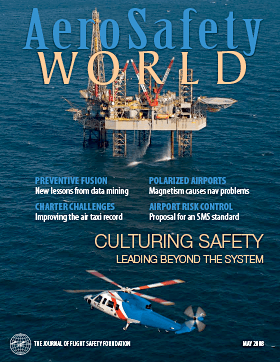 Entire Issue
AeroSafety World May 2008 68 pages. [PDF 5.5M]
Features
Beyond Safety Management Systems 6 pages. [PDF 428K]
Leadership and safety culture play essential roles in moving an organization beyond rote subscription to an SMS.
Airport Magnetism 5 pages. [PDF 456K]
Pilots at several airports have reported navigation problems that involve erroneous heading information. Authorities blame magnetic anomalies in areas on the ground.
Contaminated Air: Time to Act? [PDF 160K]
A wide range of well-documented sources shows that there is a connection between cockpit/cabin air contaminants and health effects.
Preventive Fusion 5 pages. [PDF 308K]
Opening new doors by mining aviation data linked to operating trends, a new FAA-industry program delves into safety vulnerabilities.
**Web Exclusive** Preventive Fusion [Expanded version of article]
Improving Air Taxi Safety 6 pages. [PDF 584K]
Challenges confront efforts to better the charter aircraft accident record.
Crash Course 3 pages. [PDF 184K]
EASS attendees got an inside look at the world of aviation accident criminalization.
Frozen Flight Instruments 3 pages. [PDF 324K]
Protection of pitot-static systems often is neglected.
An SMS Standard for Airports 4 pages. [PDF 276K]
A new proposal expands on existing requirements for safety management systems.
Dark-Night EMS 4 pages. [PDF 300K]
The NTSB says an operating radio altimeter likely could have prevented the fatal crash of a Eurocopter EC 135P2 on an EMS repositioning flight.
Departments
President's Message | Targeting the Top [PDF 92K]
Editorial Page | Lowering the Bar [PDF 72K]
Air Mail | Letters From Our Readers [PDF 160K]
Safety Calendar | Industry Events [PDF 72K]
In Brief | Safety News [PDF 256K]
Data Link | Supply Chain's Weak Links [PDF 148K]
Info Scan | Skills in Depth [PDF 160K]
On Record | Cleared for a Collision [PDF 292K]