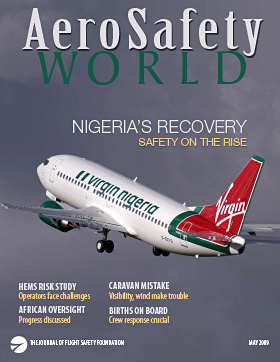 Entire Issue
AeroSafety World May 2009 68 pages. [PDF 4.2M]
Features
Systemic Ills 6 pages. [PDF 335K]
A risk profile points to latent structural issues behind the HEMS industry's safety problems.
Early Signs of a Turnaround 6 pages. [PDF 399K]
International audits stimulate Nigerian airline development and public-private partnerships
to continue rehabilitating infrastructure.
Risky Business 5 pages. [PDF 122K]
A U.K. CAA report says crash data illustrate the need for new safety measures to target business jet operations.
ICAO Looks to Africa 5 pages. [PDF 308M]
The most recent ICAO meeting on air navigation in Africa included a focus on safety for the first time.
Short Flight, Long Odds 5 pages. [PDF 401K]
The pilot was surprised to see the runway pop into view, but he went for it, not knowing that the wind had shifted.
Special Delivery 4 pages. [PDF 231K]
Flight attendants team with medical advisers to aid passengers during in-flight labor and childbirth.
**Web Exclusive** Special Delivery [Expanded version of article]
Departments
President's Message | Listening to the Data [PDF 88K]
Editorial Page | Oversight Threatened [PDF 70K]
Air Mail | Letters From Our Readers [PDF 135K]
Safety Calendar | Industry Events [PDF 72K]
In Brief | Safety News [PDF 158K]
Leaders Log | Lessons From the Financial 'Accident' [PDF 122K]
Foundation Focus | New Regional Base in Australia [PDF 145K]
Foundation Focus | Membership Update [PDF 99K]
Data Link | Accidents in On-Demand Operations Cloud 2008 Data [PDF 271K]
Info Scan | Topical Storm Warning [PDF 177K]
On Record | Lost in the Lights [PDF 284K]