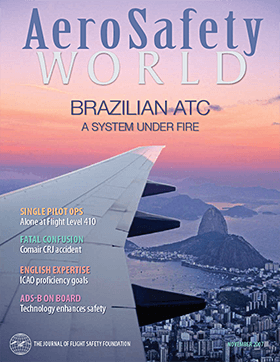 Entire Issue
AeroSafety World November 2007 68 pages. [PDF 4.3M]
Features
Dive-and-Drive Dangers 5 pages. [PDF 483K]
Third in a series focusing on the development and safety benefits of precision-like approaches, a project of the FSF International Advisory Committee.
A System Under Fire 7 pages. [PDF 406K]
Brazil struggles to return to world-class safety status.
Speaking the Same Language 5 pages. [PDF 214K]
ICAO has approved a series of proposals designed to minimize delays in compliance with its English language proficiency requirements.
Alone at 41,000 Feet 5 pages. [PDF 167K]
Single pilots of VLJs and other technically advanced aircraft need comprehensive training in resource management.
Converging Agendas 3 pages. [PDF 254K]
Completing existing work plans will be essential to future aviation risk management.
Mistaken Identity 6 pages. [PDF 659K]
The CRJ crew lined up for takeoff on the wrong runway.
ADS-B On Board 4 pages. [PDF 219K]
UPS Airlines takes aim at runway incursions and unstabilized approaches.
Departments
President's Message | Support Your Local Regulator [PDF 89K]
Editorial Page | Automatic Recovery [PDF 70K]
Air Mail | Letters From Our Readers [PDF 149K]
Safety Calendar | Industry Events [PDF 70K]
In Brief | Safety News [PDF 743K]
Data Link | Measure for Measure [PDF 115K]
Info Scan | The Rating Game [PDF 145K]
On Record | Starved of Fuel [PDF 286K]