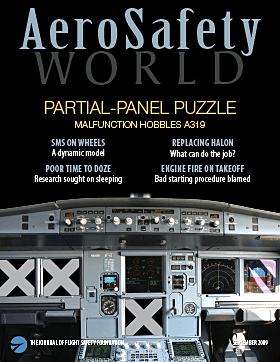 Entire Issue
AeroSafety World September 2009
68 pages. [PDF 4.6M]
Features
Accessible Sky. 4 pages. [PDF 234K]
Updated U.S. regulation prohibits discrimination against passengers with disabilities except in cases such as a direct threat to airline safety.
Partial-Panel Puzzle. 6 pages. [PDF 405K]
The A319 pilots were powerless to rectify an electrical system gone haywire.
Going Solo. 2 pages. [PDF 174K]
Single-pilot air carrier operations, boosted by technology, could have wider application in the future.
Asleep at the Wheel. 5 pages. [PDF 371K]
To prevent more incidents in which pilots doze off at the controls, the NTSB is seeking new research into fatigue and new steps to identify pilots with obstructive sleep apnea.
Halon Pressure. 5 pages. [PDF 349K]
Environmental deadlines signal impatience with civil aviation's inability to replace legacy aircraft fire-suppression agents.
Start-Up Problems. 5 pages. [PDF 324K]
An in-flight engine fire followed maintenance technicians' use of an inappropriate procedure to manually start a balky engine on an MD-82.
SMS on Wheels. 5 pages. [PDF 539K]
A new spin on understanding safety management systems.
Old World Habits. 3 pages. [PDF 411K]
Training specialist advocates wider use of flight attendants in European business jet operations.
Departments
President's Message | A New Beginning [PDF 85K]
Editorial Page | Cheap and Safe [PDF 72K]
Safety Calendar | Industry Events [PDF 69K]
In Brief | Safety News [PDF 165K]
Data Link | Fire Away [PDF 429K]
Info Scan | Flight Blight [PDF 158K]
On Record | Running on Fumes [PDF 284K]