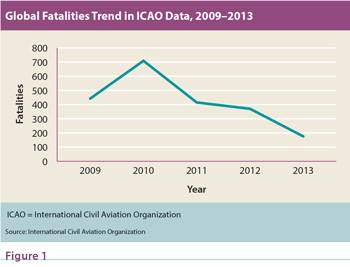 Both the International Civil Aviation Organization (ICAO) and the European Aviation Safety Agency (EASA) have released preliminary analyses of worldwide accident data showing 2013 to be one of the safest years in airline history.
The statistics indicate that 2013 "was the safest year ever recorded" in terms of fatalities in scheduled international air transport operations, according to ICAO. While the number of fatal accidents involving scheduled commercial operations remained steady at nine, the number of people who died in those accidents declined dramatically from 2012. According to ICAO data, there were 372 fatalities in 2012, but that number dropped 53.5 percent to 173 last year (Figure 1). Of the nine total fatal accidents worldwide in 2013, seven occurred during the approach or go-around phases of flight, ICAO said.
The ICAO statistics refer to scheduled commercial operations involving aircraft having a maximum takeoff weight of more than 5,700 kg (12,500 lb).
"These results are no surprise given the level of commitment our sector demonstrates, year-in and year-out, to improving the safety of the global air transport network," ICAO Secretary General Raymond Benjamin said in releasing the report in January. "Recent years have seen a tremendous increase in the level of cooperation and partnership on aviation safety priorities and we are now seeing the fruits of these efforts borne out by these remarkable 2013 outcomes."
Over the past five years (2009 through 2013) fatalities have increased once, spiking to approximately 700 in 2010 from fewer than 500 in 2009, ICAO data show. Since then, the number of fatalities has decreased three consecutive years and fallen more than 75 percent overall.
According to ICAO, 60 percent of all fatalities in 2013 were attributed to accidents in narrowbody jet airplanes, while 37 percent were attributed to accidents involving turboprop aircraft and three percent were attributed to accidents involving widebody jets.
When broken down by ICAO regional aviation safety group (RASG) areas of responsibility, the statistics show that the Pan American region (RASG-PA) had the most fatal accidents with five, but that Europe (RASG-EUR) had the most fatalities with more than 60 (Figure 2). The Middle East region (RASG-MID) did not have any fatal accidents in 2013. Africa (RASG-AFI) and the Asia/Pacific region (RASG-APAC) had one each, and Europe had two.
Effective implementation of ICAO's safety oversight critical elements by member states under the Universal Safety Oversight Audit Programme increased to 61.7 percent in 2013 from 61.1 percent in 2012, ICAO said. RASG-AFI, RASG-MID and RASG-PA saw increases in effective implementation, while RASG-APAC and RASG–EUR had small decreases.
The steady state of the rate of fatal accidents in 2013 compared with 2012 comes against a backdrop of what ICAO described as a "marginal" increase in scheduled commercial air transport departures in 2013 over the previous year. According to figures released by ICAO in mid-December, the number of departures last year reached 33 million, establishing a new record and surpassing 2012's figure by more than one million flights. Scheduled passenger traffic grew 5.2 percent in 2013 over the previous year.
According to the data released in January by EASA, there were 17 fatal accidents involving large commercial air transport airplanes worldwide in 2013, which is fewer than in any other year in the past decade by this count, but more than announced by ICAO, which counted only scheduled operations. The annual average since 2003 is 27 fatal accidents, EASA said (Figure 3).
EASA also noted a "significant reduction" in the number of fatalities worldwide, with 224 in 2013, which declined about 68 percent from the yearly average of 703 between 2013 and 2012.
"Europe continues to have one of the strongest safety records in the world, however this positive picture cannot be taken for granted," said Patrick Ky, EASA's executive director. "As traffic over European skies and worldwide increases, we need to continue our efforts to maintain and even improve aviation safety," he said in releasing the EASA numbers.
There were no fatal accidents involving large commercial air transport airplanes in EASA member states in 2013, a year in which those states performed approximately 6 million commercial air transport flights and carried more than 800 million passengers, the agency said.
Asia Pacific Carriers Count 2013 as Safe Year
The Association of Asia Pacific Airlines (AAPA) also has weighed in with an assessment that 2013 was the safest year ever in terms of commercial airline jet fatalities. AAPA, which is the trade association for scheduled international airlines based in the Asia Pacific region, said there were seven major accidents involving large Western-built commercial airline jets in 2013, and that those accidents resulted in 115 fatalities. According to AAPA calculations, that represents a loss rate of one major accident for every four million flights.
Asia Pacific carriers suffered three major accidents involving large Western-built commercial airline jets in 2013, resulting in 24 fatalities, AAPA said. The organization went on to say that turboprop operations maintained a good safety record, but experienced somewhat higher accidents rates compared to jet aircraft operations. AAPA also said that many of the turboprop operations "are carried out in more challenging environments and conditions, which can be considered a contributory factor." The association did not provide statistics on turboprop accidents or fatalities.
Andrew Herdman, director general of AAPA, said that greater attention needs to be focused on turboprop aircraft operations. "We need firm regulation to ensure that all carriers operate to the highest international standards, including wider deployment of automated terrain awareness warning systems for all commercial operations."
U.S. GA Fatal Accident Rate 'Flattens Out'
General aviation (GA) in the United States — which includes some business aviation activity — suffered 259 fatal accidents resulting in 449 fatalities in 2013, according to data released by the U.S. Federal Aviation Administration Jan. 27, 2014, when Administrator Michael Huerta met with general aviation leaders to "jump start efforts for this year's flying season." According to FAA, Huerta and GA leaders agreed to work together to raise awareness to prevent weather-related accidents for the upcoming period of highest activity. FAA also said it is working with industry on a prototype program to use de-identified GA operations data in its Aviation Safety Information Analysis and Sharing program to help identify risks before they become accidents.
The number of fatal GA accidents had gone down over the past decade, but so have total GA flight hours, likely due to economic factors, according to FAA. Fatal accidents from controlled flight into terrain have been reduced by more than 50 percent over the past three years when compared with the previous three-year period, the agency said.
FAA preliminarily estimated the GA fatal accident rate for fiscal year 2013 (the year ended Sept. 30, 2013) at 1.07 per 100,000 hours flown, with 259 fatal accidents and 449 fatalities. In fiscal 2012, the GA fatal accident rate was 1.09 per 100,000 hours flown and there were 267 fatal accidents (Figure 4).
According to FAA, the five leading causes of fatal GA accidents in the 2001–2011 period —more recent data were not available — were loss of control–in flight, controlled flight into terrain, system component failure–powerplant, low-altitude operations and "unknown or undetermined." The next five causes on the list were "other," fuel-related, system component failure—nonpowerplant, midair collisions and windshear or thunderstorm.