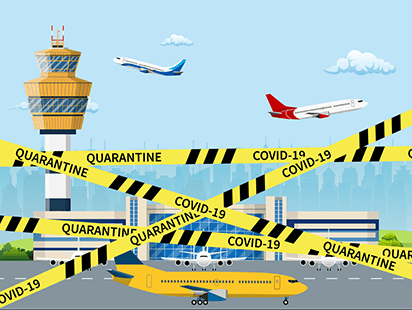 Cooperation within the worldwide aviation community has been a critical element in maintaining safety in air carrier operations during the COVID-19 pandemic, aviation safety specialists told Flight Safety Foundation's International Air Safety Summit (IASS) this week.
"If there's anything we have learned over the last six or seven months, … it's that the more we talk, the more we share best practices, the better off we are," said Ali Bahrami, the U.S. Federal Aviation Administration's (FAA's) associate administrator for aviation safety.
Bahrami made the remarks during the 73rd annual IASS, which will continue through Oct. 22 with sessions conducted virtually because of the pandemic.
Mark Searle, global director of safety for the International Air Transport Association (IATA) ─ a member, along with Bahrami and Tay Tiang Guan, deputy director-general of the Civil Aviation Authority of Singapore (CAAS), of an IASS panel on COVID-19's challenges to the aviation industry ─ said the industry's efforts have ensured the safety of air travel during the pandemic.
Tay agreed, adding that "aviation has done its part" to reassure the public that airlines are following international guidance on the most effective public health precautions.
He noted that Singapore has one of the lowest COVID-19 death tolls in the world, with a total of 28 deaths overall, and less than one case a day reported over the last two weeks.
Nevertheless, Tay said that COVID-19 still poses "an existential threat to aviation."
He added, "We have come a long way but we are certainly not out of the woods. … It's not easy to eradicate the virus."
After the industry has recovered from the effects of the pandemic, he said, "the traditional role of safety oversight might not be the same."
The panelists agreed that, up to this point, previously existing safety mechanisms have helped the industry cope.
"What really helped us during the recent few months is the fact that we have safety management in place," Bahrami said. "We're trying to operate at an intersection between safety and public health."
He noted that the Commercial Aviation Safety Team (CAST) has developed a checklist for operators to determine how well they have handled risks associated with the pandemic, and the checklist has been shared with the global industry.
Searle said remaining obstacles include the need to identify universally accepted medical testing regimens and the need to acknowledge that, because a number of people may feel that their jobs are at risk, they may be less likely than usual to report safety anomalies.
Before the pandemic recedes, some airlines may order layoffs of key safety personnel, and other airlines will be likely to fail, he said. When new airlines emerge, he added, "they needed to be as devoted to safety as their predecessors."