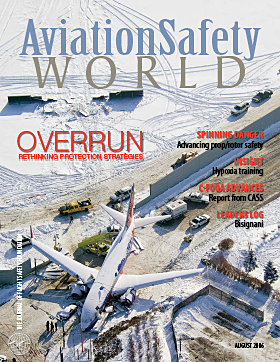 Entire Issue
Aviation Safety World August 2006 68 pages. [PDF 4.8M]
Features
Rethinking Overrun Protection 7 pages. [PDF 1,500K]
Midway International Airport's December 2005 accident makes airport operators reconsider installing the latest engineered materials arresting system.
Hypoxia Training Risks 2 pages. [PDF 889K]
Training sessions are a boon to aviation safety — but only when proper safeguards are applied.
European Ramp Checks 3 pages. [PDF 236]
The rate of 'major' deficiency findings in 2005 was highest for aircraft based in the ICAO Western and Central African Region and the Eastern and Southern African Region.
Misidentified Fix 3 pages. [PDF 231K]
Second in a series focusing on approach and landing incidents that might have resulted in controlled flight into terrain but for timely warnings by TAWS.
Walking Into Trouble 7 pages. [PDF 464K]
Accidents involving human contact with propellers and rotor blades persist, despite safety efforts to prevent them.
Missed Cues 6 pages. [PDF 276K]
During a fatal night flight over the Gulf of Mexico, the pilots of the Sikorsky S-76A failed to detect cockpit indications of their descent to the water.
Managing the Escape 3 pages. [PDF 186K]
Consider an active passenger safety briefing, plain-language commands and keeping cabin crewmembers in sight to speed an evacuation.
CFIT Checklist Goes Digital 1 page. [PDF 103K]
A free Microsoft Excel worksheet reveals risk factors and solutions without manual calculations.
C-FOQA Advances 2 pages. [PDF 121K]
FSF Corporate-Flight Operational Quality Assurance (C-FOQA) team leading the drive to get corporate operators the safety benefits airlines are reaping from FOQA programs.
Departments
President's Message | Changes at the Speed of Flight [PDF 102K]
Editorial Page | Not Good Enough [PDF 98K]
Air Mail | Letters From Our Readers [PDF 210K]
Safety Calendar | Industry Events [PDF 72K]
InBrief | Safety News [PDF 230K]
Leaders Log | Giovanni Bisignani [PDF 166K]
Foundation Focus | Members by Region [PDF 83K]
Data Link | 2005 Commercial Jet Hull Losses, Fatalities [PDF 166K]
Info Scan | Hazard Alert! Lunch Ahead [PDF 214K]
On Record | Recent Accidents and Incidents [PDF 466K]