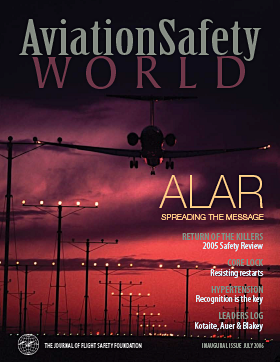 Entire Issue
Aviation Safety World July 2006 76 pages. [PDF 3.7M]
Features
Return of the Killers 6 pages. [PDF 316K]
Historic killers made an unwelcome comeback in 2005. Controlled flight into terrain (CFIT) and loss of control (LOC) accidents returned after a brief hiatus, and the consequences were predictable.
Making ALAR Pervasive 14 pages. [PDF 732K]
Five years of workshops have propelled the FSF Approach and Landing Accident Reduction Tool Kit into many corners of the world. That's not enough.
Night VMC 3 pages. [PDF 202K]
First in a series focusing on approach-and-landing incidents that might have resulted in controlled flight into terrain but for timely warnings by TAWS.
Core Lock 6 pages. [PDF 308K]
Investigators consider possibility of a condition that could prevent an in-flight restart.
Blood Pressure Near Redline 5 pages. [PDF 196K]
High blood pressure grounds pilots because of the risk of sudden incapacitation, but prompt treatment can return blood pressure to normal and put pilots back in cockpits.
One Size Fits All? 2 pages. [PDF 156K]
The danger of average weights.
Departments
President's Message | Growing Stronger [PDF 99K]
Editorial Page | Going Forward [PDF 92K]
Air Mail | Letters From Our Readers [PDF 200K]
Safety Calendar | Industry Events [PDF 66K]
In Brief | Safety News [PDF 272K]
Leaders Log | Dr. Assad Kotaite [PDF 160K]
Foundation Focus | Membership Update [PDF 102K]
Leaders Log | Andre Auer [PDF 227K]
Leaders Log | Marion C. Blakey [PDF 112K]
Data Link | NTSB 2005 Accident Statistics [PDF 110K]
Info Scan | Resources [PDF 231K]
On Record | Recent Accidents and Incidents [PDF 724K]