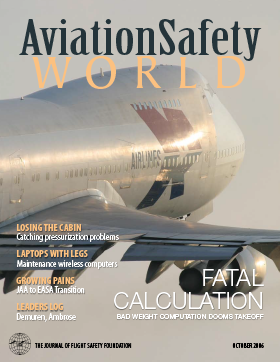 Entire Issue
Aviation Safety World October 2006 68 pages. [PDF 4.5M]
Features
Laptops With Legs 5 pages. [PDF 391K]
Wireless broadband connectivity is helping maintenance technicians improve efficiency and safety, but only when they have the right device for the job.
Fatal Calculation 7 pages. [PDF 532K]
Failure of the flight crew to detect a computer programming error led to inadequate takeoff performance by their 747.
The Way 2 pages. [PDF 128K]
FSF Audit Team recommendations to correct several of the its most frequent findings.
Losing the Cabin 9 pages. [PDF 618K]
Insights on civil aircraft depressurization.
Wrong Airport 2 pages. [PDF 125K]
Fourth in a series focusing on approach and landing incidents that might have resulted in controlled flight into terrain but for timely warnings by TAWS.
Automation Revisited 2 pages. [PDF 310K]
A study is seeking answers to continuing and evolving questions about the optimal human/machine interface.
Growing Pains 4 pages. [PDF 291K]
The process of creating a Europe-wide aviation regulatory authority has not been smooth; given the need, anything but success seems unthinkable.
Departments
President's Message | Stepping Down [PDF 81K]
Editorial Page | Lost [PDF 68K]
Air Mail | Letters From Our Readers [PDF 188K]
Safety Calendar | Industry Events [PDF 62K]
In Brief | Safety News [PDF 383K]
Leaders Log | Mike Ambrose [PDF 100K]
Foundation Focus | A Change at the Top [PDF 102K]
Leaders Log | Dr. Harold Demuren [PDF 308K]
Data Link | Good on You, Mates [PDF 142K]
Info Scan | Fit to Fly? [PDF 178K]
On Record | Recent Accidents and Incidents [PDF 441K]