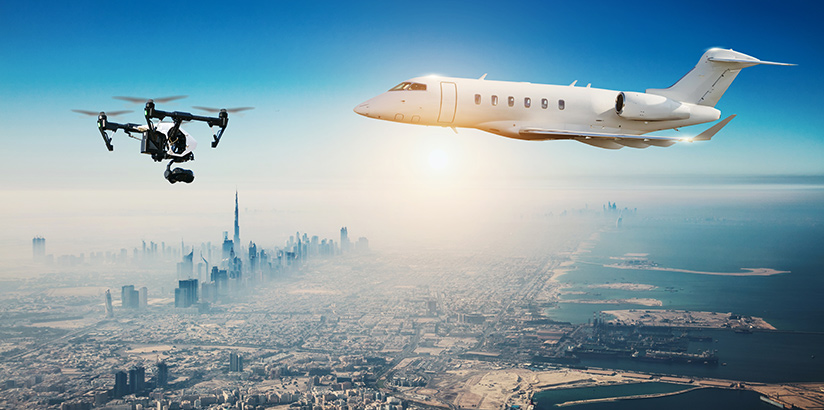 The Oct. 12 collision between a drone and a Skyjet charter King Air 100 carrying eight passengers to Quebec City is one in a trio of recent midair collisions involving drones and stirring concern among regulators.
The other two events involved an Aerolineas Argentinas Boeing 737-800 near Buenos Aires, Argentina, on Nov. 11 and a U.S. Army Sikorsky UH-60 Black Hawk on Sept. 21 in New York City. No injuries were reported in any of the events.
In the Quebec City collision — which Transportation Minister Marc Garneau said was the first event of its kind in Canada — the King Air, arriving in Quebec City after a flight from Rouyn-Norada, Quebec, received minor damage.
Garneau told the Canadian Broadcasting Corp. that the drone was operating at about 450 m (1,476 ft) and was about 3 nm (4.8 km) from Jean Lesage International Airport when the collision occurred.
"That drone should not have been there," Garneau said, and the collision "should not have happened."
Canadian regulations prohibit the operation of recreational drones — known by a variety of other terms, including unmanned aircraft systems (UAS) and remotely piloted aircraft systems — above 90 m (295 ft) and within 5.5 km (3.4 nm) of an airport.
In a statement released by Transport Canada (TC) after the collision, Garneau said he was "extremely relieved that the aircraft sustained minor damage and was able to land safely."
He added that concerns that such an event might occur had prompted him in June to issue interim safety measures to restrict the areas where recreational drones may be flown.
Under that interim order,1 the airspace surrounding airports, helipads and seaplane bases are "no-drone zones," unless the operator has received permission from TC to fly a model aircraft there.
"Anyone who violates the regulations could be subject to fines of up to $25,000 [Canadian dollars] and/or prison," Garneau said. "This applies to drones of any size, used for any purpose."
Black Hawk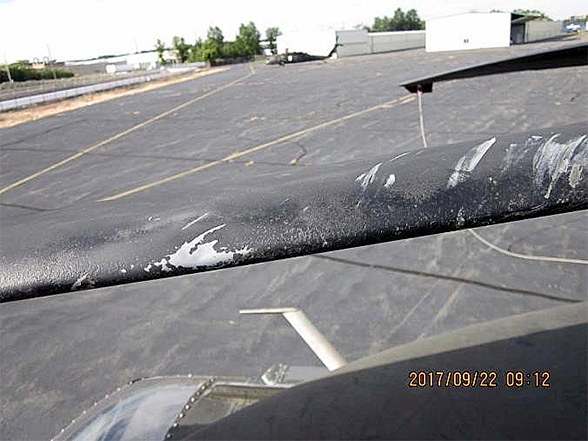 Less than one month before the event in Quebec, a U.S. Army Black Hawk helicopter collided with a Dà-Jiang Innovations (DJI) Phantom 4 drone about 300 ft above sea level just east of New York's Staten Island. No one was injured in the collision, which destroyed the drone and left the helicopter with minor damage to its main rotor blade, window frame and transmission deck.
The U.S. National Transportation Safety Board (NTSB) has released only preliminary information on the crash. The agency says it has interviewed the drone operator and reviewed radar data from air traffic control, flight data from the helicopter and flight data logs from the drone operator, as well as U.S. Federal Aviation Administration (FAA) airspace and temporary flight restriction documents.
The NTSB also has recovered pieces of the wreckage of the Phantom 4, a quadcopter-style drone weighing about 1,388 g (49 oz) and with a diagonal size (excluding propellers) of about 350 mm (14 in).
Boeing 737
The most recent of the three events was the Nov. 11 collision of the Aerolineas Argentinas 737 with a drone during approach to Buenos Aires-Jorge Newbery Airport.
Preliminary information said that the 737 was on a scheduled passenger flight from Trelew, Argentina, to Buenos Aires and was on approach to Runway 13, about 1 km (0.5 nm) short of the runway threshold when it struck the drone. The airplane landed safely, with minor damage reported to the left side of the fuselage below the flight deck window.3
Collision Database
These three confirmed collisions are among 17 "suspected and confirmed" drone collisions with aircraft that are contained in the Aviation Safety Network (ASN) Drone Database.4 Overall, the database contains more than 3,700 reports of air proximity occurrences around the world that involved drones and manned aircraft, as well as pilot sightings of drones.
Of the 17 suspected and confirmed collisions, most involve small private aircraft, including airplanes, helicopters and gliders. Most of the drones are model aircraft, smaller quadcopter-type drones and larger military fixed-wing reconnaissance drones, ASN said.
Among the more recent entries in the database are four Category A events recently reported to the U.K. Airprox Board. Category A events are defined by the Airprox Board as those in which there was a serious risk of collision.
The most recent of the four reports involved an Aug. 22 event in which the pilot of a Saab 2000 was configuring the airplane for final approach into Manchester. As the airplane descended through 1,500 ft, a drone was seen passing its nose and down its right side; the 2-ft-wide (6-m-wide) drone was estimated to have come within 50 ft of the airplane.
In addition to those four events, 12 other recent airprox events were reported; they were considered less serious.
Drone Integration
In a related development, the U.S. Department of Transportation (DOT) said in late October that it will begin implementing its UAS Integration Pilot Program, intended to "accelerate the safe integration of UAS into the national airspace and to realize the benefits of unmanned technology in our economy."
DOT said the program is designed to "provide regulatory certainty and stability to local governments and communities, UAS owners, and operators who are accepted into the program."
Plans call for DOT and the FAA to develop regulations to allow more complex low-altitude operations; to identify ways of balancing local and national interests to address security and privacy issues; and to speed up issuance of special authorizations for certain operations.
"This program supports the president's commitment to foster technological innovation that will be a catalyst for ideas that have the potential to change our day-to-day lives," said Transportation Secretary Elaine Chao.
As an example, Chao cited the drones that have been deployed to assess damage from recent hurricanes, wildfires and other natural disasters.
DOT said the pilot program will "evaluate a variety of operational concepts, including night operations, flights over people, flights beyond the pilot's line of sight, package delivery, detect-and-avoid technologies, counter-UAS security operations, and the reliability and security of data links between pilot and aircraft."
Among the industries that could benefit are photography, emergency management, precision agriculture, and infrastructure inspections and monitoring, DOT said.
FAA Administrator Michael Huerta said the programs will give stakeholders "the opportunity … to demonstrate how their innovative technological and operational solutions can address complex unmanned aircraft integration challenges. At the same time, the program recognizes the importance of community participation in meaningful discussions about balancing local and national interests related to integrating unmanned aircraft."
DOT said that, under the program, local governments should join with drone operators, manufacturers or others in the private sector to develop specific pilot proposals, to be submitted in phases in December and January. The DOT and the FAA will evaluate the applications and select at least five for participation in the program.
The FAA said criteria will include the "overall economic, geographic and climatic diversity of the selected jurisdictions, as well as the diversity of the UAS operations being proposed; the commitment of the applicants to complying with requirements involving national defense, homeland security and public safety; and the commitment of the applicants to promoting innovation and economic development, enhancing transportation safety and workplace safety, and improving emergency response and search and rescue functions.
The FAA also asked for public comments on proposed design standards needed for the FlightScan Corp. Camcopter S-100 to operate in U.S. airspace. The intention, the FAA said, is to "grant FAA airworthiness certification to fully functional, ready-to-operate, unmanned aircraft."
The S-100 resembles a helicopter, has a maximum takeoff weight of 440 lb (200 kg) and is equipped with a liquid-cooled rotary engine. It is designed primarily for airborne surveying of power transmission equipment and related photography.
Information on the public comment request was published in the Federal Register at https://www.regulations.gov/document?D=FAA-2017-1058-0001.
In addition, the FAA said it is evaluating a prototype system designed to "provide near real-time processing of airspace authorization requests for unmanned aircraft (UAS) operators nationwide."
The Low Altitude Authorization and Notification Capability (LAANC) — has been deployed at several air traffic control (ATC) facilities "in an evaluation to see how well the prototype system functions and to address any issues that arise during testing," the FAA said. The agency's rules for small drones require operators to receive FAA approval to operate in airspace controlled by ATC.
Two approved companies — AirMap and Skyward — are currently providing LAANC services, and the FAA said a national Beta test will begin in 2018.
Notes
Featured image: © Jag_cz | Adobe Stock
Black Hawk damage: U.S. National Transportation Safety Board