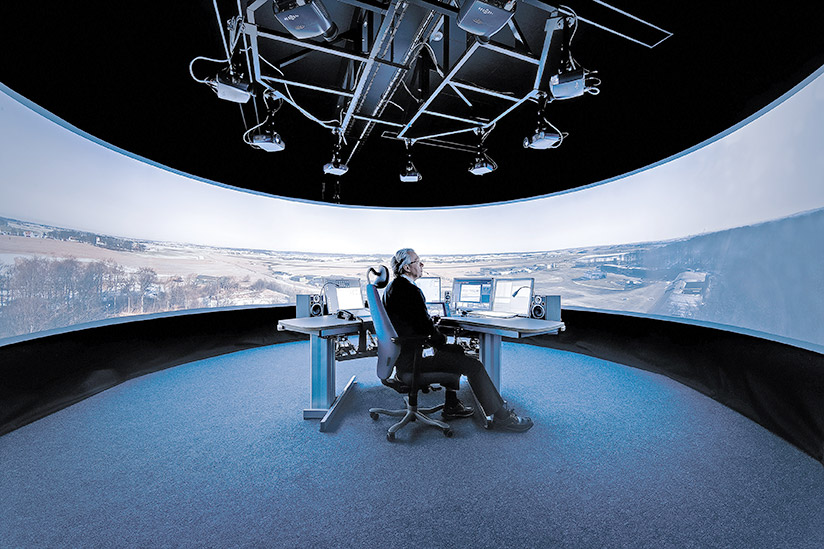 Although the room has no windows, there's still a view.
An array of more than a dozen video panels, stretching nearly from floor to ceiling and arranged in a semicircle in an upstairs room at Leesburg (Virginia, U.S.) Executive Airport (JYO), displays a real-time, high-definition, 360-degree panorama of the airport, the traffic pattern and the surrounding airspace. The scene, generated by cameras with infrared and visual sensors, is laid out with data overlays to command the attention of two airport air traffic controllers, who have seats at stations in the center of the room.
The set-up is the first of its kind in the United States — the product of a partnership involving Saab Sensis, the manufacturer; the Town of Leesburg, which owns and operates the airport; and the Virginia Small Aircraft Transportation System (VSATS), the research arm of the state Department of Aviation — to demonstrate and evaluate the workings of a remote airport air traffic control tower. Worldwide, only a handful of similar remote tower operations are farther along. The partners hope that, ultimately, their effort will lead the U.S. Federal Aviation Administration (FAA) to certify Saab's remote tower system for use in U.S. airports.
A trial period for Leesburg's remote tower began in early August, with the start of a 15-week "passive" phase in which controllers will not actually control air traffic but instead will work out how they would interact with the system if a remote tower were in operation, said Dave Olster, Saab systems engineering lead for the Leesburg project.
During this passive phase, the two controller stations — one for local traffic and the other for ground operations — will be staffed three days a week for eight hours a day by air traffic controllers recruited from airport control towers across the country. A total of 15 controllers will participate, Olster said, adding that, judging from the experiences of controllers already working at a similar remote tower in Sweden, they will adjust quickly to the remote operation.
The video panels — fed by an array of cameras positioned in a crow's nest on the airport terminal's roof — enable controllers to see aircraft on the ground, in the traffic pattern and beyond. A long-range, pan-tilt-zoom camera provides detailed close-up shots — for example, of an airplane waiting at the end of a runway before takeoff — and crow's nest microphones add the sounds of traffic pattern operations. Also in the crow's nest is a signal light gun, which controllers can activate in case of technical communications problems with pilots.
Among the cameras' regular assignments: scanning runways for debris or wildlife.
If the sunlight is too bright, the controls can be used to "lower the shades" on the video panels to enhance images, and the cameras are equipped with windshield wipers to clear the lenses of raindrops. If a video panel is out of service, notification appears on the screen.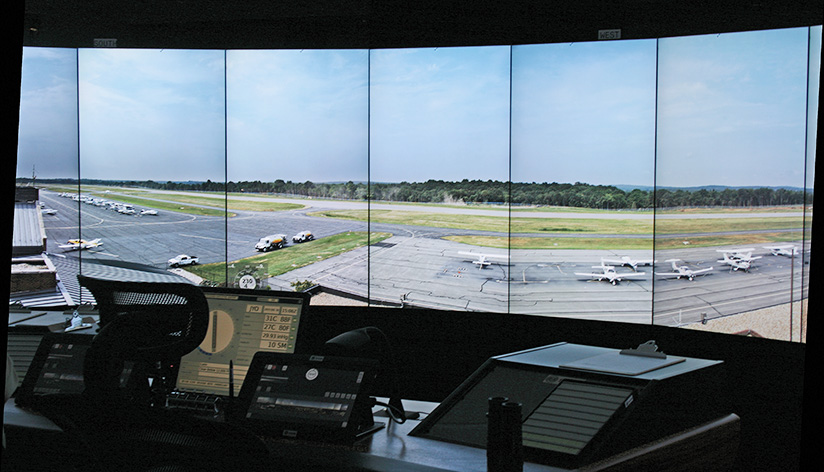 'Crawl, Walk, Run'
After the 15-week trial, a review period will allow for evaluation of issues encountered by participating controllers and refinements of the system. Eventually, if the FAA approves, the trial would enter an active phase in which controllers working in the remote tower would control air traffic. An FAA mobile control tower also would be on site as a backup during that period, but many other details have not yet been worked out, Olster said.
John Belanger, vice president and head of communications for Saab North America, added that working toward FAA approval of remote tower operations is "definitely a crawl, walk, run process."
Although it is not a foregone conclusion that a remote tower will be approved for JYO, it makes sense, Airport Manager Scott Coffman, said, because the airport, which has always been an uncontrolled field, is "a bustling general aviation airport," with 100,000 takeoffs and landings a year. Three flight schools are based at the airport, and — as a designated reliever airport for Washington Dulles International Airport, located about 15 mi (24 km) southeast — business aviation traffic is heavy.
JYO's airspace brings unique challenges, largely because of the airport's location within the Washington Metropolitan Special Flight Rules Area1 and beneath the 1,500-ft floor of Dulles's controlled airspace, Coffman said.
Construction of a traditional on-airport control tower would be prohibitively expensive, he said, noting that the only site available would be on the undeveloped side of the runways, where there is no road and no running water.
First Site in Sweden
The first remote control tower — in development for about 10 years by Saab and Swedish air navigation service provider (ANSP) LVF — came online in April at Sweden's Örnsköldsvik Airport. Its controllers work in a remote tower center about 150 km (93 mi) to the south, in Sundsvall.2 
Saab said that remote towers are in various stages of planning at other airports in Sweden, and that eventually, it might be possible for one remote facility to be configured to serve several relatively small, low-traffic airports simultaneously.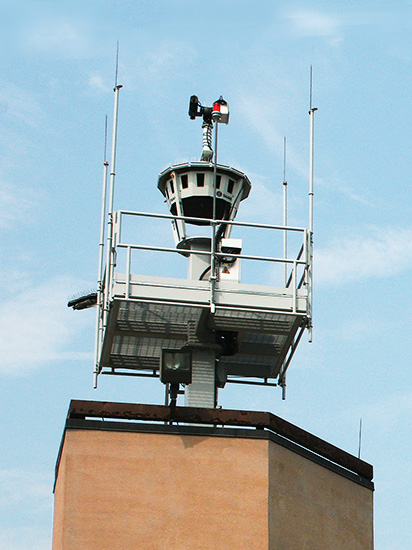 The company added that ANSPs around the world "are trying to reduce the cost of providing ATS [air traffic services] without affecting safety or operational availability. Remote towers will not only help this happen but … will also introduce a never-before-seen level of flexibility that allows service levels to be enhanced.
"This may result in smaller airports remaining open for longer or even keeping some regional airports open that otherwise would have been forced to close due to high costs."
Another Swedish airport has been the site of contingency trials, which Saab said have been conducted "within the SESAR framework"3 to determine how effective a remote tower might be in case of "unplanned events, such as systems failure, fire or threat to the tower building."
The trials at Landvetter Airport, Sweden's second largest, showed that remote technologies would be "a cost-efficient contingency alternative" in such situations, Saab said.
SESAR program officials said that various trials of remote tower technologies, conducted in several European countries, yielded "sufficient evidence of the concept's operational feasibility," and also demonstrated the value of the technology in situations of low visibility.
The technologies enhance controllers' situational awareness "in normal, as well as low-visibility, conditions, through integrated use of features such as object tracking (display of flight labels on the main image) and alerting (live animals, birds and foreign object debris), infrared vision, digital image magnification [and] hotspots monitoring," SESAR officials said.4
Low-traffic airports in isolated areas can benefit most from remote tower operations, they said, adding that in some cases, the savings associated with a remote tower could help smaller airports survive cost-related pressure to reduce operating hours and become more competitive.
Saab has said that other plans, in various stages of implementation, call for remote tower operations to handle traffic at Alice Springs Airport in Australia, with Airservices Australia's remote tower 1,500 km (932 mi) to the south in Adelaide; and at a heliport on a Norwegian Sea island above the Arctic Circle in Værøy, Norway, with the remote tower in Bodø, on the mainland, about 90 km (56 mi) southeast.
Avinor, Norway's ANSP and operator of 46 airports and 20 airport air traffic control towers across Norway, is eyeing remote towers for many of its low-traffic airports. Remote operations would enable one controller to handle several of these airports simultaneously, with a resulting increase in efficiency and a reduction in operating costs, Avinor said.5
A prerequisite for introduction of a remote tower, the company said, "is that the solution will be proven to be as safe as, or even safer, than the current system."
Also in the works is a plan to provide the Irish Aviation Authority (IAA) with a remote tower center at Dublin Airport to control traffic at airports in Cork and Shannon, Saab said. The operation, which the IAA said will be tested throughout 2015 and 2016, will be part of SESAR's large-scale evaluation of remote tower operations.6
Virtual Towers
Internationally, other companies are developing products that will allow for various types of remote operations.
HungaroControl said earlier this year that it had begun what it called a virtual tower implementation project at Budapest (Hungary) Ferenc Liszt International Airport, with an integrated radar and camera system from Indra Navia of Norway and Searidge Technologies of Canada.7
HungaroControl CEO Kornel Szepessy said that, in 2016, plans call for his organization to "be the first in the world to test and demonstrate air traffic control from a remote tower at an airport the size of Budapest Airport." HungaroControl said it also is part of a group working on a feasibility study to determine whether remote tower technologies can be used "to provide a sustainable and safe contingency solution" at Dubai International Airport in United Arab Emirates and Al Maktoum International Airport southwest of Dubai.
ENAV, the ANSP in Italy, said earlier this year that it also is planning a SESAR large-scale demonstration project for remote tower technologies. Searidge Technologies, which is among the partners in the project, said that the effort will be designed to "demonstrate the viability and cost effectiveness of providing remote tower services to multiple airports."8
Searidge added, "For the purpose of the project, a remote tower will be set up at Milano Malpensa Airport, which will act as a remote tower center … providing remote airport services combined with area navigation (RNAV) procedures for the nighttime operations to Milano Linate, as well as a virtual airport."
Frequentis, based in Austria, said its plans call for establishing a remote tower center at Leipzig (Germany) Halle Airport to oversee traffic at Saarbrücken Airport beginning in 2017. Two other airports — in Erfurt and Dresden — are expected to be added later.9
The company said that its smartVision remote tower technologies already have been tested at Dresden and at an Austrian air base.
Notes
The Washington Metropolitan Special Flight Rules Area (SFRA) is national defense airspace established in the aftermath of the Sept. 11, 2001, attacks on the Pentagon in Arlington, Virginia, and the World Trade Center in New York. The SFRA includes an area around JYO designated as the Leesburg Maneuvering Area. Throughout the SFRA — the area within a 30-nm (56-km) radius of the DCA VOR (VHF omnidirectional radio), located at Ronald Reagan Washington National Airport, and up to Flight Level 180 (approximately 18,000 ft) — aircraft are subject to special operating requirements.
SESAR is the Single European Sky Air Traffic Management (ATM) Research Joint Undertaking — established in 2007 as the European Union's program to modernize ATM systems.
Avinor.

Remote Towers

.
IAA.

IAA Signs Contract to Test Remote Tower System

. June 2, 2015.
HungaroControl.

Implementation of the Hungarian 'Virtual' Tower Has Begun

and

HungaroControl Has Contributed to the Concept of Dubai Contingency Remote Tower

.
Searidge Technologies.

ENAV Handpicks Searidge as Remote Tower Partner for SESAR JU Large-Scale Demonstration

.
Frequentis.

DFS Selects Frequentis smartVision Solution

.
Featured image: © Saab AB
Leesburg Executive Airport images: Jennifer Moore