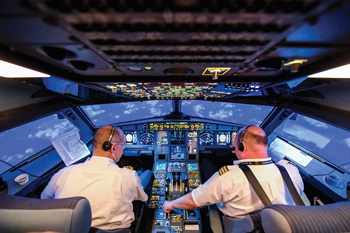 A Practical Guide for Improving Flight Path Monitoring, being published this month on the Flight Safety Foundation website, tackles the issue of pilots' ineffective monitoring of the airplane's flight path, identified as a contributing factor in many accidents.
The guide is the final report of the ­Active Pilot Monitoring Working Group, created in 2012 by the first Human Factors Aviation Industry Roundtable, whose participants were concerned that, although aviation accident and incident rates had fallen to historic lows, too many accidents involved ineffective flight path monitoring as a factor.
"Monitoring is something that flight crews must use to help them identify, prevent and mitigate events that may impact safety margins," the guide says. "Modern data collection methods point toward ineffective monitoring of the flight path as a contributing factor in many accidents."
The guide cites a number of those accidents, including the Feb. 12, 2009, crash of a Colgan Air Bombardier Q400 on approach to Buffalo Niagara Falls (New York, U.S.) International Airport. The U.S. National Transportation Safety Board (NTSB) said the probable cause of the crash, which killed 49 people in the airplane and one person on the ground, was the captain's "inappropriate response to the activation of the stick shaker, which led to an aerodynamic stall." The NTSB's final report also noted a "significant breakdown in [the pilots'] monitoring responsibilities" during the flight.
The guide notes that because "monitoring" is a broad term and the monitoring function is an element of many tasks performed by flight crews, the working group's effort was focused on the monitoring of the aircraft's flight and taxi paths. "It is the errors that result in deviations from these intended paths that may lead to accidents," the guide says.
The working group identified half a dozen barriers to effective flight path monitoring (EFPM), including human factors limitations, time pressure, "lack of feedback to pilots when monitoring lapses," the design of flight deck systems and standard operating procedures, pilots' "inadequate mental models of autoflight system modes" and a corporate climate that has failed to support an emphasis on monitoring.
The group next identified organizational philosophies, policies, procedures, practices and training to be used in mitigating barriers to EFPM and developed 20 recommendations that were organized into four categories in the guide:
Monitoring practices, including clearly defining the monitoring role of each pilot, adopting policies and practices to protect flight path monitoring against distractions and interruptions, and instilling the concept "that there are predictable situations during each flight when the risk of a flight path deviation is increased, heightening the importance of proper task/workload management";
Procedures, policies and monitoring, including the analysis of corporate messages that conflict with EFPM;
Monitoring autoflight systems, including addressing monitoring "as part of a comprehensive flight path management policy that includes guidance on use of automated systems"; and,
Training and evaluating monitoring skills, including reinforcing "the responsibility of monitoring pilots to challenge deviations," incorporating training in monitoring into simulator sessions and increasing the emphasis on monitoring in operators' flight standards programs.
Overall, the guide says, the working group's hope is that "operators and aviation managers will share the vision … that successful flight path management is a keystone to mitigating future accidents."
That kind of success depends on two "equally critical components: proper flight path control and effective monitoring," the guide says.
"Traditional training and evaluation emphasize control of the aircraft over monitoring of the flight path," the document says. "This guide is intended to focus on developing and maintaining effective monitoring skills.
"Ultimately, how effectively the flight path is controlled and monitored is the product of a series of people making a series of decisions. … Managers create the policies and procedures designed to not interfere and/or to support prioritization of flight path monitoring. Pilots make task/workload decisions that expand their ability to monitor during areas of vulnerability to flight path deviations. It is essential that they share a common vision."
Developing a corporate philosophy that assigns a high priority to flight path monitoring is crucial, the guide says, adding that company leaders should emphasize their support for a strong monitoring program.
"Improved flight path monitoring is intended to reduce the amount of errors that result in flight path deviations," the guide says. "Despite the numerous barriers inhibiting monitoring, adopting recommendations in this guide is intended to improve monitoring effectiveness and substantiate the corporate investment in resources to do so."