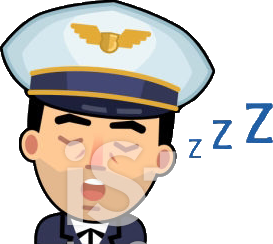 Flight time limitations (FTLs) are less useful in controlling fatigue during late night operations than other fatigue-management methods, especially the maximization of preflight sleep, according to a study by sleep researchers in the Netherlands.1
The researchers from the NRL-Netherlands Aerospace Centre focused on 392 crewmembers from 24 airlines over a two-week period, reviewing their flight duty periods (FDPs), the amount of sleep they received and the fatigue scores that they recorded. Of the 392 participants, 265 were airline pilots and 127 were cabin crewmembers.
"[T]he potential of improving aircrew fatigue mitigation through adjustments of the current EU [European Union] FTL rules seems rather limited as long as disruptive FDPs are used," said the report, published in the August issue of Aerospace Medicine and Human Performance. "Instead, improvements in sleep opportunities prior to night FDPs and on-duty fatigue mitigation strategies are more promising approaches for this purpose."
FTLs have been a primary method used in guarding against on-duty fatigue. To evaluate their effectiveness, the European Union Aviation Safety Agency (EASA) conducts periodic reviews of related operational data; the NRL study was a part of one such review.
The study focused on two types of FDPs that are considered most conducive to fatigue ─ those that last more than 10 hours and include nighttime hours and those that are typical of "disruptive schedules," which the report defined as duty rosters that "disrupt the sleep opportunity during the optimal sleep time window" and that typically involve "early starts, late finishes and/or night FDPs." The study examined crewmembers' fatigue levels at the top of descent (TOD), usually about 30 minutes before landing, which marks the beginning of a safety-critical phase of flight with a heavy workload.
"FDPs typical of disruptive schedules are associated with a high probability of fatigue at TOD, compared to day FDPs," the report said, noting that the problem is most obvious during FDPs that conclude at night.
Participating pilots, 91 percent of whom were men, averaged 40 years of age, and participating flight attendants, 57 percent of whom were women, were an average of 36.8 years old, the report said, adding that 43.3 percent worked for a network operator, 34.3 percent for a point-to-point operator, 21.9 percent for a cargo operator and 0.5 percent for another type of operator.
Data were collected between July 2017 and February 2018. Each data collection period lasted a maximum of 14 consecutive days, beginning, in all cases, with two days off.
When off duty, study participants wore an actigraph (designed to measure periods of rest and activity) and regularly rated their sleepiness according to two commonly used scales for assessing fatigue.2 In addition, three times a day, pilots performed the Psychomotor Vigilance Task, a computer-based test designed to measure their response to small changes in their environment.
On flight duty days, they completed a sleep log, rating their sleepiness on the same two scales, twice a day ─ shortly after waking up and 15 minutes before TOD on each flight sector. They also performed the Psychomotor Vigilance Task 15 minutes before TOD on the final sectors of their duty periods. If the duty period included a long-haul flight, they were asked to rate their sleepiness on the two sleep scales during cruise flight. If they napped on the flight deck during a duty period, that also was recorded. At the end of each shift, participants answered questions about the just-completed shift, including "their mental effort and hassle factors," the report said.
Using the results, the researchers calculated the overall probability of fatigue at TOD and concluded that the probability of "high fatigue" ─ that is, fatigue at the upper end of the fatigue scales ─ was 0.41, on a scale of zero to 1, during night FDPs of more than 10 hours and 0.32 during FDPs of 10 hours or less. In comparison, for daytime FDPs, the probability of high fatigue was 0.15, and for shifts of other types, the probability ranged from 0.19 for early starts to 0.31 for late finishes and 0.34 for night FDPs.
The report said that a similar pattern was found for napping while on duty, with the highest probability during night FDPs and the lowest during FDPs involving early starts.
Analysis of night FDPs found that a lengthy FDP was not a significant predictor of high fatigue at TOD during night flights, the report said. Instead, the study found, the main predictors were prior sleep and the FDP's "encroachment on the window of circadian low" (WOCL; the time of day when the body is programmed to sleep ─ typically, for individuals on a day-wake/night-sleep schedule, between 0200 and 0600). FDPs that included all four hours of WOCL had the highest probability of high fatigue, the report said.
The researchers identified "two interesting aspects to fatigue at TOD during night FDPs" ─ the duration of the FDP and its timing in relation to the WOCD.
"Our result that FDP duration was not a strong determinant of fatigue during night FDPs is somewhat surprising, as long duty hours have been found [in other research] to contribute to fatigue and accident/injury risk," the report said. "The result might be explained by the fact that fatigue during night duties is mainly due to unfavorable time of the day (circadian factor) and an insufficient amount of sleep in relation to the time spent awake."
Timing Is Key
The findings suggest that the timing of a nighttime FDP in relation to the WOCL should be one consideration in fatigue management, the report said.
The report also suggested that, because pilots might have used on-duty naps as a countermeasure for unexpected fatigue, "gives cause to consider if napping on the flight deck could be used in a planned manner to mitigate fatigue during non-augmented night flights."
The researchers said their results indicated that "WOCL encroachment is the FDP characteristic that most strongly predicts high fatigue at TOD" and that it "tripled the odds of reporting high fatigue at TOD."
This, along with the findings of other research that found a nighttime decrease in circadian-regulated alertness, "implies that as long as FDPs encroach on the WOCL, it is difficult to effectively manage fatigue just by means of prescriptive rules, and thus, effective fatigue risk management strategies are also needed," the report said.
In particular, the report added, the NRL study found that more sleep in the 24 hours preceding a nighttime FDP was "a protective factor against high fatigue at TOD." The report recommended that fatigue mitigation efforts include an increased emphasis on the importance of sleep before a nighttime FDP, as well as other mitigation strategies such as in-flight rest.
Pilots vs. Flight Attendants
The study also identified differences between pilots and flight attendants in the extent of fatigue at TOD ─ a difference that the report said might have been related to the difference in workload for each group before and during TOD. Flight attendants who reported high fatigue at TOD typically were seated after completing a phase of flight that involved a heavy workload while pilots were just beginning a heavy workload period, the report said.
Additional research is needed to more fully examine the differences in their responses, the report said.
Notes
Sallinen, Mikael; van Dijk, Henk; Aeschbach, Daniel; Maij, Anneloes; Åkerstedt, Torbjörn. "A Large-Scale European Union Study of Aircrew Fatigue During Long Night and Disruptive Duties." Aerospace Medicine and Human Performance Volume 91 (August 2020): 628−635.
The two scales are the Karolinska Sleepiness Scale (KSS) and the Samn-Perelli Fatigue Checklist (SP). The KSS asks subjects to describe their level of sleepiness at a particular time of day, on a scale from 1 to 10, with 1 indicating "extremely alert" and 10 indicating "extremely sleepy — can't keep awake." The SP asks subjects to rate their current fatigue on a seven-point scale, with 1 indicating "fully alert, wide awake, extremely peppy" and 7 indicating "completely exhausted, unable to function effectively, ready to drop."