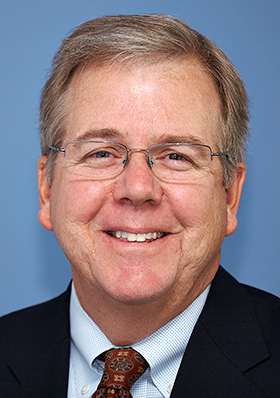 Let me start with a heartfelt "Thank you!" to Kevin Hiatt. As you may know, Kevin has assumed the lead safety and operations role with the International Air Transport Association (IATA). Under Kevin's leadership, Flight Safety Foundation continued to expand its safety footprint and to skillfully execute its mission as the leading independent, impartial and international voice of aviation safety.
It is now my honor to serve as the Foundation's acting CEO and president while the search is under way for a permanent new leader. While leadership transition is a time of change, it is not a time to be stagnant or stationary. The Foundation's temporary leadership, supported by the full Board of Governors, is committed to carrying on our vital mission, and, to that degree, has dedicated considerable time to setting the 2014 priorities for the advancement of safety. Your continuing support of the Foundation allows for work to advance in the following areas:
Unstable approaches and go-arounds — The past year provided several vivid reminders of what can happen if pilots make the wrong decisions and continue unstable approaches. This is not a new concern, but rather one the Foundation has been engaged with since 1992. Many would say that the FSF Approach and Landing Accident Reduction Tool Kit is our best-known product. More than 40,000 tool kits have been produced and distributed in the last two decades, and dozens of workshops on the subject have been conducted. But times change, technology changes, and thinking needs to be updated. So the Foundation and its experts have been revisiting the go-around process in order to update best practices. We've studied recent events, updated guidance and provided status reports at recent conferences, and we will do the same in 2014. In fact, we are a primary sponsor for the Regional Airline Association's Approach and Go-Around Safety seminar scheduled for March in Orlando.
Safety data sharing and protection — We have demonstrated the need, business process and safety value for expanded sharing of industry safety data, with a focus on gathering, analysis and dissemination. We are convinced of the utility of data sharing as a means to improve safety and are committed to its expansion across the globe. The Foundation is uniquely positioned to bring together states, regulators, operators and data analysis experts to facilitate the rapid development of safety improvements. In 2014, we will continue extending our reach to a broader international community and to other sectors of aviation. With this expansion comes a need for greater understanding of the principles of safety data protection. Our goal is to make data protection concerns a thing of the past.
Advancing safety in challenging operations — This is perhaps the least known of our activities, but also one of our fastest-growing safety improvement opportunities. The Foundation, in concert with some of the largest natural resource companies in the world, has embarked on an effort to reduce the risks of flying in support of mineral and mining operations, oil and gas production and specialty air charters. We have invested heavily in our Basic Aviation Risk Standard (BARS) products, which include worldwide best practice audit standards and training programs. Hundreds of audits have been accomplished, and we are poised for further growth into the humanitarian-support arena. This is some of the most immediately impactful work in which the Foundation engages.
Flight Safety Foundation is poised in 2014 to expand its safety presence in the areas noted above and many others. Thank you for your continued membership, endorsement and commitment to aviation safety on all fronts.