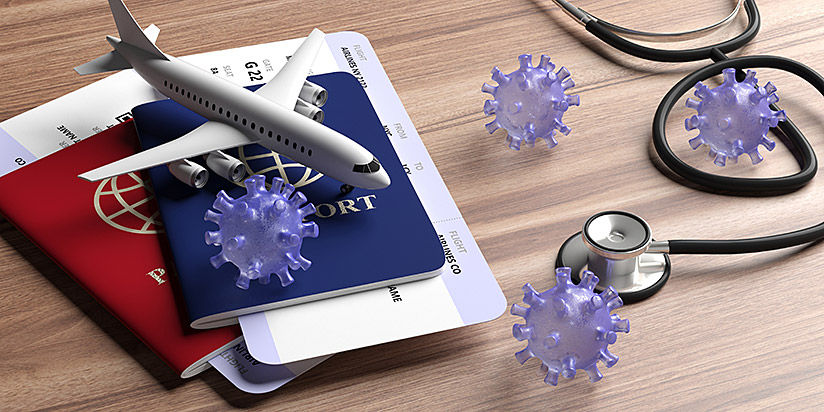 The global outbreak of the novel coronavirus has killed thousands, disrupted daily routines and upended small businesses and entire industries, including the aviation industry.
With thousands of flights canceled and some countries closing their borders, the operations that continue are subject to guidance on preventing the spread of COVID-19, which is the disease caused by the coronavirus.
Much of the guidance is based on information originating with the International Civil Aviation Organization (ICAO) and the World Health Organization (WHO) and initially published in ICAO's Annex 9, Facilitation, and in related ICAO documents that deal with "the movement and health-related screening of passengers and goods."
Some airlines, including United, have provided more details about their actions, which include reseating passengers when possible to allow for social distancing, temporarily closing airport lounges, disinfecting common surfaces inside airport terminals and on airplanes, and repeating advice from WHO and other health organizations calling for frequent, thorough hand washing; not touching the nose, mouth and eyes with unwashed hands; using gloves and masks if necessary; and staying home when sick.1
ICAO and WHO have called on all 193 ICAO member nations to comply with the key requirements outlined in Annex 9, which details, among other, more routine things, guidelines for dealing with a public health threat or a passenger with a communicable disease.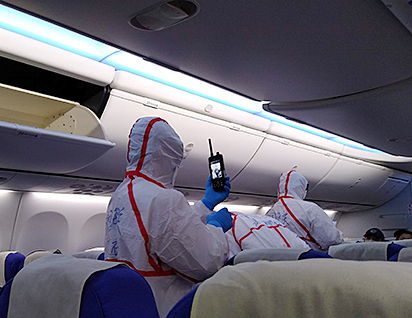 TThe document also specifies that all ICAO member states must establish national aviation plans "in preparation for an outbreak of a communicable disease posing a public health risk or public health emergency of international concern."
In recent years, such plans have been invoked to handle other outbreaks of communicable diseases, such as the 2002 outbreak of severe acute respiratory syndrome (SARS), which first appeared in China and quickly spread around the world. The subsequent international effort stopped the spread of the disease, and no cases have been reported anywhere since 2004.2
Precautions
When WHO declared COVID-19 a pandemic in mid-March, the declaration was not accompanied by restrictions on travel or trade. Instead, WHO said all countries should protect public health while also minimizing economic and social disruption and respecting human rights.
A number of national aviation authorities have moved to authorize additional flexibility for airlines, flight crews and others in coping with COVID-19. The International Air Transport Association (IATA) said in late March that such flexibility is needed to enable a reasonable response to an "unprecedented challenge in coping with the business and operational impacts of the COVID-19 crisis."3
For example, IATA noted that the European Union Aviation Safety Agency (EASA) has allowed for the extension of validity periods for licenses, ratings, endorsements and certificates of flight crewmembers, instructors, examiners, maintenance technicians and air traffic controllers, and the extension of airworthiness review certificates.
The UAE General Civil Aviation Authority, the U.K. Civil Aviation Authority and Mexico's Agencia Federal de Aviación Civil have authorized similar extensions, and the Civil Aviation Administration of China has authorized flexibility in classroom training and the completion of recurrent training requirements, IATA said.
IATA itself is offering extension periods of up to six months to airlines if an IATA Operational Safety Audit cannot be performed because of coronavirus travel restrictions or other circumstances related to the pandemic, the organization said.
The pandemic constitutes what Fang Liu, secretary general of the International Civil Aviation Organization (ICAO), termed an "exceptional circumstance" for the aviation community.
"There is an urgent need to ensure the sustainability of the global air cargo supply chain and to maintain the availability of critical medications and equipment such as ventilators, masks and other health and hygiene items which will help reduce the spread of COVID-19," Liu said.
ICAO and WHO added, in a joint statement issued in mid-March, "Building from past experiences with communicable disease outbreaks, WHO, ICAO and aviation industry organizations have developed extensive guidelines, toolkits and response plans to support governments, passengers and the aviation industry in mitigating risks."
Those plans include passenger health screenings to identify those showing COVID-19 symptoms and the disinfection of aircraft.
ICAO also noted the need not only to institute health screening for passengers but also to ensure the safe continuation of cargo flights, some of which are transporting medical equipment and other necessities.
"I have been pleased to note that several states have implemented measures to prevent disruptions to such critical operations by maintaining all cargo flights and excluding crewmembers of cargo flights from quarantine," Liu said. "There is an urgent need to ensure the sustainability of the global air cargo supply chain and to maintain the availability of critical medications and equipment such as ventilators, masks and other health and hygiene items which will help reduce the spread of COVID-19."
A variety of aviation organizations have echoed that call to ensure the continuation of cargo flights even as a number of countries close their borders to incoming passenger flights. (India, for example, suspended most travel and tourism visas and ordered a two-week quarantine for all passengers arriving from some of the countries hit hardest by the pandemic, and the U.S. State Department recommended that U.S. citizens avoid all international travel.)4.5
IATA and the European Regions Airline Association (ERA) both said that cargo flights should not be subject to the restrictions being placed on commercial aviation because of the pandemic.
IATA noted that as governments restrict passenger operations, cargo capacity also is reduced, and the organization's chief economist, Brian Pearce, added that that capacity is "vitally needed to help keep supply chains going, including the delivery of critical medicines and medical equipment."
Both IATA and ERA called for clarification of existing rules and guidance for cargo flights, adding that cargo crews should be exempt from some restrictions imposed because of the outbreak.
"This is a public health crisis, and lives, health and safety must come first," ERA President Andrew Kelly said. "Maintaining the cargo network will support the fight against COVID-19 and will significantly dilute the huge economic impact that we are all facing."
ERA said that current rules in some countries say that after a cargo airplane has returned from a flight, "following minimal ground time as part of the turnaround process in a high-risk area, even if the crew do not leave the aircraft … they will now be subject to 14 days of mandatory isolation. If this is to continue, airlines will quickly run out of flight crew to continue operations."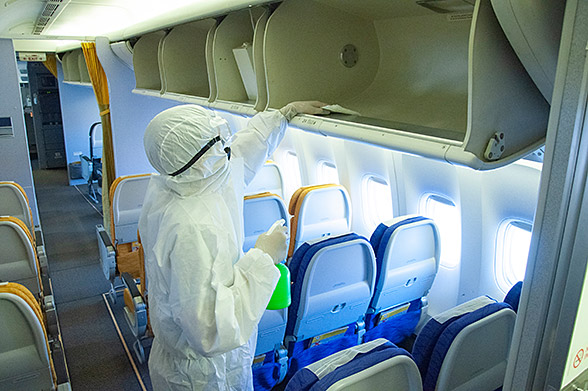 Kelly added that the European Commission, EASA and national governments in Europe must act to exempt cargo flights from that restriction.
ERA's statement followed by several days EASA's issuance of a safety directive calling for thorough disinfecting and cleaning of aircraft after flights from high-risk destinations.
"We need to reassure the passengers, the airline crews and the airport staff that their health and safety is our top priority," Adina Valean, European commissioner for transport, said.
EASA also recommended that airlines increase the frequency of cleaning and disinfection of all aircraft; that, if flights are not full, passengers should be spaced throughout the cabin; and that passengers be given disinfection wipes to clean their seat areas.
'All in This Together'
The spreading virus and the resulting reduction in air traffic have resulted in shifting requirements for airports as well as operators.
The Airports Council International (ACI), said that, in addition to concern for the health and welfare of travelers, the aviation industry has suffered "a shock that has led to a severe drop in airport traffic and economic activity."6
ACI World Director Angela Gittens added, "There is a general sense across the aviation community that we are all in this together as this crisis continues to unfold. As the economic policy response is formulated, however, it is important to note that no measure or relief package should disproportionately benefit one sector at the expense of another."
ACI, like representatives of other sectors of the aviation community, called for a range of government assistance to help alleviate revenue shortfalls, including tax relief.
IATA estimated in early March that the pandemic could result in the loss of $113 billion in airline revenues; that estimate did not take into account subsequent action by a number of governments to restrict air travel.
IATA Director General and CEO Alexandre de Juniac said those governments should heed WHO advice, which says measures that "significantly interfere with international traffic may only be justified at the beginning of an outbreak, as they may allow countries to gain time, even if only a few days, to rapidly implement effective preparedness measures. Such restrictions must be based on a careful risk assessment, be proportionate to the public health risk, be short in duration and be reconsidered regularly as the situation evolves."
Although airlines have eliminated hundreds of regular flights as demand has fallen, but some new operations are in place. The Lufthansa Group, for example, said that it offered about 140 special flights to transport back to Germany about 20,000 German citizens who had been stranded in other countries. The airline also said it had released, "quickly and unbureaucratically, on a voluntary basis" employees with medical training who wanted to volunteer to help in medical facilities.7
Notes
United Airlines. "Coronavirus (COVID-19): What We're Doing to Keep Customers and Employees Safe."
Mayo Clinic. "Severe Acute Respiratory Syndrome (SARS)."
IATA. "IATA Thanks Regulators for Flexibility, Urges Others to Follow Suit." March 21, 2020.
New York Times. "Coronavirus Travel Restrictions, Across the Globe."
The State Department said on March 19 that U.S. citizens overseas should return to the United States immediately "unless they are prepared to remain abroad for an indefinite period," because many countries are imposing travel restrictions or mandatory quarantines with little notice.
ACI. "ACI World Proposes a Global Policy Response to COVID-19 Pandemic." March 18, 2020. https://aci.aero/news/2020/03/18/aci-world-proposes-a-global-policy-response-to-covid-19-pandemic/
Lufthansa Group. "Lufthansa Takes Its Social Responsibility Seriously: Employees With Medical Training Are Released From Work to Help." March 19, 2020.
---
Featured image: © Rawf8 | iStockphoto
Passenger screening: Mx.Grainger | Wikimedia PD
Medical cargo: © Jakarin | VectorStock
Disinfecting cabin: © Pradpriew | Shutterstock