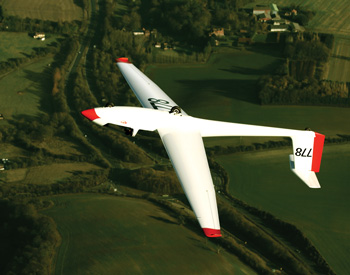 Upset prevention and recovery training (UPRT) at the commercial and multicrew pilot licensing (MPL) levels — not to mention initial and recurrent training of airline pilots — has reemphasized hand-flying proficiency, recognition of potential upset situations and immediate recovery from stall indications, among other skills. A recent analysis of automation and flight path management vulnerabilities also reinforces these themes (ASW, 2/14). One unsettled question, however, is whether the airline pilots who complete UPRT might gain an additional advantage from routinely hand-flying some type of general aviation aircraft on their own time.
A British airline captain favors this practice, drawing from her aeronautical engineering and safety background, involvement in implementing UPRT, and experience during more than 20 years as a glider instructor and an international competitor in racing sailplanes.1,2 Last December, Sarah Kelman, who flies the Airbus A320 for easyJet, explained the perspective she and fellow airline-pilot members of the British Gliding Association <www.gliding.co.uk> have gained. The association was invited to brief the Royal Aeronautical Society's 8th International Flight Crew Training Conference in London on what gliding offers compared with airline training in airplane-upset avoidance.
"The skills that I practice in my glider have a direct relevance to my day job in the Airbus A320 — both in day-to-day flying and also, particularly, in the non-normal situation," she said. "Unfortunately, it's not practical that our airlines permit their pilots several weeks a year to go and fly gliders — although it is a lot of fun. However, the core skills maintained by sport pilots do have a direct and beneficial relevance to the modern jet airline environment."
Glider training is an element of some MPL programs and military flight training, though not part of internationally accepted UPRT standards and recommended practices. The British Gliding Association does not propose using gliders in UPRT. "Any gliding training cannot be a panacea to avoid future commercial upset incidents, but those who pursue the sport are given a deep grounding in hand-flying skills, situational awareness and risk management — all of great use to a modern airline pilot — and the training should be taken seriously by commercial training organizations and operators," Kelman told ASW after the conference.
Unusual Attitudes
The types of flights conducted in gliders may surprise airline pilots unfamiliar with this segment of flying. "The main feedback on the conference day was along the lines of 'I had no idea you do those sorts of things in gliders!'" she said, citing as an example one friend's recent 750-km (405-nm) flight in southeast England in a sailplane without an engine. The pilot flew, primarily in thermals, at altitudes between approximately 1,000 ft and 5,000 ft. Thermals are bubbles or columns of warm rising air.
Another friend, flying in mountain waves in Scotland and limiting his climbs to maximum altitudes of about 9,000 ft, recently flew 1,000 km (540 nm) as a double out-and-return flight. "I've personally been up to 32,000 ft in my glider in lee wave over Scotland," she added.
To accomplish such flights — whether to achieve distance, speed, altitude, navigational or other objectives — glider pilots combine in-depth knowledge of the aerodynamics with practical application of skills. "It's very much a high-alpha culture,3 so, as such, we have a huge emphasis on handling approaching the stall, the changing handling characteristics of the aircraft, and also on appropriate actions on the post-stall departure from controlled flight," Kelman said. "If you want to achieve these flights, you need to fly by maneuvering in the 'up bits' [lift] and not in the 'down bits' [sink]."
Upset prevention, recognition and recovery issues are a critical part of training even before students are authorized to fly solo. "In gliding, there are no go-arounds from an unstable approach," Kelman said. "We have to teach our trainees energy management. And, finally, our trainees have a massive appreciation of low-level meteorology, the up and downdrafts."
The British Gliding Association's leaders and safety specialists assume that glider pilots have a high degree of exposure to unusual attitudes that, in the United Kingdom, typically begins with the winch launch. During the launch, the glider accelerates from 0 to 60 kt in two to three seconds. "The glider is then climbing at around 40 degrees to the horizontal," she said. "That's combined with the glider seating position of around 45 degrees reclined, which means that the sensation is of a near-vertical climb. The horizon is out of sight of the pilot.
"The pilot-performance margins are quite small on a winch launch. You often have a 10-kt speed window between overspeeding the glider and a high-speed stall that occurs due to the loading on the wing. Our trainees are taught that they have to fly within 2-kt to 3-kt accuracy all the way up there, even though they can't see the ground. We mention about putting the pitch attitude in the correct place even if there is a 1-degree diversion [deviation]."
Even at this early stage of glider training, Kelman finds parallels to UPRT. "That initial acceleration is very abrupt — not dissimilar to the sort of thing we're seeing in extreme upsets in the airline industry," she said. "We have to teach them to overcome the somatogravic effect.4 At the top of a normal winch launch, the glider pilot needs to lower the nose to regain the speed."
Another parallel is the necessity of pilots overcoming any instinctive reluctance or hesitation to lower the nose to recover from a stall near the ground. "It's something that we endeavor to train out of them before they are even permitted to go on their first solo in a glider," she said. "If the cable breaks, the pilot needs to lower the nose — often to 30 degrees below the horizontal — to regain the speed. If that happens low down — below 200 ft — then they're faced with the ground rush."
The possibility of such a winch-cable break, which creates a circuit (i.e., landing-pattern) emergency situation, underscores the importance — also at the pre-solo training phase — of continual contingency planning to be ready for sudden, unexpected, rapidly changing and dynamic situations. "The pilots have to decide after a cable break whether they have the energy to land ahead or whether they have to go into some sort of low-level emergency circuit," Kelman said. "Dealing rapidly with contingency is the essence. The glider pilots must aviate, aviate and aviate to fly by attitudes and with airspeed cues, and to overcome somatogravic effect. In case of lack of a real horizon, the attitude indicator is the only safe alternative."
As in commercial airlines, glider pilots at times have failed to overcome the somatogravic effect. "People have come off the top of a failed winch launch, pushed the nose forward to recover the speed, and inappropriately interpreted the reduced g [standard gravitational acceleration] as a stall and continued to nose the glider down into an impact with the ground," she added.
High-Alpha Culture
Operating close to the limits of the normal flight region of the aircraft's aerodynamic envelope is the key to glider pilots' capability to fly in thermals for extended periods and, in turn, makes possible cross-country flights in sailplanes. "The thermal cores are quite small, and so, to maximize the strong lift in the center, the glider needs to fly typically at a very high angle of bank and a low speed [i.e., high angle-of-attack] to make the radius of the turn as small as it can be," Kelman said. "Stall and spin awareness is paramount. We're flying right on the edges of the envelope." One of her video examples showed a pilot maintaining the desired relative position with a 70-degree bank angle in a typical gusty thermal, then demonstrating a calm, swift and correct recovery from an intentional stall and spin.
"There was no startle effect there at all," she noted in describing the maneuver. "The recovery is so familiar that he just continues to fly in the thermal. And that's where we want our trainees to be — to be able to deal with these situations safely and habitually."
This situational awareness also comes into play in hand-flying precision and understanding of aerodynamics governing the limits of high-speed flight for the specific glider. "Our pilots have to be very aware of the limits of high-speed flight, the relevance of maneuvering speed, the limits of never-exceed speed and also the appropriate control inputs at high speed, as opposed to the low-speed ends of the envelope," Kelman said.
Airline Relevance
The systems-monitoring demands of a flight crew's duties during airline operations these days translate into less hand-flying, despite the consensus that this is a highly degradable skill. Some airlines have seen evidence of this trend, Kelman said, based on analyses from flight data monitoring programs and the performance of some MPL-trained pilots. Manual-handling deficiencies may show up as unstable approaches, exceedances of flight parameters, landings without flare, landings outside the touchdown zone and go-arounds conducted solely because of flight crew reluctance to disconnect the automation and hand-fly as expected in the situation.
If workload becomes unacceptably high when pilots feel "forced" to hand-fly the airplane, situational awareness and task-completion ability can be affected. "The lack of manual flying–basis [proficiency] also leads to a lack of recognition of excursions toward the end of the flight envelope, i.e., the approaching stall; an overreliance on automation; and also a reliance on the flight management system for flight guidance rather than checking for gross errors," she said. "Skills practice in general aviation aircraft — particularly in gliders — can really help to address these issues. Hand-flying skills do offer airline pilots resilience so that when things do go wrong, we have got the capacity to deal with them, to fly the aircraft and still have enough mental capacity left to deal with the abnormal situation." Table 1 summarizes several key differences in the perspectives of airline pilots and glider pilots.
The level of hand-flying proficiency also can be a factor in decisions about serving new destinations where the approaches are not conducive to typical flight automation for reasons such as infrastructure or terrain issues, she said. Kelman noted, "As a colleague of mine said, 'When you disconnect the autopilot, it's where technology becomes art.'"
Safely interpreting energy state and maneuvering visually at low altitude after breaking out from clouds, for example, also sometimes reveal airline pilots' actual confidence in their level of proficiency, in their ability to complete this maneuver according to company policy for stabilized approach and in their judgment of when a diversion is necessary.
She offered, as another example, a situation in which flying time could be reduced by at least 10 minutes "if pilots are competent and confident enough in their handling skills" to request and fly a visual approach rather than the longer instrument approach when conditions are suitable. "As a glider pilot, this is the sort of decision we're trained to do, managing the energy all the way in," Kelman added.
A number of airlines already encourage pilots to do as much hand-flying on the line as safely feasible according to policy, such as electing visual approaches and conducting them with autopilot, flight director and autothrust disengaged to keep skills current, she said. In some companies, hand-flying during simulator sessions is required but hand-flying the airplane is not required.
Qualities of Scale
Also surprising to many airline pilots are the handling-quality parallels between gliders and airliners. "When we're looking at the roll and yaw handling, the principal scaling factor is the wingspan," she said. "Inertia in roll is proportional to the mass but also to the fifth power of the wingspan. If we look at a typical 150-seat airliner, a Boeing 737 earlier-generation is typically around 29 m [95 ft; Figure 1]; an Airbus A320 up to around 34 m [112 ft]. A high-performance, two-seater glider wingspan is around 25 m [82 ft]. The largest-span glider flying at the moment is 33 m [108 ft]. Typical training gliders are around 18–19 m [59–62 ft]. And that means that their handling is surprisingly ponderous and the roll rates quite similar to the handling of our 150-seat airliner in manual mode with the protections disengaged.
"However, unlike the airliner, the glider handling can be demonstrated in unusual attitudes to the extremes of the envelope. All gliders are utility category and at least semi-aerobatic. Gliders are very well suited to demonstrate loss of control to airline pilots because we can demonstrate the full range of the dynamic effects and the accelerations — and what it actually feels like to have the nose pointing at the sky."
Digital avionics, including moving-map displays, in the most advanced glider cockpits also have many characteristics of commercial jet simulators for purposes of manual flying practice. "The glass cockpit that I have in my glider, including the artificial horizon, is fully configurable on a laptop computer," she said. "You can set it up so it looks exactly like the PFD [primary flight display] on your airliner at home base; there is really a lot of similarity."
She also cited one relevant study of outcomes from a training exercise in which flight crews responded to a triple–inertial reference system failure. The participants who were currently involved in a large amount of general aviation flying — whether in gliders or airplanes — essentially flew the exercise much more smoothly and accurately than colleagues who only flew for their airline, Kelman said.
The final benefit to airline flight crews, in her experience, can emerge from a glider-flying airline pilot's experience in assessing dynamic weather phenomena near landing sites while flying gliders. "If adverse conditions are approaching an airfield, and I'm in my Airbus looking to make an approach, then I can bring all that gliding perspective into my threat-and-error management straightaway," she said. "I know where the lift's going to be, I know where the sink is going to be, and I know how the airplane is going to respond and whether it is safe to make an approach or whether to hold off for a later time. If you've got a light-wind day and strong thermal activity, low-drag, reduced-flap approaches to save fuel may not be appropriate because a strong thermal on short final may give the aircraft enough energy to take it outside its stable parameters. So it may be appropriate then to use a slightly increased-drag approach even though it looks like a light-wind, very pleasant day."
Notes
Imperial College London. "High Flying." Focus on Alumni.

Imperial Matters.

Issue 30 (Summer 2007).
Although many people use the words

glider

and

sailplane

interchangeably, some consider sailplanes to be gliders capable of higher performance.

High-alpha culture

refers to glider pilots' skill and comfort level using high angles-of-attack in normal operations.

Somatogravic illusion

describes a pilot's acceleration-induced false perception that the aircraft is pitching nose-up.