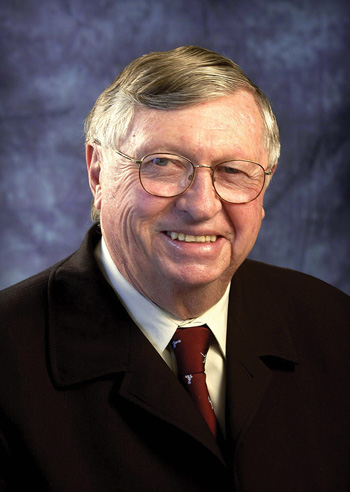 Editor's Note: Robert L. Helmreich, Ph.D., 75, and Capt. Bryan S. Wyness, 71, key figures in aviation safety over the last few decades, both died earlier this year (ASW, 7/12). In light of their many contributions to aviation safety, particularly in crew resource management and fatigue risk management systems, respectively, we asked several industry experts for their thoughts on what Helmreich and Wyness meant to aviation. Their comments have been edited for length and clarity.
---
Robert L. "Bob" Helmreich, Ph.D.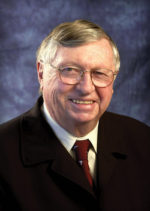 In the early '70s, I had the good fortune to work with the likes of Charlie Billings, H.P. Ruffell Smith, George Cooper and others at the U.S. National Aeronautics and Space Administration (NASA) Ames Research Center. In these early days of the human factors program there, we had done several analyses of aircraft accident reports and a limited amount of incident data, and were analyzing the rich data coming from the Ruffell Smith full-mission simulation study. We gradually formed the idea that human error was a critical issue in aviation, and that specifically, it seemed that such error wasn't coming from a lack of technical knowledge or skill, but more from an inability to effectively utilize the vast array of resources available to flight crews — other crewmembers, equipment in the aircraft, air traffic control (ATC), support from airline maintenance and operations centers, and cabin crew. It seemed to be the kind of issue that was being addressed in business management training programs, and from this nascent idea came the term "cockpit resource management," which eventually became "crew resource management" (CRM).
About 1974, I discussed this work and these ideas with another colleague from the Man-Machine Integration Branch at NASA Ames, Trieve Tanner (now deceased). Trieve was the NASA project leader for a study of social-psychological issues in long-term manned space flight, and was the contract monitor for a study that used extended underwater habitats as an analog for long-duration space missions. During my discussion with Trieve, he suggested that I might find it worthwhile to have this same discussion with the principal investigator for that study, a guy named Helmreich. We did, and it became immediately clear that Bob was closely tuned to wavelengths similar to those we were exploring, only he was focused on human performance in space, via the depths of the ocean, and we were focused on human performance in airplanes. In the end, it was clear that these were largely overlapping issues, and to my knowledge, it was Bob's first look at aviation human factors.
Bob took a concept and ran with it and is directly responsible for the central place that CRM now occupies in the art and science of human factors, not just in aviation, but in a broad array of systems that depend upon the exquisite and unique capability of humans to work effectively as teams to achieve some desired outcome — safe flight, safe navigation of ships, safe surgery, fire fighting, and on and on. I continue to be amazed at how many explicit and implicit references to CRM in its many variations can be found in a very diverse set of human activities. It was largely Bob who made this possible in several ways.
First, as a scholar and scientist, he was a rich source of endless new ideas, new ways of looking at a problem, new solutions. Secondly, and equally importantly, as a teacher and mentor, his enthusiasm for concepts and ideas was infectious. He occupies a unique place in the history of human factors. Our world is safer because of him.
— John K. Lauber, Ph.D.
I met Professor Robert Helmreich in April 1990 during the first International Civil Aviation Organization (ICAO) Flight Safety and Human Factors Symposium, held in what was then Leningrad under the auspices of what was then the Soviet Union. I knew of Bob, but I had never really met him until then. Leningrad provided the opportunity and, paraphrasing Bogart in the closing scene of Casablanca, it was the beginning of a beautiful friendship that would extend over 20 years, during which we traveled the world teaching aviation human factors under the flag of ICAO.
Bob started his applied research at the bottom of the sea, but his true love was aviation. I believe that, given the opportunity to start all over again, he would probably become an airline pilot, so strong was his fascination with our industry. Be that as it may, it was to aviation that he dedicated his enthusiasm, his competence as a researcher and practitioner, and above all, his ability to unite groups of people from different professional backgrounds and cultures.
His legacy to aviation safety is a matter of record. He took a concept, brittle at the time, and turned it into an aviation industry standard, eventually extending it to other industries that rely on teams to achieve their objectives. He achieved this by becoming "one of us," notwithstanding being a scholar and a scientist. Bob considered himself an aviation safety practitioner whose specialization was psychology, rather than a psychologist involved in aviation. This was the perspective he impressed upon his students, research assistants, associates and colleagues, thus paving the way for the aviation human factors safety practitioner, a figure now firmly entrenched in aviation safety practice.
Professionally, Robert Helmreich lived and died by data. Flight decks all over the world opened to his research. Over more than two decades, from the early days of CRM research to the recent observations of the line operations safety audit (LOSA), the project amassed astronomical quantities of data. The potential for data misuse was tremendous. Yet it is a testimony to Bob's integrity that, as of today, not one airline and not one single crewmember has suffered consequences because of misuse of data.
Bob was my aviation human factors mentor, my teacher, my peer and my friend. He was mentor, teacher, peer and friend to thousands of other aviation professionals who, like me, enjoyed his genuinely warm personality. A fan of sport cars and a world class traveler, he was also an avid reader of history. Although partial to the history of the Civil War, which he relished sharing with infectious enthusiasm, there was no aspect of universal history that would escape his interest. More than once, witnessing his impressive lecturing performances or enjoying war stories over gallons of beer, I thanked the stars for the exceptional fortune that provided me with the opportunity of his professional and intellectual peership.
—  Daniel E. Maurino
---
Bryan Wyness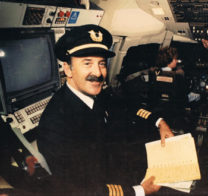 Bryan was an aviator of global stature.
He learned to fly at the Wanganui and Wellington Aero Clubs in New Zealand. In October 1964, after gaining his commercial pilot license, he was accepted by the National Airways Corp. as a pilot trainee with only 150 hours total flying time. (How different to the entry requirements today!)
He became a first officer, first on the Douglas DC-3, then the Fokker Friendship. In 1970, he joined Air New Zealand as a first officer on the Lockheed Electra and subsequently the DC-8 and DC-10.
In 1979, he gained his first command, initially on the DC-10 and then on the DC-8. At that stage, the DC-8 was coming to the end of its time at Air New Zealand. It was an airplane that he very much enjoyed; it operated primarily out of Wellington across the Tasman to Australia, but shortly after he came on the type, one of the fleet was converted to a freighter that operated long haul to the Pacific Islands and Los Angeles, in addition to the Tasman. Loads varied from race horses and lions to fresh ginger from Fiji (a striking contrast in aromas), as well as general cargo.
He then captained the Boeing 767 and 747, while moving rapidly through management ranks and ultimately became vice president for flight operations.
Bryan drove the development of Air New Zealand's world-leading pilot fatigue risk management program in conjunction with NASA in the United States, the Defence Evaluation and Research Agency (DERA) in the U.K. and universities in New Zealand and the U.K. Bryan's work  eventually led to an ICAO document of standards and recommended practices. He retired from Air New Zealand in 2003.
He held appointments with the International Advisory Committee of Flight Safety Foundation and the New Zealand Transport Accident Investigation Commission (TAIC) as a commissioner; with the TAIC, he became involved in maritime and rail occurrences as well as aviation incidents and accidents. In March 2001, he was recognized by Boeing for his leadership. In 2003, he was awarded the Jean Batten Memorial Trophy by the Guild of Air Pilots and Air Navigators (GAPAN) for outstanding contributions to New Zealand aviation. The following year, he received the Aviation Industry Association of New Zealand Individual Award for his outstanding contribution to the enhancement of operational integrity and flight safety.
Since 2003, he had provided specialist flight operations, civil aviation operations, policy development, regulatory compliance and International Air Transport Association Operational Safety Audit (IOSA) certification expertise to the industry in New Zealand, Australia and the U.K., among others.
He was a foundation partner of NZ Safety Management Systems, and in 2007 was made a GAPAN liveryman. He was the regional chairman of GAPAN and guided the Guild in working closely with the Royal New Zealand Air Force in aviation excellence, training, standards and safety management systems.
He was also a former member of the Air New Zealand Board.
— Capt. Fred Douglas and Neil G. Airey
In 1993, Air New Zealand's medical director called to ask if I could meet with Capt. Bryan Wyness and a colleague at the airport as they were passing through Seattle. They had just come from NASA Ames, where they met with Mark Rosekind and the fatigue team to discuss using NASA's flight crew research to develop a scientifically based system to address flight and duty time limitations. As a former NASA scientist, I was both thrilled and intrigued by Bryan's vision of taking a data-driven approach to address the age-old challenge of tired pilots and aviation safety, but we agreed it would not be easy.
I was fortunate to participate in the kickoff meeting a couple of years later. In addition to Mark Rosekind and the Air New Zealand team, Bryan also invited professors Simon Folkard from the U.K. and Keith Petrie from New Zealand. The end result was Air New Zealand's fatigue risk management system (FRMS), which has continued to thrive for more than 15 years. It was Bryan's driving force, vision and commitment to the task that led to its development. He recognized from the beginning that success would depend on maintaining scientific credibility upon which both the pilot community and the regulator could rely. So he converted the original team of outside experts to an independent alertness advisory panel to review policies, processes, data collection and research on an annual basis. Additionally, he sought the help of experts at DERA (later QinetiQ) and universities in New Zealand to assist in the in-flight studies. He worked with pilot representatives to assemble a crew action study group to review crew fatigue reports on a monthly basis and to offer input to ongoing research.
Bryan joined the steering committee of Flight Safety Foundation's International Ultra-Long-Range Crew Alertness Project in 2001 and guided its use of Air New Zealand's FRMS as the foundation for recommendations now being utilized worldwide. When ICAO formed an FRMS task force in 2009, he offered valuable help because the Air New Zealand FRMS became the starting point for the development of the international standards and guidance that were approved by the ICAO Council in 2011.
One example of his leadership in human factors was his work with the University of Texas to enable Air New Zealand to be the first non-U.S. carrier to conduct LOSA audits. I will never forget when he called to describe a 767's near-miss on the approach to Apia due to false signals being generated by the instrument landing system (ILS) undergoing maintenance. He offered to provide a DVD describing the incident, the underlying causes of the false ILS guidance, and how the risk could be mitigated. "Would Boeing copy and distribute it to its customers worldwide?" We called Airbus officials immediately, and they, along with the Foundation, agreed to also spread Bryan's message.
Bryan continued his commitment to fatigue risk management and flight safety after his retirement in 2003. He provided expertise on specialist flight operations, civil aviation operations, policy development, regulatory compliance and IOSA certification to the industry in New Zealand, Australia and the U.K.
Bryan tragically passed away following a motorcycle accident on July 20, 2012. He was on the same bike he rode in 2005 on a three-month journey as one of six "Silk Riders" covering nearly 20,000 km in the footsteps of Marco Polo on the Silk Road from Venice to Beijing. Those who shared his many passions including motorcycles, opera and car racing counted it a privilege, just as in aviation. Through his contagious enthusiasm and total commitment to international safety, he always made a difference.
— Curt Graeber, Ph.D.