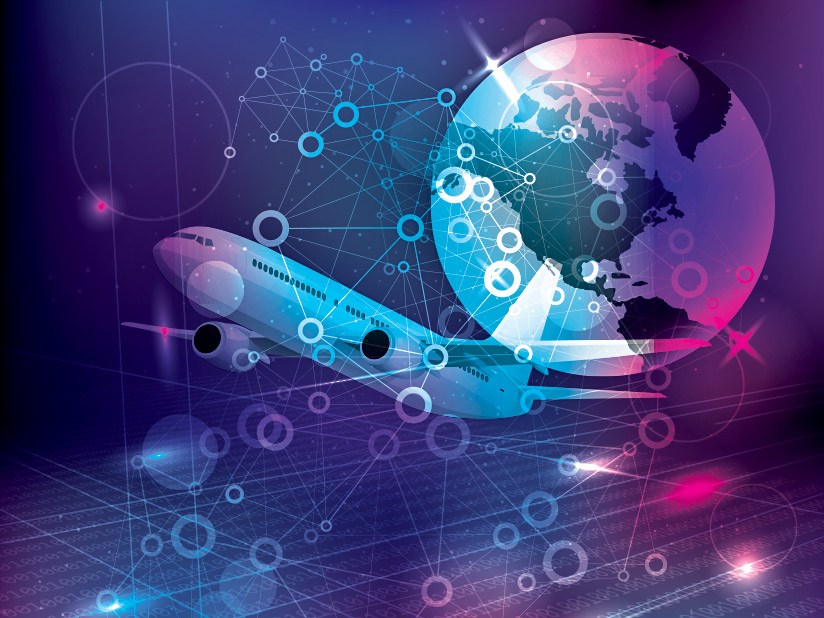 Modernization via satellite technology is not a new frontier for the aviation industry. More than 25 years ago, we began using the communications and tracking capabilities of satellites to revolutionize the guidance of aircraft through the skies. Today, we safely fit more aircraft in the same airspace, boosting flight efficiency and saving airlines billions of dollars. The result: at any given hour, more than a million people are in flight somewhere above the earth.
Prior to the availability of satellite technology, an aircraft's position in oceanic or remote areas was not precisely known. Aircraft had to stay far apart from each other to minimize the risk of a collision and to prevent accidents from secondary factors. Formerly, aircraft were required to maintain 100 by 100-nm separation, with an altitude separation of 2,000 ft above and below each aircraft. With satellite technology, those numbers have been dramatically reduced. Now a 30 by 30-nm area of separation is achievable, with 1,000 ft of separation above and below, creating a more efficient airspace that can accommodate more aircraft. This has resulted in a 300 percent increase in oceanic air traffic capacity.
With the development of NextGen — the Next Generation Air Transportation System — the United States is in the midst of one of the largest infrastructure overhauls in its history. A similar modernization is taking place in Europe with SESAR JU (the Single European Sky Air Traffic Management Research Joint Undertaking). NextGen and SESAR share a defining theme: elevating communications to a common, secure, internet protocol–based (IP-based) system to share data between providers and operators. The benefits of these programs are many: modernized and streamlined air traffic management that delivers more efficient air travel and safer skies. Ultimately, modernization means faster, cheaper, greener distribution of goods, technology and people across the globe.
These powerful benefits for the aviation industry receive considerable attention, but the central pillar of NextGen often is overlooked. Modernization of the air traffic management system, on the scale to which NextGen aspires, is only possible with the power of broadband IP connectivity via satellite. Satellites offer superior positional advantage over ground radio: they can reach the entire planet, including customers in oceanic and remote areas. Today, our space-based communications finally exceed the capabilities of ground-based data link. Not only is satellite broadband faster, it can leap over oceans and continents, providing superior connectivity to radio and radar.
You may remember the early descriptions of NextGen as "moving air traffic control from ground-based radar to a satellite-based system." Even though that description referred mostly to terrestrial automatic dependent surveillance–broadcast (ADS-B) and global positioning system (GPS), satellites have been integral to the NextGen story since the beginning. Now, as more NextGen programs come online, they rely on broadband satellite technology and the large amount of data it delivers. System Wide Information Management (SWIM) becomes the internet of the cockpit. Aircraft access to SWIM will enable transmission of real-time weather and traffic advisory information directly to the cockpit. With this capability, flight crews will have the same information as their dispatch centers. Data Comm, another NextGen program, leapfrogs over controller pilot data link communications (CPDLC) with the rich data it provides.
We have the tools to address the inefficiencies in our decades-old air traffic management system. We can guide, track, and connect aircraft more precisely and efficiently, allowing us to safely fit airplanes closer together, reduce in-flight delays, and avoid bad weather. The joining of satellite technology with broadband capacity delivered via satellite is a game-changer that delivers the promise of modernization.
Data-Hungry Cockpits
The modernization of the National Airspace System is not simply assisted by broadband satellite connectivity — it relies on it. NextGen brings about data-hungry cockpits, requiring technology that can reach the whole system, integrating databases and avionics. These tools and applications require a data pipe big enough to handle large amounts of information and the security protocols to keep that information segregated and safe. For example, SWIM brings in data from hundreds of different sources, and flight data recorders store half a terabyte of data for each flight.

Airbus already has equipped the global fleet with satellite communications. In the past, the majority of aircraft with satellite terminals were wide-body. In July, the manufacturer selected Inmarsat's SwiftBroadband–Safety as its cockpit satellite communications (satcom) option for A320 and A330 airplanes.
In addition, Cobham and Boeing have signed a technical service agreement for the certification of the Aviator 600S and 700S systems on Boeing 777s and 737s. Cobham's Aviator S series delivers Inmarsat's new generation SwiftBroadband-Safety service as well. Currently, Hawaiian Airlines is evaluating IP-based satellite safety services.
Ken Rewick, Hawaiian's vice president of flight operations, said the evaluations — in progress for more than a year — have shown that "the amount of information that we can provide to crewmembers in flight … is vastly improved by having this installation on the aircraft." Capt. David Valente, Hawaiian's 767 fleet captain, added, "From a safety standpoint, if we can deviate around weather sooner or if we have an emergency situation where the aircraft needs to divert to an alternate airport, we get that information out to the air traffic control, to dispatch, other entities in a rapid manner, we get responses rapidly and we can operate safer that way."
IP-based broadband for the cockpit enables innovative new applications to improve flight safety, reliability, capacity and operational efficiency. It will accelerate and enhance connectivity to and from the cockpit, ensuring that safety-critical information is available on demand for the pilot, the airline and air traffic controllers, thereby delivering benefits that will redefine the way airlines and airspace users operate.
Satellites also enhance the security of communications. Broadband connections to the cockpit can be prioritized using the L-band frequency (the 1 to 2 GHz range), providing separation of regulated safety services from cabin communications. This data segregation creates a virtual "fortress door," ensuring the highest levels of information security and reliability. While offering a robust level of encryption and security, it also maximizes the integrity and availability of safety data.
New Services
Among the services powered by IP-based broadband satcom are air traffic services applications such as high-speed surveillance with automatic dependent surveillance–contract (ADS-C), CPDLC and satcom voice, which will enable further reductions in oceanic and remote separation standards, and help airlines exceed the minimum performance standards required by aviation regulators.
High-speed connectivity to the cockpit will enable real-time flight tracking — transmission of position reports and flight performance data — in addition to ADS-C position reports. This real-time flight tracking provides latitude, longitude, altitude, true heading and groundspeed information at an interval that can be configured from the ground, potentially as frequently as every 15 seconds.
In addition, the International Civil Aviation Organization recently developed the global aeronautical distress and safety system (GADSS) concept designed to provide more accurate information about an aircraft's condition and exact location in a timely manner, especially in remote areas. GADSS is envisaged to provide seamless aircraft tracking, activated at takeoff and operational throughout a flight. It addresses all phases of flight, under all conditions, including distress. In the event of an abnormality in flight, an aircraft's position-reporting interval must decrease to one minute at a minimum, thereby significantly enhancing the positional awareness of that particular flight. IP-based broadband satcom will support all GADSS requirements, allowing big data power to stream vital flight data recorder information off the aircraft in real time.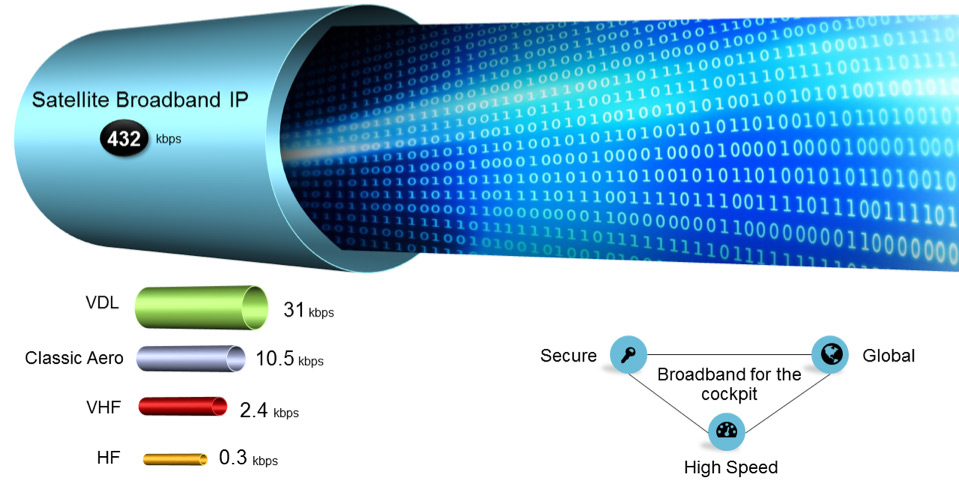 IP-based broadband satcom connectivity also enables an array of flight deck applications, from continuous positional awareness and electronic flight bag (EFB) updates to airline operational control center voice and data. For airlines, greater-capacity communications create opportunities for new applications to improve flight safety, allowing more efficient and streamlined service to customers and cost savings through continuous monitoring of aircraft performance and fuel. Airlines can also use the data as part of their risk management program.
With the capability to increase connectivity in the cockpit comes a number of new safety and operational features and applications. IP-based satcom broadband will open the door to capabilities previously considered impossible. Among them are the following:
Flight optimization — Applications use multiple data sources from the aircraft and from the ground to present continuous time- or cost-saving opportunities to the flight crew, improving operational efficiency and decision making. Real-time high-resolution weather can be received in the aircraft, over land and sea. Not only does such information improve the passenger experience and comfort level, but better situational awareness and real-time data also can help flight crews avoid unexpected weather and turbulence encounters, which can lead to costly inspections, damage or personal injury.
Disruption management — Telemedicine applications enable medical professionals to diagnose situations using real-time patient information transmitted from an aircraft to the ground, providing valuable decision support and risk management information to the crew.
Preventative maintenance — Real-time flight data monitoring, quality assurance, exceedance alerts and fuel-use monitoring can help reduce delays as well as compensation claims, unplanned maintenance and fuel bills, and can offer the potential for real-time intervention in developing safety or security situations. Real-time diagnostics can take place on the ground, providing the ability to drill down into data and control the amount and type of information streamed to the ground. From this information, pre-positioning of the right parts, equipment and personnel at the gate can help keep turnaround times on schedule. In addition, flight-critical databases can be updated instantly to help ensure mandates are met for currency of information, while at the same time enabling amplified information, manuals etc., to be centrally accessed and managed. Other applications can streamline workflows for flight crews; reduce paperwork through electronic forms and schedules; improve availability of accurate, up-to-date information for the operation; and provide accurate records and logs.
These capabilities and accompanying benefits will define the future of airline efficiency and safety, and they are all enabled by the unique advantages of IP-based broadband for the cockpit.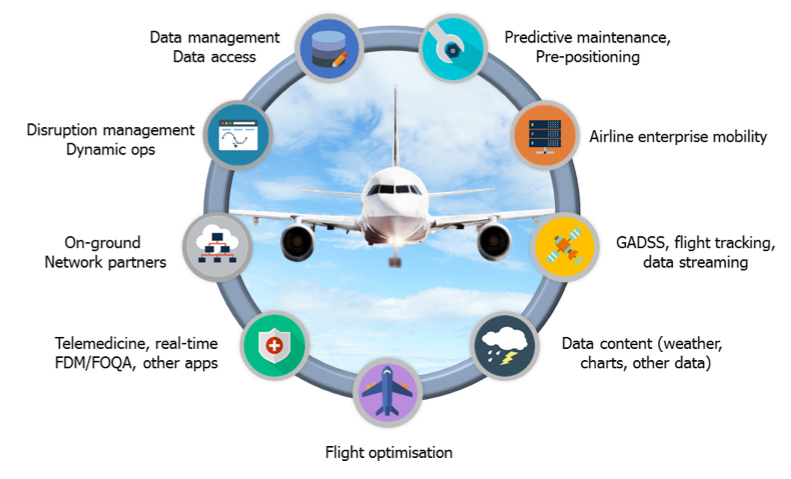 Capt. Mary McMillan is vice president, Safety and Operational Services, at Inmarsat Aviation.
Featured image: © fandijki | iStockphoto