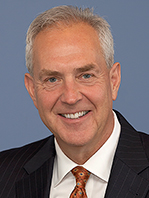 In November, more than 300 aviation safety professionals from around the world will gather in Abu Dhabi for Flight Safety Foundation's 67th annual International Air Safety Summit (IASS). Already, we have higher-than-usual registration and representation from a wide range of companies and sectors from every corner of the globe.
It's not hard to understand why. We've paired one of the most respected and important safety events with a region of the world that is home to one of the aviation industry's highest rates of growth. According to some reports, growth in the Middle East is expected to outpace the rest of the world for the next 20 years. It's no wonder that this is turning into a hot ticket.
As the agenda for this event takes shape — and you can access it at flightsafety.org/IASS2014 — it promises to address some of the most timely issues in aviation and aviation safety. We'll have updates about aircraft tracking and about operations above areas of armed conflict, directly from the individuals who are leading those efforts. Results of the Foundation's go-around project are scheduled for release in time for IASS, and the summit will feature several presentations about approach and landing safety and go-arounds. Accident investigators from the U.S. National Transportation Safety Board will present information about the crash of Asiana Flight 214. This is just a sample of what is on the agenda.
The major sponsor for IASS is Etihad Airways, which will be hosting a luxury opening reception the first night of IASS for all attendees.
In conjunction with IASS 2014, we will be holding our second annual Benefit Dinner. Last year, we raised more than $75,000 to assist with FSF programs, and we are aiming to increase that amount this year. The dinner, including a reception and silent auction, will be held at the Monte-Carlo Beach Club on Saadiyat Island in Abu Dhabi.
This will be my first IASS as president and CEO, but the reputation of this event precedes it. I know that it will be an important week of sharing safety information, networking with colleagues from all around the world and learning about the latest safety technologies. If there is one safety conference to go to, it is IASS.
I hope to see you there.