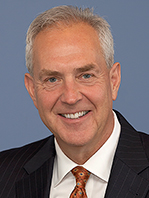 Hundreds of aviation safety professionals gathered in Montreal the first week in February at the International Civil Aviation Organization's (ICAO's) High Level Safety Conference (HLSC). It's been five years since the last HLSC, and it was a great event.
Flight Safety Foundation has official observer status with ICAO, a privilege not too many groups have been granted. This gives the Foundation a front-row seat for the fascinating deliberations among the states as the members of ICAO grapple with the issues facing aviation safety.
But we weren't there just to listen. I had the honor to join a panel discussion on the first day of the HLSC about the protection of safety information. During this panel, the Foundation called on ICAO and all the participants at the meeting to embrace the recommendations from ICAO's Safety Information Protection Task Force. As you have probably read on these pages before, and as the Foundation believes more strongly than ever, a top priority must be to create an environment where aviation safety information can be shared without fear of prosecution or retribution. Our contributions to this panel outlined some of the progress being made, but that is not enough. The FSF Legal Advisory Committee, which is being formed now, expects to make this issue its top priority.
Some of the other highlights from Montreal include progress reports and final conclusions from the Aircraft Tracking Task Force (ATTF) and the Task Force on Regional Conflict Zones (TF RCZ). I'm proud that the Foundation served on the ATTF and that the former chairman of our board, David McMillan, was selected to chair the TF RCZ. Our involvement in these two task forces is a testament to the value the Foundation brings to an aviation discussion. In 2014, these were the biggest issues facing the aviation industry, and these task forces worked as planned — they brought together the various stakeholders to examine potential solutions from all angles.
Spending a few days with safety professionals from around the world is a rewarding experience. Between breakfasts, lunches and breaks, I had the opportunity to meet with long-time safety colleagues, hold impromptu meetings and provide updates on the work of the Foundation, including meeting with the U.S. Federal Aviation Administration for updates on the progress of our work on the Global Safety Information Project.
I also met with both Kevin Hiatt and Bill Voss, my predecessors in the FSF president and CEO position. Their willingness to share their experiences as former CEOs is invaluable.
My participation in the HLSC, both as a speaker and an attendee, will provide new opportunities for the Foundation throughout the year. I applaud ICAO for organizing this important conference. Getting safety professionals together from every country to discuss their safety concerns and solutions benefits all of us.