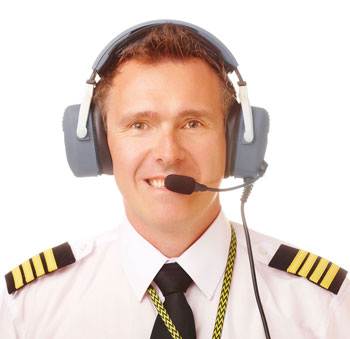 Although the International Civil Aviation Organization's (ICAO's) campaign for proficiency in aviation English singled out radio communication between pilots and air traffic controllers, this is not the only area where those in the industry need to speak a common language.
While pilot and controller communication is the most visible, the most easily analyzed, and often the most dramatic aspect of language use in aviation, a more thorough review reveals that, speaking, listening, reading and even writing proficiency is required for a wide-ranging array of other important language tasks associated with aviation operations (see "Roles of English in Aviation").
The English language threads its way into nearly every aspect of training, operations and maintenance. Checklists and procedural manuals are most often published in English and read aloud on flight decks during normal flight, as well as in abnormal or emergency situations.  Maintenance records often are compiled in English. Much ab initio flight training, including multi-crew pilot license (MPL) training, is based on a curriculum written and delivered in English to trainees who speak and read English as a second or additional language. Increasing use of data link communications requires reading — and some writing — proficiency for the exchange of mostly routine, coded messages but also some plain language text. Increasingly, English is the common language on multicultural flight decks.
Roles of English in Aviation
English is the formally required language for international radiotelephony communication, and it functions as the de facto, and unregulated, official language for other aspects of international aviation communication. For example:
English is often the common language of the many multinational crews in international airlines, so crew resource management communication is conducted in English — increasingly in English used as a foreign language.
Aircraft operations and emergency procedures manuals are universally published in English and often read, and read aloud during flight, by people who use English as a second or foreign language.
Increasing use of data link communication requires that pilots and air traffic controllers be able to read and enter on a keypad routine, coded and plain language text messages.
Maintenance manuals are similarly most often available in English and implemented in an English-as-a-foreign-language context.
The global demand for airline pilots has created a surge of flight training conducted in English for cadets who speak and read English as a foreign language.
The ICAO language proficiency requirements for pilot and controller communications were developed in the early 2000s in response to urgent evidence that inadequate English language proficiency contributed to unsafe conditions that resulted in several accidents and serious incidents. Among the most frequently cited events were the March 27, 1977, collision of two Boeing 747s on an airport runway in Tenerife, Canary Islands, that killed 583 people, and the Nov. 12, 1996, midair collision over northern India of a 747 and a Tupolev TU-154 that killed 349. Both accident reports cited the pilots' poor English language skills.
ICAO's requirements — set forth in Document 9835, Manual on the Implementation of ICAO Language Proficiency Requirements, first published in 2004 —were based on research into pilot-controller communications, as well as decades of practical training experience by organizations that participated in the ICAO Proficiency Requirements in Common English Study Group (PRICESG). While our awareness of the multidimensional role that English plays in this aspect of aviation safety is not new, a comprehensive understanding of language use in other aviation contexts is less mature and not well supported with hard evidence or research. In fact, implementation of ICAO language proficiency requirements came after an approximately 40-year push within the industry for greater awareness of human factors in aviation.
Communication and Human Factors
Within the field of human factors, communication is frequently referenced and widely acknowledged to be fundamental. Nearly all human factors textbooks and manuals identify communication as a critical element of safe operations, citing both first-language and second-language interactions as contributory factors to numerous accidents and incidents.
Earl Wiener and David C. Nagel, in the first edition of their pioneering Human Factors in Aviation, noted that the "gap between theory and practice is wider in radio communication procedures than in any other facet of aviation." Nearly 25 years later, communication gaps remain apparent, particularly if you consider a threat and error management perspective to include not only radio communications but also flight crew communications, maintenance communications, and communications during flight training. Although the importance of communication — and language — to safe and efficient operations is universally recognized in the literature on human factors in aviation, our progress in understanding language and communication issues in aviation has arguably not kept pace with industry understanding of other aspects of human factors in aviation.1
In their analysis of cockpit communications, Robert Helmreich and J. Bryan Sexton affirmed that "the role of language use in communication processes has been neglected."2
Researchers tend to approach these issues from the perspective of communication studies or psychology, or from an operational perspective, uncovering useful insights and information that have contributed to improved crew resource management (CRM), particularly regarding captain and first officer communication strategies in the English-as-a-first-language context. However, in part because the term "communication" comprises a broad set of factors and activities — from learning about communication protocol and procedures and use of the equipment and standardized phraseology, to CRM English-as-a-first-language communication, to breakdowns in communication stemming from inadequate English language proficiency or cultural factors — their research activity also has tended to occur more sporadically than systematically and has not generated follow-on work.
As further evidence of the gap in understanding language as a human factor in aviation, ICAO Document 9683, Human Factors Training Manual, defines human factors as an interdisciplinary field made up of 13 academic disciplines, including psychology, engineering, medicine, education, mathematics and industrial design. The academic fields of communication and applied linguistics are not mentioned, an oversight that only highlights the pernicious tendency of language to be overlooked as either beguilingly but misleadingly simple or dauntingly complex. Michael Erard, a writer who focuses on language and life, explains that the field of linguistics is unique: "at once, too human and too social to be a hard science, too empirical and logical to belong to the humanities."3 
So, despite the widespread awareness of the pivotal role that language plays in aviation, there has been little meaningful research into aviation communication from the perspective of applied linguistics, an academic field distinct from communication. Linguistics is the scientific study of natural human language, an area of study more complex than our usual, everyday facility with our own first — or second — language would indicate.
It would not be accurate to describe "language as a human factor" as a new field, for language and language use have long been identified as a factor in aviation safety. Just as fatigue or stress are considered part of human factors, so must language be better understood as a complex set of factors that affects human performance.
Changing Landscape
A number of aviation industry developments and factors likely will change the operational landscape in which aviation communication occurs and increase the importance of understanding language use in all aspects of aviation communication.
The first significant change comes from what is acknowledged as spectacular growth in the aviation industry in parts of Asia and also in Brazil, Russia and South Africa. Aviation operations have changed dramatically, most notably in the number of multicultural and multilingual airline flight crew rosters, not just in Asia but also across Europe and the Americas.
The aviation industry is no longer one in which English as a first language is dominant. It has shifted to a context in which aviation operations that occur in multicultural contexts are the norm and in which English-as-a-second-language predominates. English spoken as a foreign language is no longer simply a matter of pilot and controller communications; it is the medium of considerable CRM communication and flight training. Yet most aviation safety and training literature still targets an English-as-a-first language audience.
The second significant factor that increases our need to better research and understand language as a human factor in aviation stems from the ICAO standards and recommended practices that introduce English language–testing requirements. ICAO sets forth six levels of language proficiency, from "pre-elementary" Level 1 to "expert" Level 6 and specifies that pilots and air traffic controllers must demonstrate "operational" Level 4 proficiency or better if they are to conduct international flight operations. Nevertheless, the linguistic demands of threat and error management and CRM in multilingual flight crews and in multilingual flight training may very well require English proficiency above Level 4. (Understanding the level of English proficiency required for effective CRM requires formal linguistic analysis.) It is critical, too, to understand that the ICAO language standards address only speaking and listening proficiency for radiotelephony communications. They cannot be applied to reading proficiency.4
A third factor stems from the development of MPL training. Language use and language proficiency affect aviation communication in many, varied and profound ways. Effective teamwork cannot occur without effective communication. Effective communication rarely occurs without language, either spoken or written. Sexton and Helmreich note that "problem-solving communications are the verbal embodiment of threat and error management in the cockpit."5 Language is the foundation upon which threat and error management is constructed.
The solution to the issue of how to adequately address what constitutes language use and language proficiency in speaking, listening, reading and writing outside of the scope for pilot-controller communication cannot be the development of yet more guidance materials. Nor should more regulations be applied without better understanding the use of language across all aviation contexts. The industry deserves a more robust understanding of what factors influence communication during flight operations and what is actually required for effective communication to take place. The complexity of the topics merits expert input from applied linguists. As noted, language use in aviation is not simple.
Until the aviation industry can call upon a more robust body of applied linguistic research in most of these areas, success in navigating the current, largely unregulated aviation English landscape will continue to be limited. Developing a more thorough understanding of the language-related factors that affect flight will help build a more robust framework. This includes developing more harmonized, valid and reliable assessment tools and protocols to ascertain if pilots have adequate language proficiency for not just operational ICAO Level 4 radiotelephony, but for effective communication in all aspects of their work.
Elizabeth Mathews, an applied linguist who led the international group that developed ICAO's English language proficiency requirements, researches the role of language as a factor in aviation communication and advocates for improving the quality of aviation English training and teacher training.
Angela C. Albritton, director of military and government relations at Embry-Riddle Aeronautical University–Worldwide, is a specialist in the field of language as a human factor. She has worked and consulted for numerous international airlines in her 20-year career in aviation.
Notes
Wiener, Earl L.; Nagel, David C.

Human Factors in Aviation

. San Diego: Academic Press, 1988.
Sexton, J. Bryan; Helmreich, Robert L. "Analyzing Cockpit Communications: The Links Between Language, Performance, Error, and Workload."

Human Performance in Extreme Environments

Erard, Michael. "What Is Language Journalism?"

Schwa Fire

Issue 1, Season 1 (May 16, 2014).
ICAO's criteria for Level 4 proficiency call for speakers, among other things, to possess vocabulary that is "usually sufficient to communicate effectively on common, concrete and work-related topics"; to have "usually well controlled" basic grammar and sentence patterns; and to comprehend discussions of common work-related topics.
Sexton, J. Bryan; Helmreich, Robert L. "Using Language in the Cockpit: Relationships With Workload and Performance."

Communication in High Risk Environments

. Dietrich, Rainer, editor. Linguistische Berichte, Sonderheft 12. 2003.