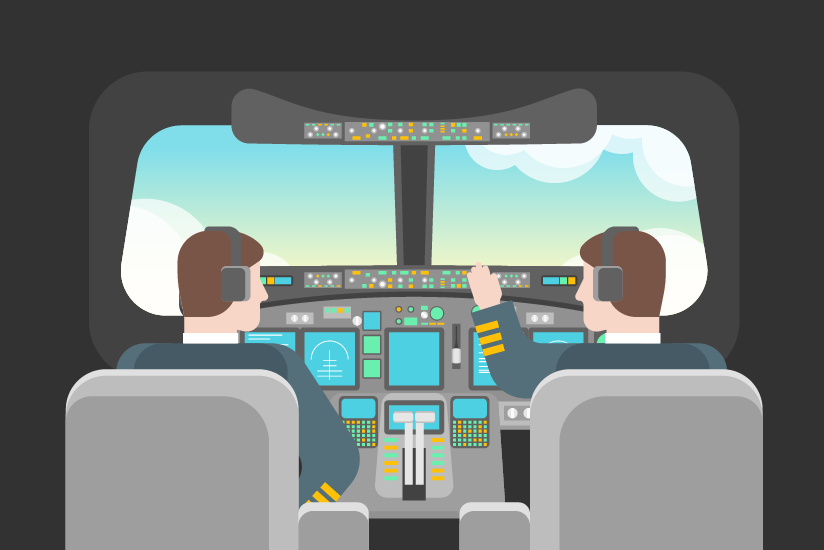 A study of European pilots grounded for medical reasons found a link between their unfitness to fly and aging, with cardiovascular problems the most common cause of grounding.
The study, commissioned by the European Union Aviation Safety Agency (EASA) and published in the December issue of Aerospace Medicine and Human Performance, reviewed the cases of 82,435 pilots evaluated by six European national aviation authorities (NAAs). Of that number, 2.1 percent were assessed as unfit for flight. The reasons for their unfitness were cardiovascular problems (19 percent), psychiatric issues (11 percent), neurological issues (10 percent) and psychological issues (9 percent), the report said.1
"Among those holding a commercial pilot license … , a clear effect of aging on the unfitness rate was found, with the highest rate in the 51‒60 age cohort and, although slightly lower, in the [greater than] 60 age cohorts," the report said. "The slightly lower unfitness rate in the [greater than] 60 age cohorts might be explained by a healthy worker effect2 caused by self-selection and medical screening, leaving the more physically and mentally fit older pilots in the workforce."
In what the report defined as "older age groups," cardiovascular conditions were even more frequently cited as the cause for grounding – in 21 percent of groundings for pilots from age 51 through 60, 28 percent of groundings for those from 61 to 65, and 48 percent for those older than 65.
EASA commissioned the study to analyze the medical causes of grounding and identify measures that could reduce the risk of in-flight incapacitation of commercial air transport pilots – part of a larger effort to determine whether mandatory age limits for pilots should be increased.
"Current European rules mandate age limits of 60 [years] for commercial single-pilot operations and of 65 [years] for multi-pilot operations," the report said. "As life expectancy and socially acceptable retirement ages have increased in Europe, … EASA is challenged to reconsider these mandatory age limits. In that context, EASA commissioned a project to develop medical references related to the risk of pilot incapacitation in relation to the pilot's age and to determine whether the risk of incapacitation can be mitigated by appropriate health screening."
The report cited previous research that found that medical incapacitation of a pilot occurs about 0.45 times per 1 million flight hours and that the rate of incapacitation increases along with a pilot's age. In addition, between 50 and 70 percent of in-flight incapacitations are considered "barely preventable" because they could not have been predicted during a routine medical screening; the remaining incapacitations, involving conditions such as sudden cardiac death, acute coronary syndrome, cardiac arrhythmia, pulmonary embolism and stroke, are "potentially preventable."
Data From 6 NAAs
In the current study, researchers requested that 18 NAAs share de-identified data that included the  number of pilots examined, the pilots' age categories, their license categories, the number of unfit pilots and the medical diagnoses for those who were classified as unfit to fly. Data from the various NAAs were pooled, and researchers examined the associations between the pilots' ages, their license categories and the medical diagnoses of their unfitness to fly.
Of the 18 NAAs, six submitted all requested data. (The others cited problems involving inaccessible data or understaffing.) Data were included for 82,435 pilot medical examinations – for 50,101 Class 1 examinations and 32,334 Class 2 examinations conducted from 2013 through 2017.3 The 2.1 percent of cases in which a pilot was found to be unfit to fly included 1,074 Class 1 pilots and 652 Class 2 pilots.
Of the unfit Class 1 pilots, the highest rate of unfitness was the 4.4 percent among pilots between age 51 and 60. In both the age 61 to 65 and the over 65 categories, 3 percent were classified as unfit. Of the unfit Class 2  pilots, 2.9 percent of those from ages 61 to 65 were classified as unfit, as were 3.1 percent of those older than 65.
While cardiovascular conditions were the most frequent reasons for the unfitness of older pilots, psychiatric and psychological conditions were most common for pilots from 20 to 40 years old, the report said. Neurological issues were distributed evenly among all age groups.
Modifiable Risk Factors
The report said the findings emphasize the importance of preventing cardiovascular disease by addressing the modifiable risk factors associated with the ailments, including smoking, high blood pressure, high cholesterol, diabetes, overweight, unhealthy eating habits, low physical activity level, and excessive alcohol intake.
"Tackling these risk factors gives aeromedical examiners the opportunity to improve the health of pilots and reduce flight safety risks," the report said. "Early prevention of cardiovascular disease is considered to reduce the number of pilots at risk of acute in-flight incapacitation and thereby improve flight safety."
Aviation medical examiners should include individual counseling about preventing cardiovascular disease as part of every aeromedical examination, the report said, suggesting that commercial air transport pilots be screened for modifiable and nonmodifiable risk factors and told how to reduce the modifiable factors. For pilots with a low 10-year risk of developing cardiovascular disease, the report recommended a discussion of healthy diet and exercise. Pilots with an intermediate or high cardiovascular disease risk, however, should be referred for enhanced risk assessment using a number of more sophisticated tests.
Risk estimation and preventive counseling should be ordered early in a pilot's career, the report said, noting that evidence indicates that elevated levels of so-called bad cholesterol during adolescence are associated with development of coronary artery disease later in life.
Image: © bigmouse108 | VectorStock
Notes
Simons, Ries; Maire, René; Van Drongelen, Alwin; Valk, Pierre. "Grounding of Pilots: Medical Reasons and Recommendations for Prevention." Aerospace Medicine and Human Performance Volume 92 (December 2021): 950‒955.
The healthy worker effect is phenomenon in which the overall death rate for workers typically is lower than the death rate for the general population, largely because people who are critically ill or disabled are no longer in the work force.
EASA specifies that a Class 1 medical certificate is required for commercial aviation pilots. A Class 2 certificate, with less stringent standards, is required for general aviation pilots who are not involved in commercial activities.