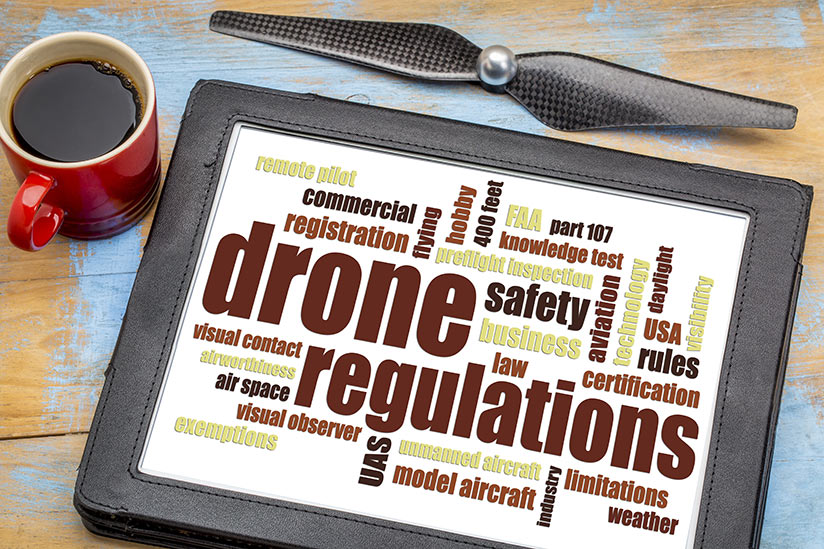 As the use of drones has increased in recent years, so has the number of states and local governments in the United States that have enacted rules restricting drone operations.
According to the first in a planned series of reports published by the Center for the Study of the Drone at Bard College in Great Barrington, Massachusetts, U.S., 135 localities in 31 states have taken action to regulate drones.1
These rules have been adopted in addition to the regulations and guidance promulgated by the U.S. Federal Aviation Administration (FAA), which is responsible for integrating drones — also known by a number of other terms, including unmanned aircraft systems (UAS) and remotely piloted aircraft systems — into the National Airspace System (NAS).
So far, the FAA's rules deal with small UAS (those weighing 55 lb [25 kg] or less) — rules for larger drones will be proposed in the future — and require, among other things, that they be flown within the operator's visual line of sight; remain below 400 ft and away from airports; and operate only during daylight.
Of the 135 localities that have enacted their own rules, only three passed ordinances to promote the use of drones, while the others imposed various restrictions, the study said, noting that, although the database was compiled after an exhaustive search of published documentation, it does not necessarily include every municipality and regional authority in the United States that has adopted rules on the use of drones. "Rather," the report said, "it is intended to serve as a comprehensive guide to a broad sample of known laws currently in effect and may be used to indicate the scope and spread of the trend of local drone law adoption."
The Center's database was developed through internet searches for laws that addressed the use of "drones," "unmanned aircraft" or unmanned aerial vehicles," the report said. Although the database includes government agencies that operate public parks and that in recent years have acted to limit drone use, it excludes those that for many years restricted the activities of "remote control aircraft," reasoning that "many of these rules predate the emergence of drone technology and thus do not represent a part of the growing trend of local drone regulation."
The first rule to be enacted was a 2009 measure adopted in Grand Forks, North Dakota, prohibiting "the landing or takeoff of drones from airports, helipads or other unauthorized locations," the report said. Other early rules were passed in 2012 and 2013 in Charlottesville, Virginia; Deer Trail, Colorado; and Berkeley, California.
Only a few local ordinances were adopted in 2012, 2013 and 2014, the report said. Adoption dates are associated with only 114 ordinances, of which 34 were passed in 2015 and 59, in 2016.
Nearly all of the local rules — 128 of the total of 135 — limit use of privately owned drones. Four rules restrict the use of drones by law enforcement authorities, and three restrict not only law enforcement drones but also those used by other departments within local governments.
The most frequent restriction in the local ordinances was operating in a public space, prohibited by 67 localities, the report said. Other restrictions included bans on using drones to invade another person's privacy through the recording of private activities or other forms of surveillance and bans on using drones over private property without the owner's consent.
In addition, at least 17 ordinances prohibit drone operations over large gatherings of people, and at least 13 require permits before flight is approved in some areas, the report said. Other frequent restrictions prohibit operating a drone while impaired, using a drone to harass others, arming a drone and using a drone to interfere with emergency-response personnel.
Seven states prohibit localities within their borders from enacting certain rules to govern drone use, the report said.
The rate at which new local ordinances are being enacted has not slowed, the report said, adding, "In part, the proliferation of these laws appears to be tied to the expanding use of drones in the U.S. airspace system and the growing rate of drone-related incidents."
As examples, the report noted that a council member in Bethany Beach, Delaware, sponsored a city ordinance to restrict drone use over private property shortly after she saw a drone flying above her during a New Year's celebration, and that the West Hollywood, California, local council voted three months after a drone crashed into a power line to order sweeping restrictions on drone use in that area.
"It appears that the adoption of these rules is largely motivated by a sense that the FAA's regulations are not comprehensive and strict enough to prevent potential abuses of the technology," the report said. "For example, the League of California Cities has stated the FAA's registration rule 'may not go far enough' to mitigate such hazards. The widespread adoption of local drone rules may present a challenge to the integration of drones at scale into the [NAS]."
The FAA says that it has the sole authority to regulate the NAS; therefore, the proliferation of local ordinances could lead to a conflict, the report said.
"While many ordinances relate to restrictions deemed permissible by the FAA — including rules regarding privacy and trespass — many appear to contravene FAA authority by imposing restrictions on operations within the navigable airspace," the report said. "For example, by the FAA's analysis, a locality banning all drone use over public space is likely infringing on federal authority."
However, the report added, the distinction between a permissible restriction and one that infringes on FAA authority is unclear and may ultimately be open to interpretation.
"If these local rules continue to be adopted and local law enforcement authorities restrict operations that are permitted by the FAA, such as commercial flights over private property, the federal government may intervene with legal action," the report said, noting that the FAA is studying the issue.
State Laws
Forty-nine of the 50 states — all states except South Dakota — have at least considered legislation to regulate drones. Many of the 31 laws that were enacted between 2013 and 2016 address areas such as restricting drone use by law enforcement authorities, prohibiting their flight in specific areas and prohibiting their use to invade someone's privacy.
"The FAA recognizes that it is limited in its capacity to enforce its rules for both recreational and non-recreational drone use, so it relies on local law enforcement agencies to identify and interdict violations," the report said, citing an FAA guidance document that says that local law enforcement authorities often are in the best position to deal with drone issues.2
"The FAA asserts that it relies on a cooperative partnership with local law enforcement to enforce its rules but stresses that all enforcement must be carried out in accordance with its specific rules for drone use," the report said.
That means that the FAA's rules would take precedence over state and local regulations involving operations in the NAS, but local rules would prevail in matters regarding land use, zoning, privacy, trespassing and law enforcement, the report said.
Drones in Law Enforcement
In its second report in the series, which focused on the use of drones in public safety,3 the Center for the Study of the Drone said that at least 347 state and local law enforcement units have acquired drones for use in their work.
"The pace of acquisitions shows no signs of slowing down," the report said, noting that more law enforcement units acquired drones in 2016 than in all previous years combined.
One of the first to test a fixed-wing drone was the Los Angeles County Sheriff's Department, which acquired its first drone in 2006. Since then, increasing numbers of law enforcement units have acquired drones for use in locating criminal suspects, stolen goods and teenage runaways, the report said.
Citing other examples, the report said that the Toledo (Ohio) Police Department used a drone to aid firefighters at a warehouse fire, the Rialto (California) Fire Department's drone identified illegal fireworks displays during the July 4 holiday, and the Linn (Wisconsin) Police Department's drone — which was equipped with thermal imaging equipment — located a body.
Not all law enforcement units have had success with their drones, the report said. The Seattle (Washington) police abandoned a planned drone program in 2014 because of public opposition. Early in 2017, similar opposition in Los Angeles was directed against police department plans to deploy drones.
Critics typically say they oppose law enforcement use of drones because they fear the devices may be used in surveillance, but some have expressed fear that drones could be equipped to carry weapons, the report said. Researchers said that, despite reports that lawmakers in North Dakota had voted to legalize arming the drones operated by police, their study found no such use by law enforcement authorities.
"We did not observe any public safety department that has equipped a drone with anything other than cameras," the report said. "That said, as unmanned systems capabilities and technology [advance], it will be important to track how other payloads such as emerging imaging sensors affect public safety missions."
Notes
1. Michel, Arthur Holland. Drones at Home: Local and State Drone Laws. March 2017.
2. FAA. "Law Enforcement Guidance for Suspected Unauthorized UAS Operations," Version 3. Aug. 11, 2016.
3. Gettinger, Dan. Drones at Home: Public Safety Drones. April 2017.
Featured image: © Marek | Adobe Stock