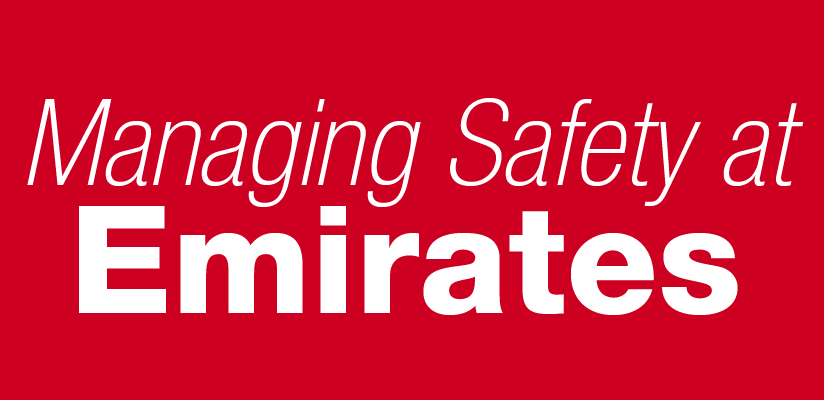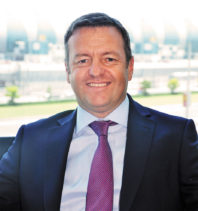 Emirates has become synonymous with comfort and luxury, but its priority has always been safety. Over 50 million passengers travelled on Emirates last year to its global network of over 150 destinations, and as the passenger and destination count continue to grow, managing safety at the airline inevitably becomes even more critical. Capt. Mark Burtonwood, vice president of flight safety at Emirates, shares how he and his team implement and maintain a culture of safety.
How do you implement a culture of safety at Emirates?
Safety in aviation is especially crucial when you are responsible for more 61,000 colleagues and over 50 million passengers each year.
We maintain a culture of safety at Emirates by making safety the responsibility of all employees. Safety is one of our corporate values, which is supported by our senior management. As emphasized by His Highness Sheikh Ahmed bin Saeed Al Maktoum, chairman and chief executive, Emirates Airline and Group, our objective is to "protect our customers, staff and assets through a ceaseless commitment to international and all other appropriate safety standards." This is reinforced by President Sir Tim Clark, who has signed our safety policy and is the accountable manager for Emirates' Safety Management System (SMS).
Everyone is encouraged to identify hazards, intervene if appropriate and report.
All our colleagues have access to the company online safety reporting system called SiD and are actively encouraged to use it. We've had great success with above-industry-average reporting levels.
Tell us more about safety management at Emirates.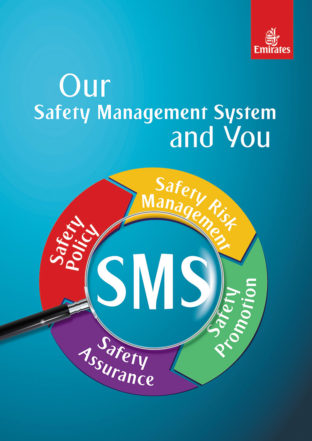 The regulatory requirements came into place in 2012 to enhance safety best practice and compliance within the company. However, Emirates already had an SMS in place long before it was required.
The Emirates SMS is designed to align with International Civil Aviation Organization recommendations and meet the regulatory requirements of the United Arab Emirates General Civil Aviation Authority. The Emirates SMS has four components and 12 elements that cover safety policy and objectives, safety risk management, safety assurance and safety promotion.
The formal structure of Emirates' SMS is vital to effective and safe operation across our diverse and expansive organisation. Our safety communication and training ensure that all employees understand their responsibilities and the roles they play in the overall safety of the airline.
The company SMS manual is available on the company intranet, where all employees can access it, both in the office and remotely.
How does Emirates' SMS work?
The success of SMS lies in the hands of every Emirates employee, and we provide regular training and communication to encourage employee participation. Group Safety provides support and guidance to the various departments for the implementation of the company SMS.
This includes assistance in understanding hazard identification, classification and risk management; advice on risk assessments; and maintenance of the departmental risk registers. Group Safety also ensures regulatory compliance both locally and internationally, constantly striving to go beyond compliance standards in all areas of safety management.
What hazard identification strategies do you have in place?
We have three strategies — reactive, proactive and predictive. The reactive involves the analysis of past events. Hazards are identified through investigation of safety occurrences, incidents and accidents. These can provide information to identify systematic and human factor issues to assist in the recommendations of mitigations.
Our proactive strategy involves the analysis of existing or real-time situations, and this is the primary job of the safety assurance function of our SMS with its audits, evaluations, employee reporting and associated analysis and assessment processes. This involves actively seeking hazards in the existing processes.
Lastly, our predictive strategy involves gathering high quality data to analyze and identify possible future outcomes or events, analyzing system processes and the environment to identify potential future hazards, and initiating mitigating actions.
Together, the different methodologies help us to learn from past events, assess the current situation and pre-empt future risks.
How do you think the role of flight safety will evolve in the coming years?
Risk management, safety investigations, debriefs, safety assurance, and safety promotion activities will always be part of what we do.
In the future, there will be an increasing focus on the use of big data for predictive safety management. Data received from safety reports already goes through detailed analysis, enabling us to present useful and relevant safety information — we are committed to further improve this process.
We will continue to be leaders in SMS, sharing safety knowledge both internally and externally.
Safety is everyone's business.