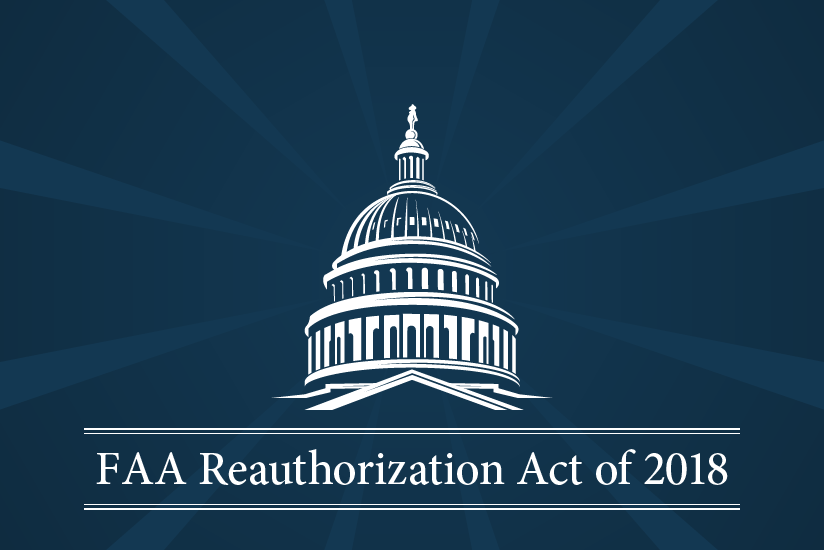 The five-year Federal Aviation Administration (FAA) reauthorization legislation that President Donald Trump signed into law in early October includes dozens of safety-related provisions directing the FAA and the Department of Transportation (DOT) to launch studies, compile reports and update existing rules and regulations. The provisions deal with topics ranging from runway safety, accident data retrieval and airliner cabin evacuation procedures (see "Getting Out") to lithium batteries, secondary cockpit barriers, the FAA's Compliance Philosophy and duty/rest requirements for flight attendants.
On the transportation of lithium batteries and cells, the FAA Reauthorization Act of 2018 directs FAA to harmonize U.S. regulations with the 2015–2016 edition of the International Civil Aviation Organization's (ICAO's) Technical Instructions for the Safe Transport of Dangerous Goods by Air, commonly referred to simply as the Technical Instructions, including all addenda, revised standards adopted by ICAO on April 1, 2016, and other subsequent revisions. The 2017–2018 edition of the Technical Instructions is currently in force, with a new edition set to take effect in early 2019.
Congress, however, also reiterated that it does not want FAA or DOT getting head of ICAO in setting requirements related to lithium batteries. The FAA Reauthorization Act states that "any lithium cell and battery rulemaking action or update … shall continue to comply with the requirements under Section 828 of the FAA Modernization and Reform Act of 2012."  That bill states that U.S. regulators "may not issue or enforce any regulation or other requirement regarding the transportation by aircraft of lithium metal cells or batteries or lithium ion cells or batteries, whether transported separately or packed with or contained in equipment, if the requirement is more stringent than the requirements of the ICAO Technical Instructions" except in certain conditions.
The 2018 reauthorization legislation calls for the establishment of a lithium battery safety working group to promote the safe manufacture, use and transportation of lithium cells and batteries. Also required is the creation of a lithium battery air safety advisory committee that will facilitate communication between battery manufacturers and the government; provide DOT, FAA and the Pipeline and Hazardous Materials Safety Administration with information about new battery technology and transportation practices; and provide a forum for discussion of related issues.
Runway Safety
The act requires the FAA administrator to submit to Congress a report on improving runway safety. The report is to include a review of the risks and benefits of requiring the use of runway awareness and advisory systems in turbine-powered airplanes with a maximum takeoff weight greater than 19,000 lb (8,618 kg), and a review of systems capable of detecting wrong-surface alignment to determine if the capability exists to detect imminent wrong-surface landings at airports where such systems are in use.
Congress also wants the report to describe information gathered from the use of the Airport Surface Surveillance Capability system at San Francisco International Airport (SFO) since July 2017. On the night of July 7, 2017, an Air Canada Airbus A320, operating as Air Canada Flight 759, lined up for landing on an occupied taxiway at SFO and descended to about 60 ft above the ground before beginning a go-around. The National Transportation Safety Board (NTSB) said the flight crew's lack of awareness was the probable cause of the incident, which NTSB Chairman Robert Sumwalt said "could very easily have had a catastrophic outcome."
The act also calls on FAA explain how it is developing metrics to determine whether runway incursions are increasing and assess the effectiveness of runway safety initiatives, and to assess available technologies to determine if it is feasible, cost-effective and appropriate to install systems at any airport to provide a direct warning  of potential runway incursions to flight crews and/or air traffic controllers.
Secondary Cockpit Barriers
A short section of the reauthorization bill, called the Saracini Aviation Safety Act of 2018, requires FAA, within a year, to issue an order requiring installation of a secondary cockpit barrier on each new aircraft that is manufactured for delivery to an airline in the United States. The legislation was named in honor of Capt. Victor J. Saracini, who was killed when United Flight 175 was hijacked on Sept. 11, 2001, and deliberately flown into the South Tower at the World Trade Center in New York. Flight 175, operated with a Boeing 767, was the second of two airplanes to crash into the World Trade Center that day.
Data Access and Retrieval
Under another provision, FAA is to assess aircraft data and retrieval systems for Federal Aviation Regulations (FARs) Part 121 air carrier aircraft used in extended overwater operations to determine if the systems provide improved access and retrieval of aircraft data and cockpit voice recordings in the event of an accident, and to assess the cost effectiveness of the systems. The types of systems that FAA is required to examine include various methods for improving detection and retrieval of flight data, including low-frequency underwater locating devices and extended battery life for such devices; automatically deployable flight recorders; emergency locator transmitters; triggered transmission of flight data and other satellite-based solutions; distress mode tracking; and protections against disabling flight recorder systems.
The administrator also is directed to "exercise leadership on creating a global approach to improving aircraft tracking" by working with ICAO, other international organizations and the private sector.
Single-Piloted Cargo Aircraft
One provision not included in the version of the act signed by Trump, but which was included in earlier versions, was a section that ordered FAA, in consultation with the National Aeronautics and Space Administration and other agencies, to establish a research and development program in support of single-piloted cargo aircraft assisted with remote piloting and computer piloting. The provision, Section 744 in the House of Representatives' version of the legislation, had drawn opposition from the Air Line Pilots Association, International (ALPA), which said the provision was dangerous and "undermines the safety of our airspace."
In applauding passage of the final version of the bill, ALPA President Tim Canoll said, "By keeping pilot qualification and training requirements strong and two fully qualified pilots in the cockpit, Congress has taken significant steps to ensure that flying remains the safest mode of transportation — and that the United States remains a global aviation leader." (emphasis added)
Compliance Philosophy
The act gives the comptroller general a year to complete a study and report back to Congress on the effectiveness of the FAA Compliance Philosophy announced in 2015. The study is to examine whether reports of safety incidents increased following the issuance of Order 8000.373 establishing the philosophy; whether reduced enforcement penalties increased the overall number of safety incidents that occurred; and whether FAA enforcement staff received complaints that reduced enforcement resulted in reduced compliance with safety regulations.
The Compliance Philosophy, which was first discussed publicly at a Flight Safety Foundation event in October 2015, is part of FAA's effort to embrace just culture. The philosophy's objective, according to FAA, is to "identify safety issues that underlie deviations from standards and correct them as effectively, quickly, and efficiently as possible. Our view of compliance stresses a problem-solving approach (i.e., engagement, root-cause analysis, transparency and information exchange) where the goal is to enhance the safety performance of individual and organizational certificate holders. An open and transparent exchange of information requires mutual cooperation and trust that can be challenging to achieve in a traditional, enforcement-focused regulatory model."
Fatigue Risk Management
The measure makes changes to a 1994 rule relating to flight attendant duty periods and rest requirements and requires that Part 121 carriers submit fatigue risk management plans for flight attendants. Airlines have 90 days to submit the plans to FAA and the agency has a year to review and accept or reject each plan submitted.
The changes to the existing rule are to ensure that a flight attendant scheduled to a duty period of 14 hours or less is given a scheduled rest period of at least 10 consecutive hours and that the rest period "is not reduced under any circumstances."
In response to passage of the legislation, Sara Nelson, president of Association of Flight Attendants–AFL, CIO (AFA), said, "Flight attendants cheer the passage of the FAA Reauthorization Act of 2018 with a provision to combat flight attendant fatigue by increasing minimum rest from eight hours to 10 hours. This bill closes a safety loophole while improving flight attendant health and achieving equal minimum rest with our flight deck counterparts."
The act also gives the FAA administrator 180 days to convene an aviation rulemaking committee to review and develop findings and recommendations on pilot rest and duty rules for Part 135 commuter and on-demand operations, and two years to submit to Congress a report based on the rulemaking committee's findings. Within a year after the submission of that report, FAA is required to issue a notice of proposed rulemaking based on any consensus recommendations reached by the committee.
GA Safety
The measure requires FAA, in coordination with NTSB, to begin a study of all general aviation (GA) accidents since 2000. The study should include an assessment of the most common probable cause determinations and the most common facts analyzed by FAA and NTSB in investigating those accidents.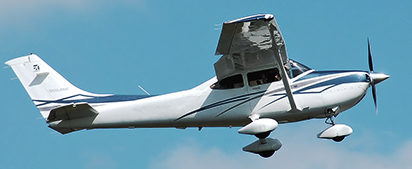 After completing the study, FAA, again in coordination with NTSB, is to make recommendations with respect to regulations and enforcement activities to address the identified safety issues.
A separate section requires FAA and NTSB, working with Part 135 stakeholders, to determine what data should be reported as part of an accident or incident notice to more accurately measure the safety of Part 135 on-demand aircraft activity, to pinpoint safety problems and to serve as the basis for research and analysis of GA issues.
---
Featured image: Susan Reed; U.S. Capitol, @ alexkava | VectorStock
Lithium batteries: © ONYXprj | VectorStock
Airplane on runway: © mousemd | VectorStock
Policy examination: © SimmaX | VectorStock
General aviation airplane: Adrian Pingstone | Wikimedia PD