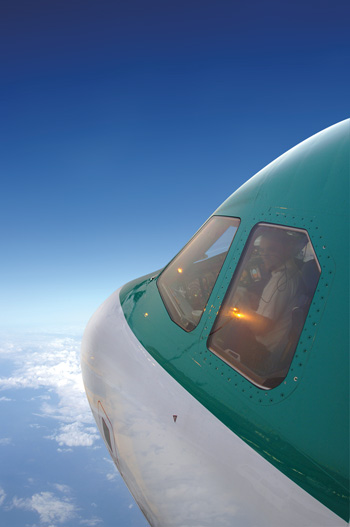 In August 2013, pilots seeking to fly in air carrier operations in the United States will see a sharp increase in flight time and certification requirements. The Pilot Certification and Qualification Requirements rule, expected to be published in the Federal Register on May 17, 2013, amends pilot eligibility and qualification requirements and modifies the requirements for an airline transport pilot (ATP) certificate. The rulemaking, a result of the Airline Safety and Federal Aviation Administration (FAA) Extension Act of 2010, aims to ensure that pilots have more experience, especially in difficult operational conditions, before they are hired by U.S. passenger and cargo airlines.
The rule is now in executive clearance following closure of the public comment period on April 30, 2012. If published on schedule, it will go into effect Aug. 1.
Known colloquially as the "1,500-hour rule," the proposal primarily affects first officers (FOs), who will be required to hold an ATP certificate, which requires at least 1,500 hours of flight time, and a type rating for the aircraft to be flown. Currently for U.S. Federal Aviation Regulations (FARs) Part 121 and Part 135 operations, FOs are required to have only a commercial pilot certificate, which requires 250 hours of flight time, and appropriate category and class ratings.
Requirements for the ATP will change as well. An ATP certificate with an airplane category multi-engine class rating or type rating will require 50 hours of multi-engine flight experience and completion of a new FAA-approved ATP certification training program that would include academic training and training in a flight simulation training device. The training will prepare a pilot to function in multipilot and air carrier environments, in adverse weather conditions such as icing and in high altitude operations, and adhere to the highest professional standards.
The rule makes two exceptions to the 1,500-hour requirement. Military pilots with 750 flight hours and graduates of an accredited four-year university program with 1,000 flight hours1 will be able to obtain a "restricted privileges" ATP certificate.
"Pilots with this restricted certificate would only be able to serve as first officers for U.S. airlines. They could not use it to serve as a captain in any commercial flying operation that requires an ATP, nor use it to teach other pilots," Peggy Gilligan, FAA associate administrator for aviation safety, told the House Committee on Transportation and Infrastructure's subcommittee on aviation on April 25, 2012. "Pilots seeking a restricted ATP would be tested to the same standard required for full ATP certificates, and they would be required to have the equivalent minimum instrument time and nighttime flight hours [that] a full ATP certificate would require."
Gilligan explained the reasoning behind the exception, saying, "In the 2010 act, Congress clearly acknowledged that the measurement of experience in determining when an individual may be ready to serve is not limited solely to the number of hours flown. Rather, education and other commercial flying experience must also be considered."
The requirements for captain will change, too, but less dramatically than for FOs. Under the new rule, pilots will need at least 1,000 flight hours in air carrier operations to serve as a pilot-in-command in Part 121 operations.
Background
The rule aims to reduce the number of accidents and incidents caused by pilot inexperience. In a notice of proposed rulemaking (NPRM) published on Feb. 29, 2012, the FAA said it had identified 31 accidents in Part 121 air carrier operations and 30 accidents in Part 135 air carrier operations between fiscal year 2001 and fiscal year 2010 that "could have been mitigated if the proposed enhanced ATP qualification standards and Part 121 requirements had been in effect at the time of those accidents. The analysis indicated the accidents were a result of various issues, including improper aircraft handling, poor CRM [crew resource management], poor situational awareness and inadequate training. These accidents resulted in 107 fatalities, 28 serious injuries, and 44 minor injuries."
Despite this trend pointing toward the need for increased pilot training and qualification standards, it wasn't until the Feb. 12, 2009, crash of Continental Airlines Flight 3407, operated by Colgan Air, that the issue really came into the public spotlight. On approach into Buffalo Niagara International Airport, in wintry weather conditions, the Bombardier Dash 8-400 turboprop slowed to dangerously low speeds and stalled. The captain failed to follow established stall recovery procedures, pulled back on the yoke and overrode the stick pusher, crashing into a private home.
The accident killed 45 passengers, two flight attendants, both pilots and an individual on the ground. The U.S. National Transportation Safety Board's (NTSB's) final accident report cited flight crew qualifications, failure to adhere to the sterile cockpit rule and improper handling of the aircraft as causal factors in the accident.
Shortly after the accident, family members of the passengers formed Families of Continental Flight 3407 and began pushing lawmakers for reforms they said would bring regional airline hiring and pilot qualification standards to a higher level.
"Our goal is one level of safety," said Scott Maurer, father of Flight 3407 passenger Lorin Maurer and one of the family group leaders who has been instrumental in pushing for the passage of the legislation. "We advocate very strongly for: let's get the right pilots in the cockpit and let's set them up for success. Pilot qualification is only one provision of [the law] and there's no one brick in this structure that gets the job done. You need them all."
Some argue that the new pilot qualification rule would not have prevented the Flight 3407 disaster as both pilots had more than 1,500 hours at the time of the accident (the captain had logged 3,379 hours and the first officer had 2,244 total hours). Maurer strongly disagreed. He pointed out that Colgan had hired the captain with just 618 hours; the new rule would have prevented him from being hired until he had much more experience. Moreover, the new ATP requirements would have given both pilots specific training on operating in adverse weather conditions.
Maurer said the rule has positives and negatives. "It's got all the stakeholders, and we can certainly agree with and support the exception for military pilots," he said. "But we are concerned about the university exception. We don't want to see simulators as a substitute for flying in the clouds and cold weather and ice."
Industry Reactions
Chesley Sullenberger, a retired US Airways captain and founder of consulting firm Safety Reliability Methods, has been a longtime advocate of this rule. "Not only have I tried to make sure this rule was implemented, but my FO on the Hudson River was also very active," said Sullenberger, who is widely known for successfully landing US Airways Flight 1549 on New York's Hudson River in January 2009 after the Airbus A320 struck a flock of birds. "There's a constant tension between economics and safety. I'm of the point of view that we must make these improvements for three reasons: Passengers deserve it, colleagues expect it, and the profession demands it. These improvements are long overdue."
In fact, Sullenberger, who had 20,000 flight hours at the time of the Hudson event and has studied safety his entire professional life, argued that 1,500 hours is not enough. "Two hundred and fifty hours is ludicrously, insanely, stupidly low. Going to 1,500 is a step in the right direction, but we are not all the way there." He pointed to his experience on the Hudson as an example, saying that had his first officer, who also had 20,000 hours, been a less experienced pilot, the outcome would have been very different.
"On our flight, the crisis was so extreme, the workload so high, the pressure beyond belief, we didn't even have time to have a conversation. I had to rely on his experience to intuitively understand what was happening by what I was telling ATC [air traffic control]. I had to rely on him to know when to shift his priorities," Sullenberger recalled. "When we were approaching the water, I had to judge to a fraction of a second when to pull the nose. Jeff [Skiles, the FO] knew that. Without me telling him, he immediately stopped trying to get more thrust from the engine and began calling out airspeed and altitude. He knew intuitively that he had to shift to a higher priority.
"Had I had someone with much less experience, we would not have had as good an outcome and people would have perished," Sullenberger said. "You can be surprised when you least expect it and suddenly you have only 208 seconds to solve it. So I really get the importance of having the proper experience in the cockpit."
Some have stressed that the training — not the hours — is the key piece of this proposed rule. "There's not a direct correlation between hours and safety. A pilot's experience will certainly increase with more hours but it depends on how they accumulate those hours," said Sean Cassidy, first vice president, Air Line Pilots Association, International (ALPA) and a Boeing 737 captain at Alaska Airlines. "Are they just building hours on their own? Or are they working with a check airman on the line? Having a more structured approach to building more quality and experience is important."
Cassidy said the forthcoming rule "strikes a balance between where we are now and the experience you need to operate a large jet. It meets a lot of the goals we've identified and lines up nicely with our position that just having a commercial license isn't enough to fly passengers." He added that the industry will see safety improvements as a result of bringing up the baseline hours. "When you build up hours, you build up situational awareness. Overlay that against the more structured mentoring and leadership training and teamwork elements that will be required" and the industry will be safer as a result of the new law.
Targeted Training Crucial
"Parts of this are good," weighed in John Cox, founder of Safety Operating Systems and a retired airline captain with more than 14,000 hours. "Increasing the experience level of pilots entering flights decks is good. The old rule of 250 hours had relatively inexperienced pilots coming into complex jet airplanes."
But he added that the rule "needs polish." Specifically, Cox said he wanted to see even more training to address the problems that cause the majority of accidents. Most important, he said, there should be a formal upset recovery program in airplanes. He pointed to Boeing's 2011 Statistical Summary of Commercial Jet Airplane Accidents, which said that 18 of the 79 fatal accidents (22.7 percent) in the commercial jet fleet during 2002–2011 were caused by loss of control in flight. Those accidents resulted in 1,493 onboard fatalities and 80 external fatalities, more than were caused by any other type of accident. Loss of control in flight and controlled flight into terrain accidents — which also accounted for 18 of the 79 accidents — were clear leaders as the causes of accidents during the past decade.
Simulators, he said, don't effectively imitate stalls and upsets. "If you look at the animation of Colgan [Flight 3407] and Air France Flight 447,2 the wings rolled steeply from one side to the other. Until you see this kind of instability and recognize it as a key indicator that the airplane is stalling," the likelihood of a successful recovery is reduced. "Pilots must recognize the G forces, which you can't do in a simulator."
Cox said more training is needed in high altitude flight. "When jets are [at] cruising altitude, they are in a different environment with different meteorological conditions and lower stall speeds. These things need to be addressed," he said. "We need to provide pilots training in the environment in which they will spend most of their careers." With this training, Cox said, a good second-in-command experience level would be between 800 and 1,000 hours.
His points echo the March 20 testimony of Flight Safety Foundation President and CEO William R. Voss before the U.S. Senate Committee on Commerce, Science and Transportation's subcommittee on aviation operations, safety and security. Voss told the panel that a change in training standards was needed because new technology and industry restructuring has caused the requirements of the past "to become dangerously outdated, and we are seeing some tragic consequences."
However, he added that the new rule puts too much focus on hours and not enough on the training needed to avert the kinds of tragedies that prompted the rule in the first place. "There are countless examples of pilots with many thousands of hours, who lacked the critical knowledge to avert a tragedy," he said. "The Air Florida pilots who crashed at Washington National more than 20 years ago had 8,300 hours and 3,500 hours respectively, yet still lacked critical knowledge of cold weather and deicing operations."
Voss further stated, "While the purpose of a 1,500 hour rule is understood, Flight Safety Foundation strongly supports the notion that a structured training program can allow this requirement to be reduced, since that training program would reduce risk by leaving less to chance. The Foundation believes the real effectiveness of the new rule will be more a result of mandating critical training that targets risk in the real world, rather than simply increasing the number of hours."
New Rule Will Severely Impact Pilot Hiring Pool
Q&A with Louis Smith, president, Future and Active Pilot Advisors (FAPA)
ASW: What has been the response of your members to the new pilot qualification rule?
Smith: The low-time pilots are wondering how they will be able to accumulate hours. There aren't enough pilots with 1,500 hours to take the regional jobs. We are already seeing the impact: I just got an email from a large regional carrier who said they were out of pilots and can't fill their November class.
ASW: What is FAPA's position on the rule?
Smith: We don't think the mandate will work at the regional airline level, given the current pay and benefit structure. The only way the regional airlines can attract high-time pilots at their current pay and benefits is to tie the offer to a major airline seniority number — not just a guaranteed interview, but a contingent seniority number with little restrictions and no further impediments to the offer.
ASW: How will the rule change the hiring landscape?
Smith: Establishing a reliable source of competent pilots will be a challenge for even the major airlines. Some of the majors are now recruiting pilots from the regional airlines, which triggers instructor attrition at the flight schools and aviation universities, and the domino effect ripples through the industry. The 1,500-hour rule will reduce the pool of qualified pilots and will require radical changes in the current offer made to pilots entering at the regional level.
ASW: Will there be enough pilots to fill the needs of airlines?
Smith: We don't expect a shortage at the major and global airlines but without significant pay and benefit changes, the regional airlines will experience serious shortages. One recruiter, briefing top management recently, said, "Be prepared to park airplanes next year because we don't have enough people to fly them."
FAPA is a career and financial advisory service for professional and aspiring pilots.
Notes
This provision applies to graduates with an aviation degree if they also obtained a commercial pilot certificate and instrument flight rating from a pilot school affiliated with the university or college.
Air France Flight 447 was an Airbus A330-200 that crashed into the Atlantic Ocean on June 1, 2009, killing all 228 people aboard. The final accident report by the French Bureau d'Enquêtes et d'Analyses said ice crystals had blocked the pitot tubes, producing unreliable airspeed information, and excessive control inputs led to a stall.