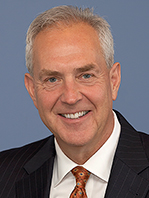 When the position of president and CEO of Flight Safety Foundation became available, it was immediately appealing to me. I recently had retired from International Aero Engines and was debating my next move. I've spent my entire career in aviation, in roles that focused on safety and quality as well as positions in marketing and sales. The opportunity to work at the Foundation and lead this team was irresistible.
As anyone who has spent time in aviation knows, Flight Safety Foundation is the voice of safety. It is the conscience of the industry. While many great organizations work on safety, there is not another group out there whose sole focus is on aviation safety. Safety is the mission of the Foundation and has been since its founding in 1947.
One of our challenges in 2014 and in the future is the belief that the industry has succeeded in its safety mission. We are safe. I won't argue about that, and we all should be proud of our industry's record. But we cannot lose our focus. As we await the final reports on Asiana 214 and UPS 1354, and as the tragedy of Malaysia 370 continues to unfold, we are reminded that safety is never "done."
FSF is teaming up with the International Civil Aviation Organization and the International Air Transport Association to hold a symposium on global aircraft tracking. It isn't acceptable to lose an airplane, especially with the technology available and in development. We don't have the answers as to what should be done, but we do know that if we bring together the technological experts with groups representing governments, airlines and safety, we will come up with a practical solution.
FSF recently published the Duty/Rest Guidelines for Business Aviation, which updates the landmark "Principles and Guidelines For Duty and Rest Scheduling in Corporate and Business Aviation," published by the FSF Fatigue Countermeasures Task Force in 1997. The Duty/Rest update is the culmination of a joint effort by FSF and the National Business Aviation Association Safety Committee's Fatigue Task Force, led by Leigh White. This is available on our website.
We also are due to finish our go-around study within the next few months, and we will release a report outlining the results of the study and including recommendations to the industry. We'll soon be determining the next steps for this project and how the findings can best be used.
We have great challenges ahead of us, but FSF has always been there as the voice of safety, and with the support of our members, we'll continue to serve in this vital role.